Top 5 favorite Hawaii snorkeling spots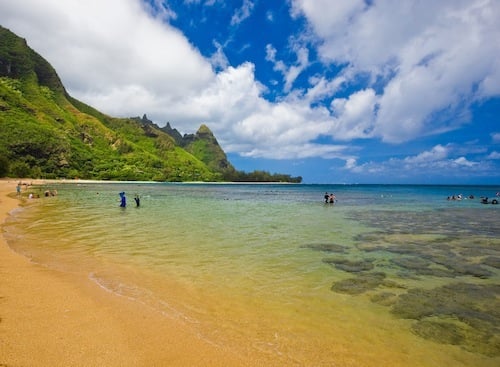 The best way to see some of Hawaii's most colorful residents is to strap on a mask and dive into the ocean. But, the best place to go? That's a bit more contentious.
So, we turned to our HAWAII Magazine Facebook reader ohana and asked: What's your favorite Hawaii snorkeling spot?
Hundreds of you voted, narrowing down the state's more than 750 miles of coastline to 78 ocean-entries. When we asked our Facebook ohana the same question in 2012, popular snorkeling haunts such as Maui's Kaanapali Beach and Honolua Bay, and Kauai's Tunnels (aka Makua) and Kee Beaches topped the list. This year, well, they didn't. You'll have to read on to learn what did!
If you'd like to join in on our next HAWAII Magazine Facebook Ohana Poll and vote along with our 140,000-reader-strong Facebook family, go to the HAWAII Magazine Facebook page and "like" us. In return, you'll be able to share your answers in all of our future "Hawaii favorite" poll questions as soon as we post them, know the results of the poll when all of the votes are counted, and get all of our daily HawaiiMagazine.com photos and features.
We'll be posting our next Ohana Poll question on HAWAII Magazine's Facebook page in the weeks ahead, so "like" us now if you haven't yet.
Until then, here's this year's top 5 countdown of our Facebook ohana's favorite Hawaii snorkeling spots.
#5: Honaunau Bay
Hawaii Island
The sheltered cerulean waters of Honaunau Bay afford great visibility most days of the year. So, it's no surprise that this beach off Puuhonua O Honaunau National Historical Park, some 20 miles south of Kailua-Kona on Hawaii Island's eastern side, is a top choice among our Facebook reader ohana. The shoreline of Honaunau Bay is lined with black lava rocks, smoothed by years of wave action. A tip from local snorkeling expert Grant Kailikea: Stick to the south side of the bay for shallower waters and a better chance of finding sun-loving species such as turtles. The north side drops 30-100 feet, housing some deeper denizens—if you're lucky, you may even see spinner dolphins here!
#4: Pupukea Beach
Oahu
Pupukea Beach, a Marine Life Conservation District on Oahu's North Shore, has two distinct snorkeling spots—Shark's Cove and Three Tables. Both are named for offshore reef rocks peeking above the waves. The Shark's Cove entry, through a boulder field and sometimes-strong tidal surf, can be challenging but well worth the effort. The beach's white, sandy floor highlights colorful fish as they dart from the nooks and crevices of the area's reef and small underwater caves. Three Tables, south of Shark's Cove, has a mostly sandy shore and shallower waters. The best snorkeling here is around the namesake three tables. Pupukea Beach is subject to the North Shore's famous winter surf, so snorkeling is best in the summer when the sea is calmer and clearer.
#3: Kealakekua Bay
Hawaii Island
This Marine Life Conservation District 12 miles south of the Kailua-Kona area is as famous for its snorkeling, scuba diving and kayaking as it is for its history. Capt. James Cook sailed into the bay in 1779—one year after becomming the first European explorer to establish contact in the Islands. A white obelisk in Kealakekua Bay State Historical Park marks the spot where Cook was killed during a clash with the bay's Hawaiian residents on Feb. 14, 1779. Brightly colored corals and schools of reef fish can be found just offshore of the monument. Be sure to check the horizon for spinner dolphins enjoying the deeper waters of the bay.
#2: Molokini
Maui County
Molokini, a 23-acre crescent-shaped volcanic atoll three miles off Maui's southwestern coast, is a state Marine Life and Bird Conservation District. The islet's shape is all that remains of an eruption said to have occurred some 230,000 years ago. Today Molokini's crescent bay protects snorkelers and divers from waves and strong currents. Excellent visibility in the crater—sometimes up to 150 feet—makes it easy to spot the more than 250 fish and 38 hard coral species that call Molokini home.
#1: Hanauma Bay
Oahu
Hanauma Bay, a Nature Preserve and a Marine Life Conservation District, snagged the #1 spot in both of our "Top 5 Hawaii favorite snorkeling spots" polls. This collapsed volcanic crater on the southeast tip of Oahu protects an estimated 450 species of fish, octopus, crabs and eels. Because of the volume of human traffic the bay attracts, many of its fish have become acclimated to their presence, allowing for fun close encounters. Still, visitors to this popular spot are encouraged to take extra care to preserve the bay's delicate ecosystem. At Hanauma Bay, and at snorkeling spots throughout the Islands, please make sure you refrain from touching all marine life. This will help assure that all of these spots remain as beautiful and alive for future generations as they are now.
Click on the links below for the Top 5 results of our previous HAWAII Magazine Facebook Ohana poll questions: