Humpback whale counts slated for Maui, Oahu, Kauai and Big Island shorelines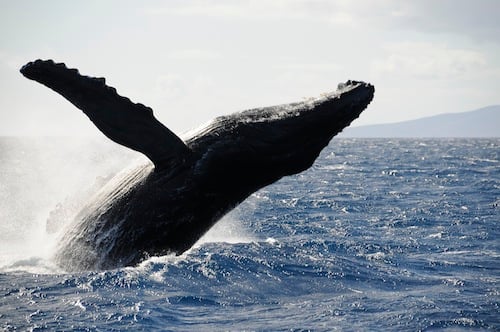 Hawaii residents and visitors alike are invited to take part in a pair of whale-watching surveys slated for this weekend along shorelines edging Maui, Oahu, Kauai, and the Big Island.
Tomorrow morning (Sat., Feb. 23), Pacific Whale Foundation's research team will lead an annual count of humpback whales that can be seen from Maui's shores.
The nonprofit will provide volunteers with training and survey-taking materials. Dubbed The Great Whale Count, the survey is part of the annual Maui Whale Festival, which got under way earlier this month and will continue through April. There is no charge to participate in the county, set for 8 a.m. to 11:30 a.m. For additional information, click here.
Also, if you happen to be on Maui, check out the Whale Fest's "Tribute to the Whales" photography exhibit compiled by Pacific Whale Foundation, which features shots taken by noted photographers as well as images snapped by the foundation's naturalists and researchers. The exhibit is open to the public daily, 10 a.m. to 4 p.m. until March 1 at the Maalaea Harbor Shops, located between Lahaina, Kahului and Kihei. For additional information, click here or call the foundation, (808) 249-8811, ext. 1.
The other whale survey, known as Ocean Count, will be in the works from 8 a.m. to 12:15 p.m. tomorrow (Sat., Feb. 23) at scores of sites on Oahu, Kauai, and the Big Island. This annual count relies on volunteer help to estimate whale population and distribution figures in the Hawaiian Island Humpback Whale National Marine Sanctuary. The census, organized by the National Oceanic Atmospheric Administration (NOAA), supplements ongoing marine science research.
Scientists estimate that there are 20,000 humpbacks in the North Pacific. An estimated 12,000 swim to Hawaii's waters to mate and nurse their young, typically between September and March. (The 2012-13 season started very early, with the first sighting of a humpback whale reported in late August.)
Another Ocean Count session will be held on Sat., March 30. For volunteer registration details, click here.