Hundreds of stand-up paddlers expected on Waikiki surf for Battle of the Paddle Hawaii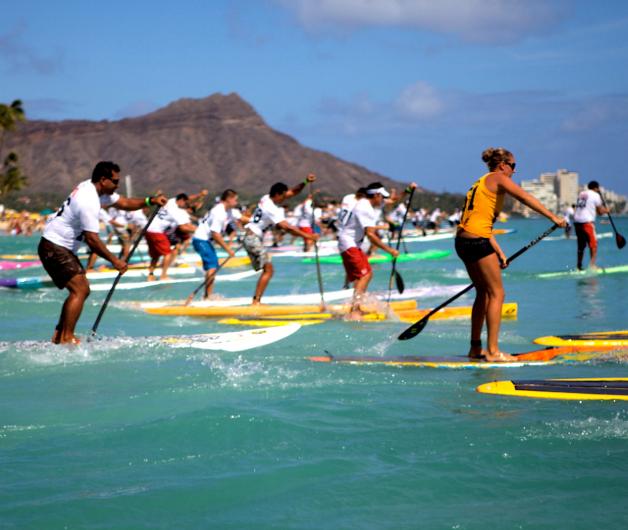 Stand-up paddle surfing — now surfacing as a competitive global sport — had its mellow start right here in Hawaii.
In decades past, Waikiki beach boys took to using outrigger paddles to catch smaller waves on longboards. Surfing instructors, drifting on their boards, also took to using the paddle for quick access to bobbing student surfers and to steady themselves while snapping souvenir photos for visitors.
This weekend, from 9 a.m. to 4 p.m. on Sat., May 14, and Sun., May 15, the easygoing paddler's vibe will be swapped for adrenaline-charged athleticism as hundreds of competitors line the Wakiki area shoreline for the Rainbow Sandals Gerry Lopez Battle of the Paddle Hawaii. (Gerry Lopez, for those unfamiliar, is a surfing icon who grew up on Oahu).

Battle of the Paddle Hawaii's main event is a five-mile elite race, offering the sport's largest cash purse, $25,000. The race will feature competitors riding boards no longer than 12-feet 6-inches, completing three laps around an offshore course. Each lap will include an exchange area where racers must beach their boards for a short run around a flagged course. The contest will get under way at 2 p.m., Saturday, along Duke Kahanamoku Beach, edging Fort De Russy Beach Park. An awards ceremony for the event will follow at 4 p.m.
Battle of the Paddle Hawaii will also feature an open age-group race, kids' races, stand-up paddle team relays, and a distance race dubbed Hawaii Kai Run. Last year's Hawaii Kai Run drew the largest-ever field assembled in Hawaii — more than 230 paddlers—working their way from Maunalua Bay, in the east Oahu suburb of Hawaii Kai, all the way to Waikiki. The Hawaii Kai Run will start at 11 a.m., Sunday, in Maunalua Bay. Kids' races and team relays will follow, at 2 p.m. and 3 p.m., respectively.
The open age-group race is slated for 11 a.m., Saturday. Battle of the Paddle organizers say last year's inaugural Hawaii competition drew more than 600 paddlers from around the world and lots more spectators.
Can't get to Waikiki beach? No worries. Battle of the Paddle events will be aired on a live webcast at www.BattleOfThePaddle.com.
Don't know the first thing about stand-up paddle surfing? Check out Battle of the Paddle's beach expo, from 9 a.m. to 4 p.m., both days. Water sports experts will be on hand to talk about paddling and gear. There will also be demonstrations and Na Kama Kai Ocean Clinics will start each hour, from 9 a.m. to 2 p.m., both days.
For more information about the Battle of the Paddle Hawaii, click here.