11 Stunning Coffee Table Books from Local Shops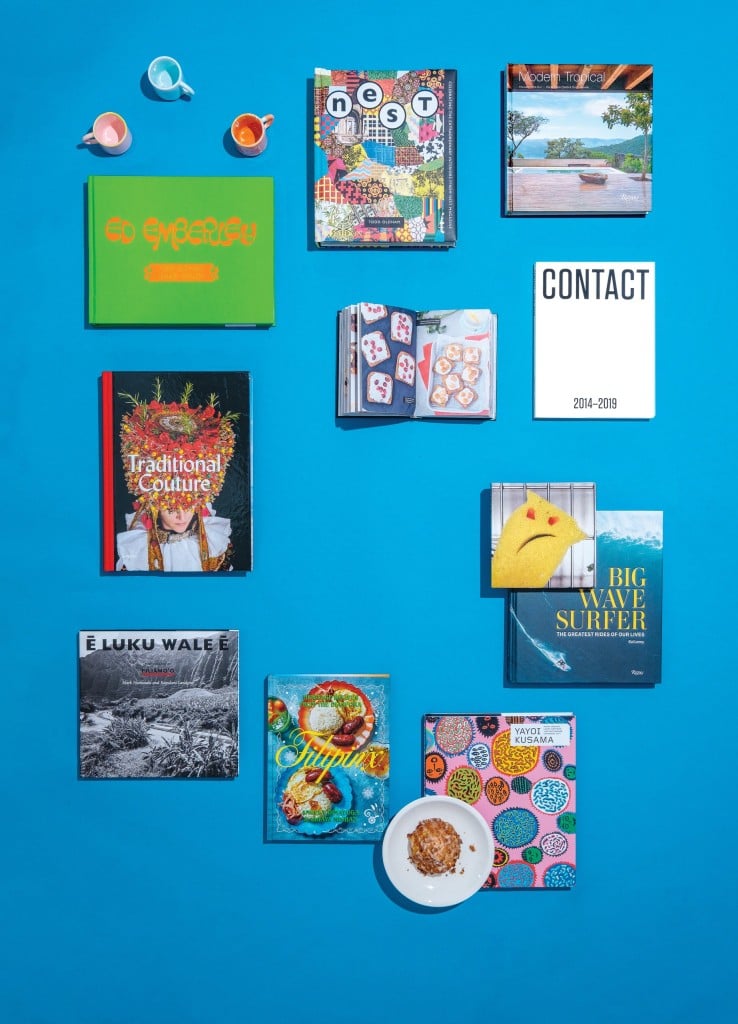 With grand covers, gorgeous images and conversation-generating content, coffee-table books are the colorful heavyweights of the pub world. Local bookstores and boutiques carry amazing options that highlight everything from culture and couture to funny faces and modern cooking.
Products featured, left to right: Studio Arhoj ceramic chug mugs, $35 each, Roberta Oaks, robertaoaks.com; Best of Nest by Todd Oldham, $100, Bas Bookshop, basbookshop.com; Modern Tropical by Byron Hawes, $45, Roberta Oaks; Ed Emberley by Todd Oldham, $45, Da Shop: Books + Curiosities, dashophnl.com; Ultimate Appetizer Ideabook by Kiera and Cole Stipovich, $20, SoHa Living, sohaliving.com; Contact 2014-2019 by Puuhonua Society, $28, Native Books Hawaii, nativebookshawaii.com; Traditional Couture: Folkloric Heritage Costumes by Tillmann Prüfer, $68, Da Shop: Books + Curiosities; Faces by Olaf Breuning, $45, Bas Bookshop; Big Wave Surfer: The Greatest Rides Of Our Lives by Kai Lenny, $60, SoHa Living; E Luku Wale E by Mark Hamasaki and Kapulani Landgraf, $40, Native Books Hawaii; Filipinx: Heritage Recipes from the Diaspora by Angela Dimayuga and Ligaya Mishan, $40, Da Shop: Books + Curiosities; and Yayoi Kusama by Laura Hoptman, Udo Kultermann, Catherine Taft and Akira Tatehata, $70, Bas Bookshop.
To read more articles like this, visit hawaiihomemag.com.