Get Beach Safety Tips from a Veteran Hawaiʻi Lifeguard
Sam Fisher, a longtime lifeguard on Oʻahu's North Shore, shares what to bring to the beach, where to see turtles and how to not be a kook.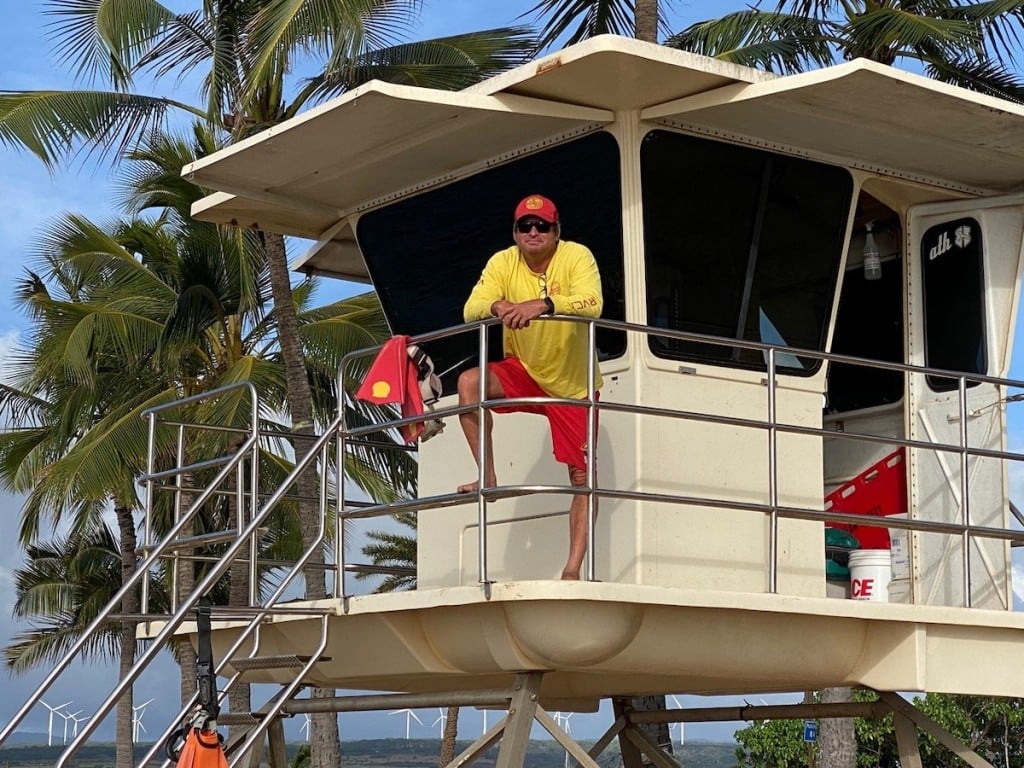 Earlier sunrises, later sunsets, and strong trade winds—these are telltale signs of summer in Hawai'i.
As the season shifts, so does the surf: Gone are the big waves that set the stage for the "seven-mile miracle" between Hale'iwa and Sunset Beach. Instead, the calm, turquoise waters become a playground for flatwater fanatics—swimmers, snorkelers, divers, kayakers, stand-up paddlers—as well as wind-loving dingers, kiters, sailors and windsurfers. Mother Nature throws in an occasional summer swell to keep the surfers and foilers stoked, too.
Even though the conditions are typically mild, there are still hazards (visit hawaiibeachsafety.com for details about each beach) to be aware of, and ocean safety officers are there to offer guidance.
"Don't be afraid to approach a lifeguard," says North Shore lifeguard Samuel W. Fisher, III, who has been keeping beachgoers out of harm's way since 1989.
Fisher, who was born and raised in Hale'iwa, spends his free time surfing, paddling, swimming, and fishing close to home. "If you come and talk to us before you go in the water, we'll tell you all the information you need to have a safe and good time."
Which beach do you work at?
I have been working at Hale'iwa Ali'i Beach five days a week since 2005, and before that, all up and down the North Shore.
What are the most common summertime rescues you make?
Usually, it's people getting blown out to sea on kayaks and SUPs. On windier days, there are safer places, like going up Anahulu River. You still can get in the water, but you don't have to go out to sea. Remember to wear a leash. You always want to be attached to your board or boat in case you fall off.
What are some hazards that may not be obvious at first glance?
A lot of beaches have reef that can cut your feet. The reefs also have wana (sea urchins with sharp needles). Wearing booties can keep you from injuring your feet. Also, in summer, the wind. Many people don't know the landmarks. They jump in the water, they have their heads down snorkeling, or they're talking story and having a good time, then they just drift away. If there's swell and somebody's not a strong swimmer or strong surfer, they'll usually end up in the rip current.
If someone doesn't know how to swim, what's a safe way to enjoy the ocean?
It's a good idea to go to a guarded beach. Talk to the lifeguards. Wear a life vest, and if you get in trouble, wave.
What's one of the most common questions that people ask?
Where's a good place to see turtles?
Ha! Where's a good place to see turtles?
They're everywhere, pretty much! If it's a flat day in the summer and you go snorkeling, you'll see a turtle.
What's the best time to go snorkeling?
I would suggest in the mornings when the wind's not up. The ocean's usually a little calmer. And it's before traffic.
Is surfing when the waves are small fairly safe?
When it's small—when everybody's condensed in that little area where the surf is—that's when there are collisions and people get hurt, especially beginners who rent a board and try to learn on their own. Who was it—I think Shane Dorian—said something like, "A kook isn't somebody learning how to surf. It's somebody who isn't aware of their surroundings, running over people and getting in other people's way, catching all the waves." People need to be aware of surf etiquette.
In the three-plus decades you've been a lifeguard, what are the biggest changes you've seen?
Twenty years ago, the movie Blue Crush opened the North Shore to females surfing. Before, there were two or three girls in the lineup. Now there's almost as many women as men in the water. And when there's women, who follows women? Guys!
Also, when I became a lifeguard, people trained before they came to the north shore to surf big waves. And now, with all the wetsuits, Jet skis, floatation devices and Instagram, now everybody's out there in big waves. It's crazy. The crowds are a lot bigger and less capable than when I started.
Then COVID. Nobody could do anything but go to the beach, and surfing just blew up. One time we counted 40 soft-tops in the lineup. All these people went to Costco and said, "I'm going to take up surfing." Or people who haven't surfed in years and went back to surfing and bodyboarding. And you know how enjoyable the ocean is—people stuck to it.
Any words to the wise? What should people bring to the beach?
Tabis (water shoes), sunblock, hat, water, leash. Lifejackets if they can't swim. Always stay close to your children. Our job is to keep everybody safe. We want everybody to have a good time. If you come to the tower and ask me—whatever the day's conditions and whatever level of experience you have in the ocean—I'll guide you to the place that can make your day safe, and you will have fun.