In the aftermath of Big Island's volcanic eruption, "lava-giving" inspires hope
It's still all hands on deck as Hawaii communities step up to help Puna residents dealing with their homes being destroyed.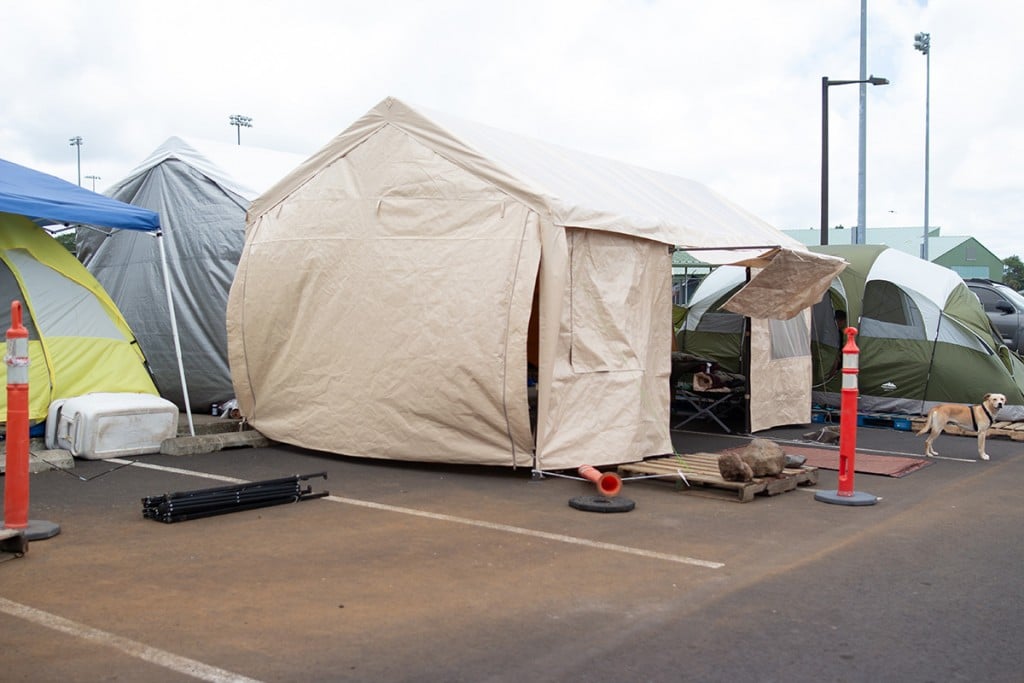 In moments of crisis or disaster, the only questions that really matter are "Am I safe?" and "Is my family ok?"
Since the start of volcanic eruptions on Hawaii Island on May 3, most residents living in or near the danger zones have been evacuated safely. That's the good news.
Long-term recovery will be a different matter. More than 600 (and counting) homes in Puna have been destroyed by lava flow or earthquake. Thousands of families and individuals have been displaced and cannot, when Madame Pele finally does subside, return and rebuild on the same lot.
The sheer number of people without immediate, temporary, and permanent housing is daunting. They no longer enjoy the safety, stability and comfort that comes from living in a permanent dwelling, in a familiar neighborhood. In its place, there is anxiety and uncertainty as to when and how they will find an affordable home or apartment, and get on with their lives.
But the Hawaii community is organizing quickly because they've been through disasters together before. Neighbors go above and beyond to look out for each other. Volunteers arrive from other Islands to help. Organizations like Neighborhood Place of Puna, HOPE Services Hawaii, Puna Baptist Church and The Food Basket are on-site, providing emergency assistance, building temporary shelters, and working together to find long-term solutions.
The Hawaii Community Foundation is there, too, supporting nonprofits via a special Hawaii Island Volcano Recovery Fund, and coordinating grants from the fund to make the most impact. Diane Chadwick, HCF's Director of Community Philanthropy on Hawaii Island met with community leaders and nonprofits and determined that the affected communities will likely be recovering for several years.
"Giving is creating change in Hawaii," Diane says. "With so many families affected by the lava, right now the need is critical for continued giving to support these high-performing nonprofits in caring for Puna residents, helping them find temporary housing and, ultimately, transition to a permanent dwelling."
Spotlight: HOPE Services Hawaii
Pamela Forcinelli's 11-acre farm is now mostly covered in lave. She and ten members of her extended family, have lived on that land, which has provided food and income for them all.
With no home, a mortgage still due and on top of that, the additional expense of rent and security deposit for an apartment, Pamela reached out to HOPE Services Hawaii.
"They helped us pay the first month's rent and the security deposit," says Pam. "They came through for us, which is a huge blessing. With all of our resources tied up in the farm, having a normal life is really challenging. But now, we can take a breath and figure out our next move."
For Susan and John Hendricks, whose home and business are now "directly under the river of lava" HOPE Services was a "godsend." "We turned in the paperwork, and within a day, our new landlord was contacted by HOPE. The house has a shed and a yard, so when we get stressed out, we can work out there. It gives us a feeling of normalcy."
Five weeks after evacuations began, HOPE has received hundreds of requests for permanent housing. Before the disaster, Hawaii Island was already in an affordable housing crisis.
"We desperately need more units," says executive officer Brandee Menino. "Currently, we are building a congregate living space in the form of 20 10'x12' sheds, where people who have been displaced could continue to recover. With the generous support of building supply businesses and contractor-volunteers, we will add drywall, insulation and electricity, so it will feel more like a real bedroom."
HOPE will prioritize kupuna aged 60 and above, then families with children under 18, for these 20 microstructures. With continued support from Hawaii Community Foundation and the Hawaii Island Volcano Recovery Fund, it will plan for immediate, short-, medium-, and long-term housing needs. It will explore options with vacation rental businesses, private landlords, public institutions and spaces to create more micro-housing.
"We are grateful for the generosity of our community partners for their time, talents and treasures. It takes a village to put this project together and respond to those most in need in our community," says Menino. "We hope this project will inspire other churches and property owners to create similar projects."
Spotlight: Neighborhood Place of Puna
"Most nights, my wife and I can hear the eruption from our house and see the red glow from the fountaining lava," says Paul Normann of Neighborhood Place of Puna, which has been "all hands on deck" providing outreach at a community shelter and call center.
"We had many lessons learned from Hurricane Iselle and the 2014 lava flow. When this eruption began, we were ready. We had processes in place to effectively coordinate our response and efficiently collect request for assistance."
With funding from the Hawaii Island Volcano Recovery Fund at the Hawaii Community Foundation (HCF), his nonprofit bought a case-management system. Now, 30 agencies can access a common database that identifies an individual's need, resulting in better coordination and response.
"We're a small organization with deep roots in Puna, and one of the biggest lessons learned from Iselle was the need for a single system for collecting requests and following up on them, says Normann. "Many organizations and individuals try to help out. Through a shared intake process, Neighborhood Place of Puna is able to match needs with services. This has minimized the risk of someone falling through the cracks or, alternatively, being over-served."
For more information, visit hawaiicommunityfoundation.org.