Indulge in a Slice of Pie from these Iconic Hawaii Bakeries
The hardest part will be figuring out which one to choose.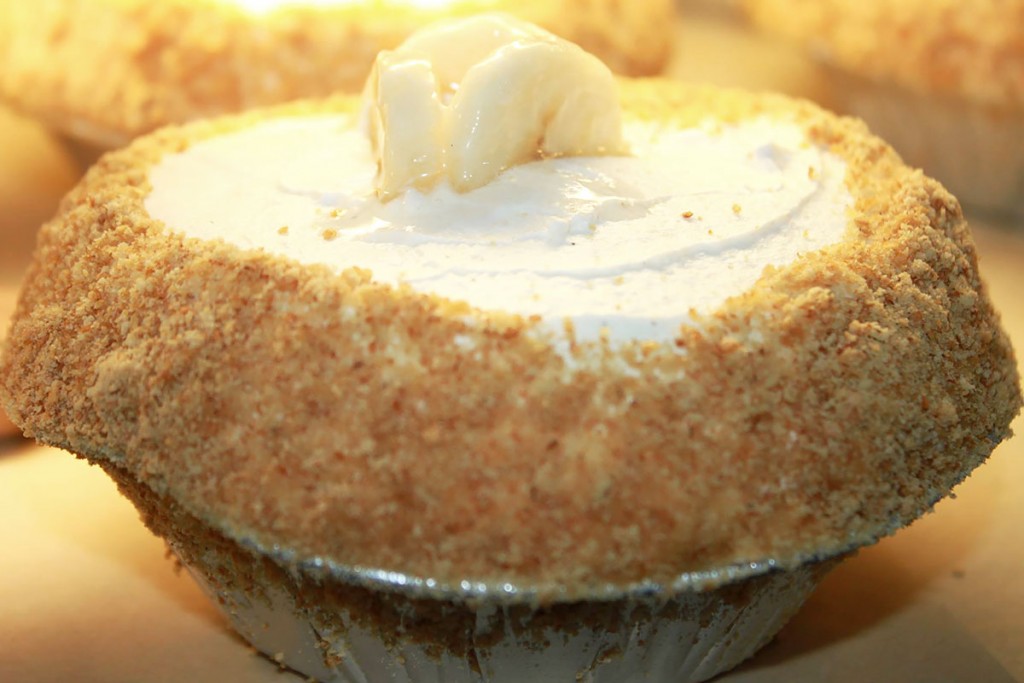 Satisfy your craving with a slice—or two—of delicious homemade pie from one of these classic Hawaii bakeries.
Oahu: Ted's Bakery
When we think of pie on Oahu one place immediately comes to mind: Ted's Bakery. Open since 1987 on the North Shore of Oahu, the bakery is renowned for its cream pies. Our favorite is the chocolate haupia (coconut pudding) cream pie. Its layers of smooth dark chocolate custard and rich haupia, topped with whipped cream. You can also find Ted's Bakery pies in Foodland grocery stores and Don Quijote. Ted's Bakery, 59-024 Kamehameha Hwy., (808) 638-8207, tedsbakery.com.
Maui: Leoda's Kitchen and Pie Shop
When you're on the Valley Isle and hankering for something sweet, head to Olowalu, about 15 minutes before reaching Lahaina. That's where Leoda's Kitchen and Pie Shop is located. This rustic restaurant and pie shop serves breakfast, lunch and dinner—you can find everything from pancakes, sandwiches salads to burgers on the menu. But whatever you order, be sure to save room for a slice of pie. We recommend the banana cream, or the Olowalo lime for something that's a bit tart. Leoda's Kitchen and Pie Shop, 820 Olowalu Village Rd., (808) 662-3600, leodas.com.
Kauai: The Right Slice
It's always the right time to grab a slice from The Right Slice. It's the only specialty pie shop on the island. The bakery is located in Kalaheo in south Kauai. Order a piece of the mango passionfruit. It's the Right Slice's top seller. They also make savory pot pies, such as chicken potpie and shepherd's pie. Not in that part of the island? Last year, The Right Slice set up vending machines, called Slice Devices, in Lihue at Harbor Mall that dispenses fresh-made pies by the slice. (Note: If you use the automated pie vending machine, read the instructions carefully!) The Right Slice, Kalaheo: 2-2459 Kaumualii Hwy., (808) 212-5798; Lihue: 3501 Rice Street, Harbor Mall, (808) 212-8320, rightslice.com.
Hawaii Island: Holy's Bakery
Holy's Bakery is an institution on Hawaii Island. Founded by husband and wife Yoshio and Miyako Hori in 1932, the bakery is still family owned and operated. Located in Kapaau, on the northern tip of the island, the bakery got its name when Yoshio called a sign maker to paint him a sign reading, "Hori's Bakery." But because of his thick accent, the sign maker mistook what he said as "Holy's Bakery." Being humble, Yoshiro kept the sign, and the bakery name. Holy's Bakery is famous for its buttered fruit pies, including apple, peach, pear, coconut, pumpkin and Aunty Mugs Pie—blueberry cream cheese. These pies are sold frozen, but it's still an experience to stop by the bakery in person and meet Margaret Hori, the daughter of Yoshio and Miyako, who runs the pie shop along with her granddaughter Jami. Holy's Bakery, 54-3885 Holy Bakery Rd., (808) 889-6865, holysbakeryinc.com.