Indulge your Taste Buds at Hawaiʻi's Only Whole-Animal Butcher Shop
Waimea Butcher Shop makes sure no part of the animal—and we mean no part—goes to waste.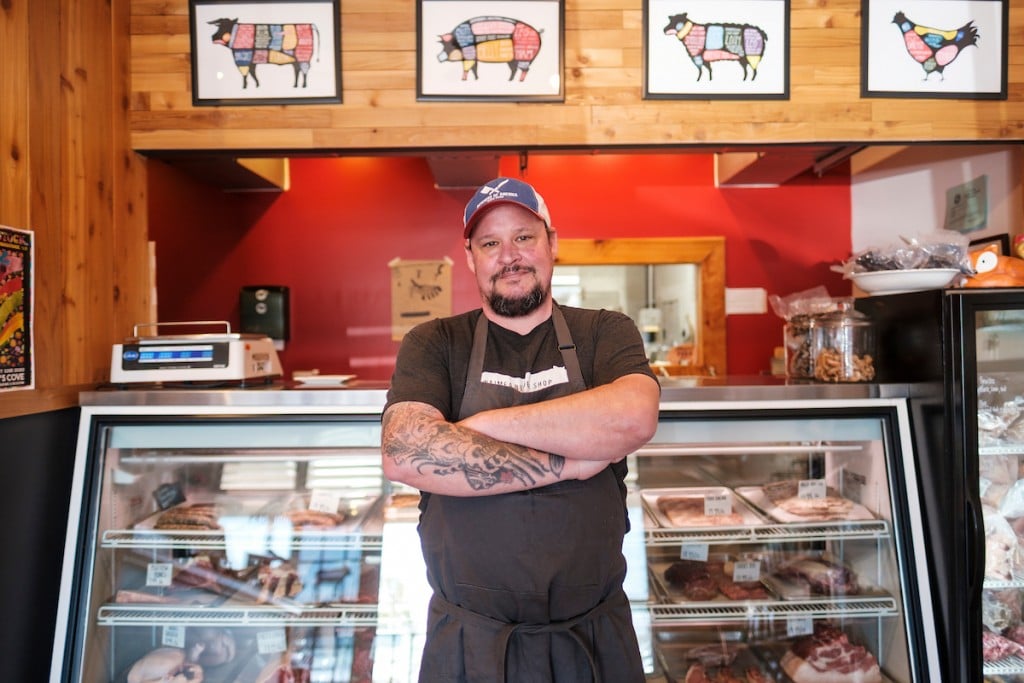 You'll hear the same story from restaurants around the state: They want to work with as much local produce as possible, knowing that food grown right here in Hawai'i is as fresh as it gets. However, there are always some concessions. This comes from Costco. That we have to bring in off-island. Those are too expensive to source locally. But in sleepy, rustic Waimea town, home to some of the largest ranches in Hawai'i, one whole-animal butcher shop is firmly rooted in supporting local agriculture—and business is booming.
"It was kind of a social experiment for me. I just wanted to see what it would look like," says Mills Stovall, butcher and owner of Waimea Butcher Shop, one of the only butcheries in the state that uses the entire animal—heart, face and all. "And I only expected it to be able to work for a year, then we'd have to start bringing produce in. But dude, we're four years in and not looking back."
He's referring to the way his business operates; its goal is to only use, well, anything—produce, water, butter, furniture, you name it—from Hawai'i Island. In addition to selling pork, lamb, poultry and beef in any cut the customer wants, Waimea Butcher Shop also runs a lunch and catering service.
Located in Kamuela Business Center, Waimea Butcher Shop is worth visiting just to check out its massive smoker on wheels, measuring roughly two car lengths, which is parked on the side of the store and used for parties and events. "It makes quite a statement when you're driving down the road with this thing," says Stovall, a hulking, bearded Texan who looks exactly like what you'd imagine a small-town butcher would look like. In reality, he actually grew up studying to be a trained vocalist; he sang tenor for the Dallas Opera and Santa Fe Opera before being introduced to the culinary arts while working part-time as a singing waiter.
It's also here, by the smoker, that he hosts classes on butchery, which are open to the public and fill up fast. If you can't make it for a class, the lunch items are tough to ignore, like the mouthwatering slow-roasted beef brisket sandwich and the succulent overnight-smoked pork shoulder barbecue plate, served with beans or rice, slaw, pickles, onions and white bread. Stovall, who has lived on Hawai'i Island for over 25 years, attributes the quality of the food to his local vendors.
"Every single thing we work with comes from this island," says Stovall, "which is great, because in my opinion, Big Island has the best farms and the best ranchers in the world."
Waimea Butcher Shop is located at 64-1032 Māmalahoa Highway. For more information, visit the butcheries' website at waimeabutchershop.com.