Inside big wave world champion surfer Makua Rothman's life
Makuakai Rothman, the 2014/2015 WSL big-wave world champion, is living his dream as a professional surfer, family man and musician.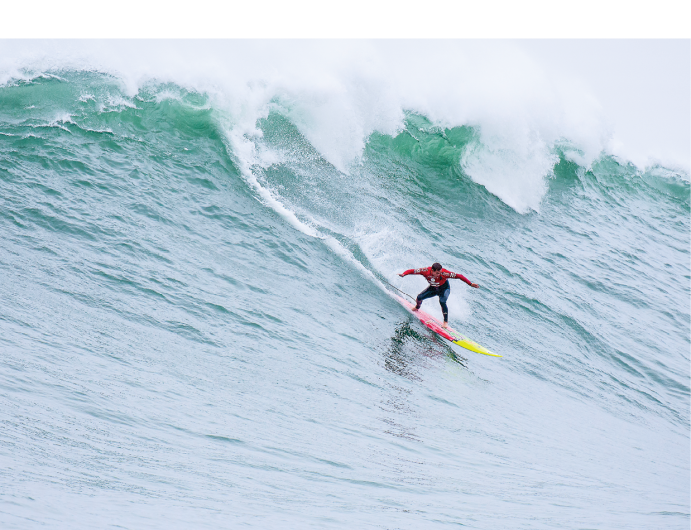 It's 6 a.m. when Makuakai Rothman starts his morning run along the Ke Ala Pupukea bike path on the North Shore of Oahu.
The 2.8-mile path wanders past houses, gardens and world-famous beaches, from Velzyland to Pupukea Beach Park.
The pavement is damp from last night's rain, and the ocean is, well, flat. It's the middle of summer and, though this area is known for its big waves, the sea will lie calm until October, when the surf rolls in. For now, the bike path mirrors the vibe of the ocean: somber and peaceful.
Known as the mecca of surfing, the North Shore has been Rothman's home his entire life—a fitting place to grow up for the reigning Big Wave Tour champion. He won his well-earned title (as the underdog) from the World Surf League, which some consider the NFL of professional surfing.
Rothman first made headlines at the age of 18, when he caught a 66-foot wave at Maui's big-wave spot Pe'ahi (also called Jaws), winning $66,000 for that ride—unheard of for a person his age at the time. But, despite being a standout surfer throughout his years, it was a challenge for the now 31-year-old Rothman to compete on the inaugural Big Wave Tour in the beginning of 2014. Instead of receiving an outright invitation to the events, the kanaka maoli (Native Hawaiian) surfer says he had to beg for a wildcard entry. He got it, then shocked the world when he won the championship in February.
"It is amazing. My ancestors created the sport [of surfing], and I have a direct bloodline to the people that created this sport," says Rothman. "I couldn't ask for much more to represent my people, my culture and my land … Hopefully, by me winning and being the world champion, hopefully doing it over and over again, I inspire the next generation of athletes from Hawaii."
Riding monster waves five-stories high is part of his job and, in order to defend his title, he must make sure he is in top physical shape. So in addition to running, Rothman trains regularly with his coach, Rob Garcia, and is on his way to meet him at an elementary school just off the bike path. Garcia has a two-hour series of plyometric exercises waiting for him—a full-body workout designed to improve balance and strengthen muscles used during surfing.
"For me, I have a lot more confidence to surf big waves when I train hard," says Rothman, who believes that to be a world-champion surfer you first need to be a world-class athlete. Training is also something critical for his overall health; he's wrestled with asthma his whole life.
"I played five different sports in high school: soccer, football, baseball, karate and water polo," says Rothman. His dad, Eddie Rothman, encouraged him to do this in order to build his lungs, so that he could overcome the problems he had associated with asthma. "I had to, because my lungs weren't strong."
While the surfing award has legitimized Rothman as one of the elite big-wave surfers in the world, it was becoming a father of two—son, Thor, 4, and daughter, Hikianalia, 1—that has given him a sense of purpose. Striking the balance between professional surfer and family man is what he hopes to maintain so he can be a good father and provider.
"My daughter was born in my arms, I gave her a kiss, wrapped her in a blanket and left to go to Peru for my first event, ever," he says. "But, Daddy has to go to work because this is what I do to provide for my family. I did my job and I won."
After Rothman finishes his plyometric training, he comes home to a full house of people and activity: His dad is watching surf footage with cinematographer Etienne Aurelius—they're working on a promotional video. Hawaiian surfboard shaper Chuck Andrus is in the garage sharing a new surfboard design. And Rothman's girlfriend, Nalani, is in the bedroom planning a baby luau (Hawaiian feast) for Hikianalia.
It's a tradition in Hawaii to throw a baby luau to celebrate a child's first birthday. Most times, they're larger-than-normal birthday parties that a backyard can accommodate, but Hikianalia's celebration is going to be so big that Rothman and Nalani are holding it at the Turtle Bay Resort because the entire North Shore is expected to come.
It's all about ohana (family) in Hawai'i, and Rothman has a heavy kuleana (responsibility) to his family and to professional surfing. He also has a budding music career.
Mountain Apple, a Hawaii record company, approached him with an opportunity to make an album, and he went for it. Last year, he released his debut album, "Sound Wave." Since then, he's been touring the world to promote the record throughout North America, Israel, Brazil and Japan.
"My grandma always told me, 'You know what, boy, sing from your heart and people will connect,'" he says. "I just get up there [on stage], and have a good time. Every time, I come with the aloha spirit, to spread aloha around the world, and everybody always accepts it."
It's not easy for a lifelong surfer to stay in landlocked areas for extended periods of time to play music, but Rothman's enjoying the ride and is keenly aware of where the giant surf and his priorities are.
"This has been a dream come true, since I've been a child, and I love music, but this is who I am: I am a surfer. My name, Makuakai, is 'father of the sea.' I'm like a fish, and if you don't put me in the water, I might not live anymore," says Rothman. "When I get in the water, I'm the same person I always was, no matter if I have kids, if I have a business, if I have anything; I'm going to do what Makua does. When I step back on land, that's when I turn back into daddy."
This article, "All The World in One Place," originally appeared in the September/October 2015 issue, "Hidden Oahu," of HAWAI'I Magazine.