International lineup of all-star chefs slated for four-day Hawaii Food & Wine Festival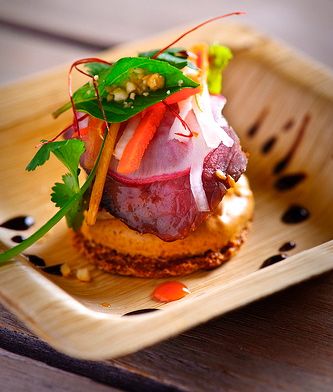 The 2012 Hawaii Food & Wine Festival, set for Sept. 6-9 on Oahu, will feature at least 50 top-notch master chefs from the United States, Singapore, Japan, Korea, Philippines, and Australia. Esteemed vintners will also showcase their expertise during the four-day event.
Chefs will be serving up innovative dishes inspired by Hawaii's diverse culinary and cultural traditions at The MODERN Honolulu, Halekulani, Hilton Hawaiian Village Resort and Spa, and Ko Olina Resort with Aulani, A Disney Resort & Spa, and JW Marriott Ihilani.
The festival's theme, "Taste Our Love for the Land," was established at last year's inaugural Hawaii Food & Wine Festival (HFWF). The theme is inspired by the ancient Hawaiian tradition of ahupuaa — an interdependent mountain-to-sea system in which everything necessary for survival could be grown, gathered and exchanged locally.
A news release issued by festival organizers said: "HFWF highlights the islands' return to a sustainable eco-system of agriculture, environment and economy." Proceeds will benefit the Hawaii Agricultural Foundation, the Culinary Institute of the Pacific, Paepae O Heeia and Papahana O Kuaola.
Here are some of event highlights.
• Enter The MODERN Dragon: Morimoto and Friends, 6-9 p.m. on Thurs., Sept. 6 at The MODERN Honolulu

Building on Hawaii's mid-Pacific location where East meets West, and once again led by "Iron Chef" Masaharu Morimoto (pictured, left) of Morimoto Waikiki, diners will try provocative dishes prepared by 13 chefs from Asia and the Pacific. Other participating chefs include: Edward Kwon, LAB XXIV, Seoul; Sam Leong, Forest Cooking School, Singapore; Charles Phan, The Slanted Door, San Francisco; Roy Choi, Kogi BBQ, Los Angeles; Ming Tsai, Blue Ginger, Wellesley, MA; Chai Chaowasaree, Chai's Island Bistro, Honolulu; Joanne Chang, Flour Bakery + Cafe, Myers + Chang, Boston; Sang Yoon, Lukshon, Culver City; Marco Anzani, Anzani, Cebu City, Philippines; Peter Doyle, est. restaurant, Sydney; Christina Tosi, Momofuku Milk Bar, New York; and Scott Toner, The MODERN Honolulu. Tickets for the event, presented by Hawaiian Airlines, start at $200 per person.
• Second Annual Halekulani Masters Chef Gala Series: Chefs Who Have Cooked for Presidents and Royalty, 6-9 p.m. on Fri., Sept. 7 at Halekulani

Master chefs and top sommeliers will aim to "wow" food lovers with a lavish seven-course meal and wine pairings. The chefs include: Vikram Garg, Halekulani, Honolulu; Alan Wong, Alan Wong's, Hawaii; Nobu Matsuhisa, Nobu, Waikiki; Michel Richard, Michel Richard Citronelle, Central Michel Richard, Washington D.C.; Hubert Keller (pictured, below) Fleur de Lys, San Francisco; Tetsuya Wakuda, Tetsuya, Sydney; and François Payard, Payard, New York. Tickets start at $1,000 per person with reserved seating in Halekulani's ballroom.
•
From Farm to Table: A Makahiki Festival, 6 -9 p.m. on Sat., Sept. 8 at the Hilton Hawaiian Village Resort & Spa (great lawn)

Paying tribute to the Hawaiian "Makahiki" festival, or harvest season, the third evening event will showcase Hawaii's sustainable pursuits with 20 celebrity chefs, many of whom promote "farm to table" sustainable sourcing and cooking practices. The chefs include: Ken Oringer, Clio, Boston; Michael Ginor, Hudson Valley Fois Gras & Lola, New York; Jonathan Waxman, Barbuto, New York; Hiroshi Fukui, Hiroshi Eurasian Tapas, Honolulu; Jeffrey Vigilla, Hilton Hawaiian Village, Honolulu; Josiah Citrin, Melisse, Santa Monica; Ron Siegel, Parallel 37, San Francisco; Mark Noguchi, Heeia Kea General Store & Deli, Honolulu; Todd English, Todd English Enterprises, New York; David Burke, Townhouse, New York; Lee Anne Wong, Cooking Channel's Unique Eats, New York; Susan Feniger, Border Grill, Los Angeles; Justin Quek, Sky on 57, Singapore, Justin's Signatures, Just In Bistro & Wine Bar, Taipei; Yasuhiro Sasajima, Il Ghiottone, Kyoto; Josef Centeno, Baco Mercat, Los Angeles; Sally Camacho, WP24 by Wolfgang Puck, Los Angeles; Toshi Yoroizuka, Toshi Yoroizuka, Tokyo; Nancy Silverton, Mozza, Los Angeles; Josh Feathers, Blackberry Farm, Tennessee, and Alessandro Stratta, Las Vegas. Tickets start at $200 per person.
• Cuisines of the Stars: A Magical Journey of Food & Culture, starting at 6 p.m. on Sun., Sept. 9 at Ko Olina Resort featuring Aulani, A Disney Resort & Spa and JW Marriott Ihilani


The festival finale will be hosted on the Westside of Oahu, with 13 chefs creating a culinary tour of ethnic foods from around the world using local produce and products. Participating chefs include Andrew Sutton, Napa Rose, Anaheim; Mourad Lahlou, Aziza, San Francisco; Dean Fearing, Fearing's, Dallas; Ed Kenney, Town, Honolulu; Raphael Lunetta, JiRaffe, Santa Monica; Celestino Drago, Drago Restaurant Group, Los Angeles; Marcel Vigneron, Marcel's Quantum Kitchen, Modern Global Tasting, Los Angeles; Seamus Mullen, Tertulia, New York; Susan Spicer, Bayona, Mondo, New Orleans; Patrick Fahy, Cafe des Architectes, Chicago; Michelle Ueoka, Alan Wong's, Hawaii; Jacqueline Lau, Roy's Restaurant's, Hawaii; and George Mavrothalassitis, Chef Mavro, Honolulu. Tickets start at $200 per person.
Hawaii chefs, Roy Yamaguchi and Alan Wong, both James Beard Award-winners, serve as event co-chairs for the festival. For more information about the event, click here.