International Waikiki Hula Conference paying tribute to Merrie Monarch's 50th anniversary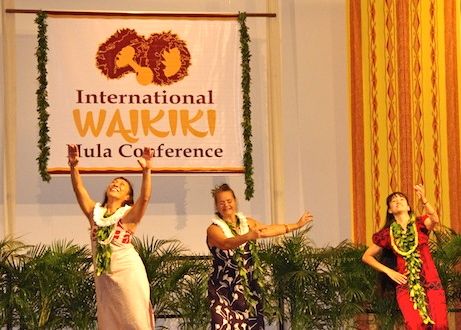 This year's International Waikiki Hula Conference, slated for mid-May, will pay tribute to Hawaii's venerable Merrie Monarch Festival, which is marking its 50th anniversary this spring.
In a news release announcing registration for the three-day conference, May 17-19 at the Hawaii Convention Center, Marnie Weeks, the event's producer, said: "The International Waikiki Hula Conference brings together members of the worldwide hula community with some of the industry's most renowned Hawaiian cultural practitioners to perpetuate the authentic art of hula."
Weeks continued, "We hope that visitors and locals alike will join us in extending the celebratory spirit of the 50th Merrie Monarch Festival for this special weekend of appreciation and respect for hula."
The weeklong Merrie Monarch fest, March 31 to April 6, honors the legacy of King David Kalakaua, who was called the "Merrie Monarch" for his love of traditional Hawaiian arts, especially music and dance. It features world-class hula competition, exhibitions, musical entertainment, arts-and-craft fairs, and a parade through downtown Hilo (on the Big Island).
Now in its sixth year, the International Waikiki Hula Conference will feature mele (songs) and hula taught by award-winning kumu hula (hula teachers), some of whom have also competed on the famed Merrie Monarch stage. In all, plans are in the works for more than 80 Merrie Monarch-themed workshops.
Hawaii's master implement crafters will lead some of the hands-on workshops, including one in which participants will learn how to make an ipu heke (double gourd drum). There will also be educational seminars, such as on titled "Influences and Changes in Hula During the Reign of King Kalākaua."
Conference registrants will have the opportunity to perform a mele at hoike (shows), which will be staged for the public throughout Waikiki.
In recent years, more than 500 hula enthusiasts from the U.S., Japan, the South Pacific and elsewhere have assembled for the conference. For additional information about registration for the annual International Waikiki Hula Conference, click here.
For more information about the Merrie Monarch fest, click here.