Iron Chef America, Top Chef stars to cook Hawaii farm-to-table dinner on Big Island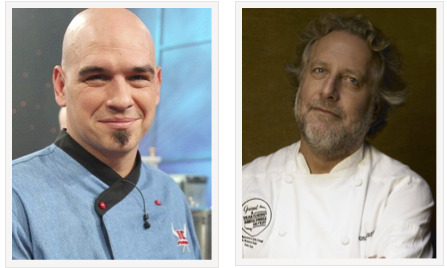 Imagine dining on a celebrity chef-designed six-course meal, prepared with fresh Big Island procured ingredients, at a luxe resort on the South Kohala Coast.
The James Beard Foundation's cross-country gourmand-appealing road trip Celebrity Chef Tours is making a stop at the Mauna Lani resort this month. It's the first time the tour has been in Hawaii.
Celebrity chefs Michael Symon and Jonathan Waxman have signed on to put together a six-course dinner, Jan. 22 at the Mauna Lani Bay Hotel & Bungalows' CanoeHouse restaurant.
Both chefs should be familiar names to food TV fans. Symon stars in Iron Chef America and Food Fueds on the Food Network and is the owner of Lola and Lolita restaurants in Cleveland. Waxman is a best-selling author, star of Bravo's Top Chef Masters and is chef-owner of Barbuto in Manhattan's West Village.
Also on hand in the Mauna Lani kitchen: national award-winning cocktail mixologist Manny Hinojosa, who will create an aperitif, a special dessert cocktail and other surprise drinks throughout the meal; and Mauna Lani executive chef Sandy Tuason. Symon and Waxman also aim to step out of the kitchen during dinner to introduce their dishes and answer guest questions. Prior to the big nights, the chefs will visit with Big Island farmers to handpick the best seasonal ingredients for their self-described "rustic" farm-to-table menu.
With Symon's and Waxman's celebrity chef wattage on hand, the price for dinner is a bit of a luxury—$300 per person to attend the Jan. 22 dinner and Jan. 21 evening welcome reception, or $250 per person to attend just the Jan. 22 dinner. The silver lining here? All of the Celebrity Chef Tour road trip dinners benefit the programs and educational initiatives of the non-profit James Beard Foundation, which celebrates and preserves America's culinary heritage and diversity through scholarships, publications and industry awards.
For tickets, visit the official Celebrity Chef Tours website. To book a room at the Mauna Lani for the celeb chef weekend at a discounted rate, call the hotel at (800) 367-2323 and mention "Celebrity Chefs, Island Style."