Ironman Triathlon, Molokai Hoe canoe race happening this weekend. Where to watch live.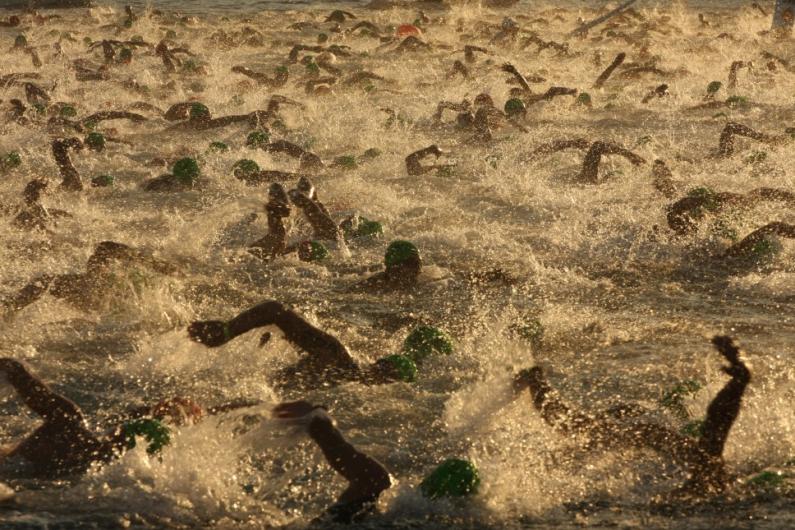 Two of Hawaii's most-enduring homegrown sports events happen this weekend: The Ironman World Triathlon Championship on Saturday, Oct. 9, and the Molokai Hoe Molokai-to-Oahu outrigger canoe race on Sunday, Oct. 10.
If you're on the right islands this weekend, you could watch at least one of them in-person. If not, you can catch at least one of them on the Web.
Kailua-Kona, on the Big Island's perpetually sunny west side, hosts the Ironman World Triathlon Championship annually. The race—celebrating its 32nd birthday this year—is the granddaddy of triathlons and remains the most world-renowned. The first three competitions—which attracted at first only dozens of athletes, and weren't even called Ironman—were held on Oahu, before moving to the Big Island in 1981.
One of the most grueling tests of the physical capabilities of the human body, any triathlon is crazy tough to finish. But the stakes are always higher, the prize and bragging rights always bigger, and the course itself always notoriously grueling at the world championship Kona Ironman.
The all-day event starts with a 2.4 mile ocean swim in Kailua-Kona Bay and moves right into a 112-mile bike ride across the searing hot lava fields of the South Kohala coast up the windswept North Kohala coast to Hawi town and back to Kailua-Kona. Competitors then hit the pavement right away for a full 26.2 mile marathon back into the lava fields. The Ironman finishes back at the Kailua-Kona bayfront where it all started.
The record time for completing the Kona Ironman? Belgian Luc Van Lierde's 8 hour, 4 minute and 8 second win back in 1996. Last year's winner, Australian Craig Alexander finished the course in 8 hours, 20 minutes and 21 seconds, while Briton Chrissie Wellington set a womens' all-time record of 8 hours, 54 minutes, 2 seconds.
The Ironman is so prestigious among triathlons that each of its 1,800-plus participants has to qualify in other sanctioned international triathlons just to enter. The event's athletes prepare months in advance for their moment in Kona. If you've been in Kailua-Kona the last couple of weeks, it's likely you've seen triathletes training alongside Queen Kaahumanu Highway for the Ironman's running and biking portions.
The best place to watch Ironman? The start- and finish-line at Kailua-Kona's bayfront wall, where there will be lots of cool stuff happening all day.
The Molokai Hoe Molokai-to-Oahu outrigger canoe race is less well-known outside of Hawaii, but no less a monumental test of human endurance. Hoe is pronounced "ho-eh," without a glottal stop. It's the Hawaiian word for paddle, or the act of paddling.
Each year, paddling teams from Hawaii and around the world—more than 1,000-plus participants in all—take their single-hulled canoes for a 41-mile open-ocean race from Molokai to Oahu. Doesn't sound like much of a journey? Let us introduce you to the Kaiwi Channel.
Even in good weather conditions, the channel separating Molokai and Oahu can be treacherous. Tradewinds can be too light or too intense. Currents would gladly sweep the canoes far off course. Add in swells as high as 10 feet, which can swamp or capsize canoes, and you get the picture.
Strength—physical and mental—and teamwork are crucial just to finish what's still considered one of the most intense ocean races in the world.
If you're on Molokai, you can watch the teams leave from Hale O Lono Harbor just after dawn on Sunday. By late morning, folks on Oahu's south shore will start noticing the first canoes move past Hanauma Bay, Diamond Head and Waikiki before ending at Ft. DeRussy Beach next door to the Hilton Hawaiian Village.
If you can't be at any of the viewing locations, the Molokai Hoe's host, the Oahu Hawaiian Canoe Racing Association, will be webcasting the race live on Sunday, beginning at 7:45 a.m. (Hawaii time), 1:45 p.m. (Eastern time). The Ironman World Championship will offer live streaming of the competition, text updates and video posted to the Ironman event's official website, beginning at 6:30 a.m. (Hawaii time).
For more information on events, start times and other minutiae, visit the Ironman World Triathlon Championship and Molokai Hoe official websites.