Island-themed works by Hawaii filmmakers to screen this weekend at Maoli Film Festival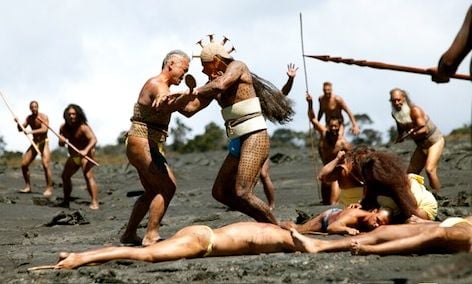 MAMo at Kumu Kahua: First Friday Maoli Film Festival, slated for this weekend at Kumu Kahua Theatre in Honolulu's downtown area, will showcase films by Hawaii directors.
The two-night festival will get under way at 6 p.m. tomorrow with an opening night reception to honor the filmmaking team behind a documentary titled The Tribunal, which will be screened at 7 p.m. Directed by Puhipau and Joan Lander, both part of the filmmaking team called Na Maka o ka Aina, The Tribunal is set in August 1993. During that month, the production team of Na Maka o ka Aina spent 12 days filming the proceedings of the Peoples' International Tribunal Hawaii, in which the United States and the state of Hawaii were put on trial for crimes against the native people of Hawaii.
Keao, which follows a young woman's exploration of ancient cultural practices, will also be screened during the first viewing session. Keao was directed by Kaliko Spenser.


The festival's second screening session is set for 9 p.m. with the screening of Mai Ka Piko Mai, A Ho'i. Directed by Matt Yamashita, the film is about Hawaiian activists and Hawaiian navigators who travel to Kaho'olawe 14 years after the U.S. Military halts bombing operations there.
A third screening session, set for 8:30 p.m. to 10 p.m. on Saturday. Among the spotlighted six selected shorts are: Vacancy (pictured at top of page), which focuses on finding strength and identity by connecting with ancestral history, directed by Nathan Kurosawa; and Pa'ahana (pictured, left), which follows a young father's efforts on behalf of his daughter, directed by Lana Dang. A filmmaker's forum will be held after the screening.
Get a Job, an award-winning comedy that follows a Hawaiian employment agent who must find work for Maui's most unemployable man, will be screened at the festival's final session, 8:30 p.m. on Saturday. The film was directed by Brian Kohne.
The second annual MAMo at Kumu Kahua: First Friday Maoli Film Festival is a fundraiser for Kumu Kahua Theatre, which is dedicated to producing for the stage works by Hawaii writers and works about Hawaii culture. Tickets are $10 for each of the four screening sessions. For more information about the festival or Kumu Kahua, click here.
MAMo (Maoli Arts Month) is a community-based effort that pays tribute to the Native Hawaiian arts community with various events during the month of May. (Maoli is the Hawaiian word for native or indigenous.) Click here for more information about MAMo.
First Friday is a monthly evening art-gallery walk and block part of sorts held in the downtown Honolulu's Chinatown Arts District. For more information about First Friday, click here.