It's National Ice Cream Month! Try these 10 spots serving up Hawaii-made favorites.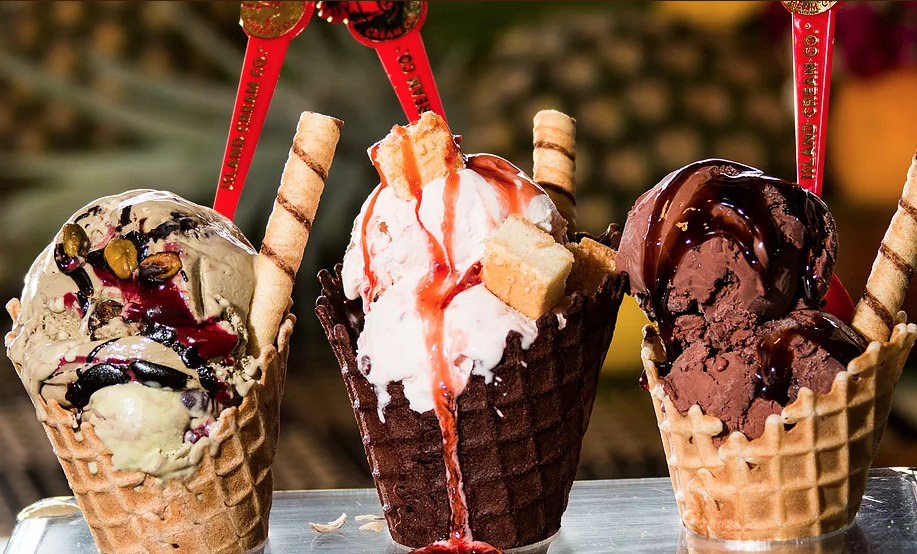 The third Sunday of July is National Ice Cream Day, but you can celebrate all month long.
President Ronald Reagan proclaimed July as National Ice Cream Month after declaring the third Sunday of July National Ice Cream Day in 1984. He called ice cream "a nutritious and wholesome food," and who are we to disagree?
Beat the summer heat and celebrate at these 10 Hawaii ice cream shops, all serving made-in-Hawaii iterations of the cold treat.
OAHU
Dave's Ice Cream
Dave's Ice Cream has been scooping ice cream for those who stop into one of their many Oahu locations for over 30 years. Try flavors like Poha (Cape Goose) Berry or Chocolate Chip Mochi.
Locations in Aiea and Waimanalo.
Magnolia Ice Cream & Treats
A local Filipino shop specializing in tropical ice cream and Filipino treats like halo halo. Try flavors like Kona Coffee Chocodamia Nut, Lychee, Green Tea, Taro, or even Avocado.
Locations in Waipahu and Kalihi.
Pinwheel Hawaii
Try one of their heart- or flower-shaped ice cream sandwiches or flavor combinations like mac nut cookie with taro ice cream, chocolate brownie with haupia ice cream and more.
Various retailers.
Lucy's Lab Creamery
Look for the baby blue storefront and customers lined up in front of this tiny shop. The ice cream menu changes periodically and has included inventive creations such as 'Fruit Loop Vodka.' Who knows what they'll have when you visit a second time.
435 Kamakee St., Honolulu
Wing Ice Cream Parlor
There are all sorts of creative flavors—some made as suggested by customers on the Wing Wish List board inside. In the past there has been hurricane popcorn or rose-flavored ice cream. Currently, kulolo, is among the available flavors.
1145 Maunakea St., Honolulu
Scoop of Paradise
Stop in for fresh homemade ice cream at either of Scoop of Paradise's locations, with flavors like lilikoi (passion fruit) cheesecake, coconut macadamia and rosemary lemon, made using as many local ingredients as possible.
66-145 Kamehameha Hwy, Haleiwa • 66-935 Kaukonahua Rd, Waialua
MAUI
Island Cream Co.
Island Cream Co. hand-makes their products using fine and natural ingredients, including local products when possible. Try their vanilla, chocolate or cinnamon-flavored house-made waffle cones, or try a scoop on one of their cakes, shortcakes or cookies.
305 Keawe St., Lahaina
Banyan Treats
Choose from flavors such as Kona Mud Pie, chocolate macadamia nut, or mango and put it between two freshly baked cookies, which also come in fun flavors like pineapple-ginger-macadamia, for a sweet ice cream sandwich.
658 Wharf St., Lahaina
HAWAII ISLAND
Tropical Dreams
Cool off with super premium ice cream in flavors such as passion fruit cream or Tahitian vanilla sold from Tropical Dreams' factory in the same building. It doesn't get any fresher.
66-1250 Lalamilo Farm Rd., Waimea
KAUAI
Lappert's Ice Cream
Lappert's Hawaii creations are made daily in small batches on Kauai. Try Heavenly Hana: a chocolate ice cream base with marshmallow swirls and white chocolate chunks, macadamia nuts, dark chocolate almond chunks, chocolate bits and roasted almonds, in a homemade waffle cone. The original location in Kauai has since branched out to Maui and Oahu.
1-3555 Kaumualii Hwy., Hanapepe, Kauai