It's O-bon season in Hawaii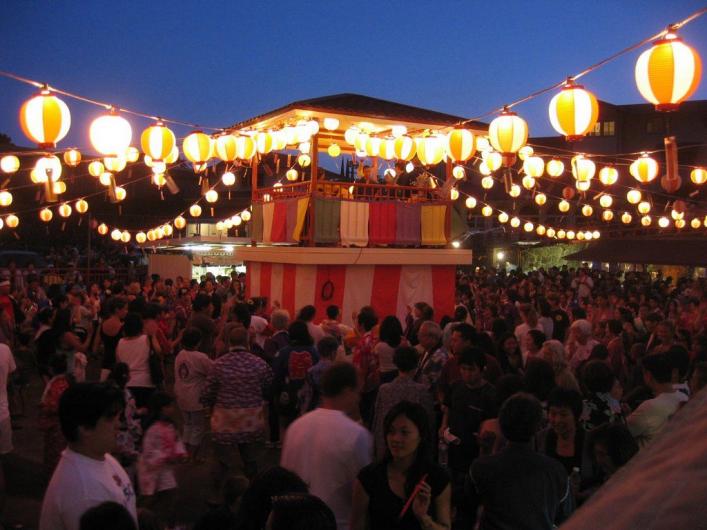 Summer is almost here, which means o-bon season is upon us.
O-bon, or simply bon to many, is a Japanese Buddhist custom honoring the departed spirits of ancestors. According to tradition, it is believed the summer months are when these spirits return to visit family and friends.
In Hawaii, o-bon has taken on a life of its own—as much a celebration of cultural heritage as it is a ceremony of spiritual remembrance. From mid-June to August, you'll find o-bon festivals happening every weekend evening at hongwanjis (Jodo Shinshu sect Buddhist temples) throughout Hawaii.
O-bon translates to "lantern festival," which makes sense considering the significance of the colorful chochin hanging lights that cast a glow over dancers. The lanterns are believed to light the way for ancestral spirits, who are then greeted with offerings of flowers, food and incense. Growing up, I would often drive past Oahu's many hongwanji o-bon dances, marveling at the brightly-lit chochin dancing in the wind like fireflies.
O-bon festivals date back more than 500 years in Japan, but it's a tradition that remains especially strong in Hawaii. Here, o-bon festivals are perhaps best known for the beautiful dances participants engage in, known as bon-odori. The dance differs slightly depending on the Japanese prefecture of its origin, but generally involves people circling around a high wooden scaffold called a yagura.
As might be expected given Hawaii's multi-ethnic population, folks from all cultures and religious backgrounds often show up to dance to the beat of taiko drums. The dances are also known for their array of Japanese foods for sale—andagi (sweet fried dough), grilled teri-beef and –chicken skewers, musubi (rice balls wrapped in dried seaweed), stir-fry noodles—meant to nourish dancers and raise money for the host hongwanji.
If you're here for the summer, don't miss checking out an o-bon festival. Better yet, pick up a yukata (summer cotton kimono) or hapi coat and actually welcome home the spirits with others.
You'll find a complete list of o-bon festivals on all islands here—courtesy of Japanese-American journal The Hawaii Herald.