It's Punahou School Carnival weekend! Our guide, from chutney to parking.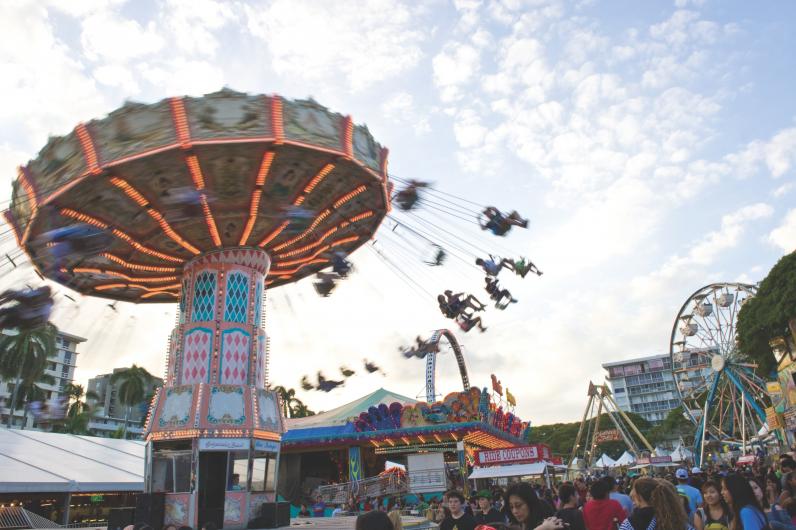 The Punahou School Carnival returns this weekend for its 79th year.
Why get so excited about a high school carnival, you might ask, even if the school in question is President Barack Obama's former alma mater? Well, for one thing, this granddaddy of Hawaii high school carnivals is more than just food, games, rides and crafts. It's pretty much an Oahu institution—a two-day-and night gathering place for residents of all ages, from all over the island, with attendance numbering in the thousands, rain or shine.
Haven't been, haven't been in a long time or just looking for details on this year's Punahou School Carnival (the 2011 theme: The Carnival Before Time)? Here's our guide on everything from where to find the Punahou Carnival (by bus or car), hours, what to eat, where to park and everything else you need to know.
Some history ..
The first Punahou Carnival was organized in 1932 by students to raise funds to publish the school yearbook. "The first event had a bowling green, fortune telling, pony rides, a pie-eating contest and tub races in the swimming pool," says Carlyn Tani, a representative from the Punahou Communications Office. "Attractions cost a nickel, and students raised $240 for the yearbook."
These days, the carnival has evolved to an all-out extravaganza, which Punahou School students and staff look forward to—and prepare for—year-round. The event is staffed entirely by volunteers—more than 4,000 students, parents, alumni and faculty and staff. The largest fundraising carnival in the state, proceeds raised from it support the private institution's financial aid program.
It's also a true community event (that is, if the community in question is the entirety of Oahu). A place to grab some better-than-usual carnival food, ride some rides, play some carny games, pick up some malasadas and maybe a painting to take home, and run into friends and neighbors you haven't seen in a while. If you like crowds, the Punahou Carnival's got 'em.
Where to go and when …
The carnival will be open to the public Fri., Feb. 4, and Sat., Feb. 5, from 11 a.m. to 11 p.m. on the Punahou School's lower campus in Manoa Valley. You'll find the main walk-in entrance on the corner of Punahou Street and Wilder Avenue.
Entry is free.
Parking and bus routes …
There is no Punahou School campus public parking for the carnival. Most residents who drive to the carnival park at nearby churches, schools or businesses, within walking distance from the campus. These entities charge anywhere from an $8 flat rate for grass parking (at Central Union Church on Beretania Street) up to $55 for an all-weekend pass with in/out privileges (at St. Clement's Church on Wilder Avenue). Punahou's website offers a list of private parking areas within walking distance.
Oahu's public transit service TheBus has two routes that pass the campus: Route No. 4, which originates from and returns to Waikiki along Wilder Ave., and Route No. 5, which originates from and returns to Ala Moana Center along Punahou Ave.
What to eat …
If you're able to arrive at the carnival early enough—as in, within the first couple hours of opening day—head straight for the booth selling the carnival's famous mango chutney. It is handmade, and its mangoes often hand-picked—by students during summer mango season, and usually sells out by Friday afternoon.
The carnival's famous hot malasadas are another must-eat. Like much of the fare at the carnival, these scrumptious, fried doughy treats are handmade from a prized school recipe. The carnival's malasada madness dates back to 1957, and an original recipe from the school's then-cafeteria manager. Malasada aficionados have been grateful ever since. Tip: there are two malassada booths at the carnival. One at the Ewa, or west, end of the grounds, and the other on Diamond Head, or east, side.
Hawaiian food your craving? Visit Dole Hall for a Hawaiian plate replete with poi, kalua pig, lomi salmon and haupia. Or grab a bowl of Portuguese bean soup or a hulihuli chicken plate. Enjoy your meal while listening to free entertainment by renowned local artists Henry Kapono, Manoa DNA, Danny Carvalho and the Punahou Jazz Band.
Other carnival minutiae …
While you're at the carnival early for first dibs on the mango chutney, check out the Punahou Carnival's famed white elephant sale. A bevy of donated, second-hand merchandise—which in the past have included rare finds such as vintage furniture as well as clothing, toys, books and a host of other items—goes up for grabs at garage-sale prices first thing opening day. Trust us, early birds get the best picks, and the really good stuff goes fast.
If you can't make it to the carnival early, get there late. The carnival sells a variety of plants—everything from herbs to trees. Anything left over in the waning hours of the carnival on Saturday night is often marked down at heavy discounts.
Malasadas with a chance of rain …
Finally, the Punahou Carninval weekend is notorious for attracting rain showers. This isn't much of a surprise to longtime carnival fans, given Hawaii's rainier winter season and the school's rain-kissed Manoa Valley location. The rains have even spurred a years-long tradition where students do a rain dance to help thwart the wet weather. Bring light rain gear with you, just in case, and you'll be fine.