It's the last weekend to register for the Great Aloha Run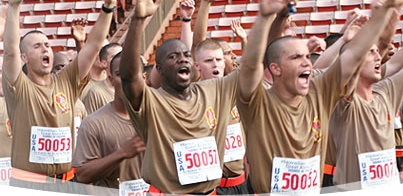 If you're on Oahu this weekend, how would you like to run 8.15 miles? It will only cost you $45, cash only.

There's still time to sign up for theGreat Aloha Run, next Monday. If you aren't from Hawaii, it's a chance to meet and exercise with other fitness-minded folks.

Founded in 1985, the Great Aloha Run has become a traditional event in the Islands. The race raises funds for more than 100 non-profit health and human service groups throughout Hawaii.

Every year on President's Day, more than 20,000 walkers, joggers and runners participate in the 8.15-mile race from Aloha Tower to Aloha Stadium. This year, I will be one of them.

Just stop by the Great Aloha Run Sports, Health & Fitness Expo at the Neal S. Blaisdell Center Exhibition Hall in Honolulu, to sign up. There's plenty to see at the expo as well.

If you've already signed up for Monday's charity run, don't forget to pick up your instruction packet. I'll be there this evening picking up my race number. Wish me luck!