Iz's "Rainbow" consoles Tim Russert mourners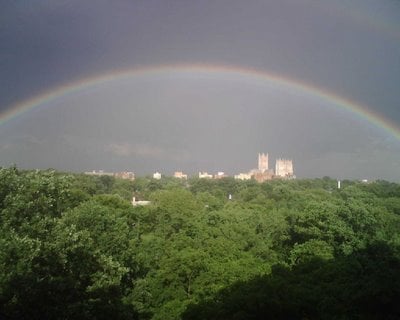 At the end of broadcast journalist Tim Russert's funeral service this week, the attendees left to "a ukulele version of 'Somewhere Over the Rainbow,'" said MSNBC's Keith Olbermann.
The song was, of course, the late Israel Kamakawiwoole's magical recording of the tune—which was a favorite of Russert's.
Outside the funeral, people were amazed to suddenly see the double rainbow in this photo—a far rarer sight in Washington, D.C., than in Hawaii.
"If a soul can create a rainbow," said Olbermann, "that was Tim smiling down at us."
With all due deference to Mr. Russert, who was apparently a fine man—the rainbow, that was from Iz.