Jack Johnson gets Rolling Stone cover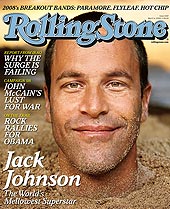 North Shore of Oahu resident Jack Johnson made the cover of Rolling Stone this week.

Nothing new to report—beyond Johnson's new album Sleep Through the Static spending a second week at No. 1 in Billboard. (It debuted in the top spot last week.)

There was also this Honolulu Star-Bulletin story about tickets for Johnson's annualKokua Festival being resold by Mainland ticket buyers for upwards of $1,000 apiece for the best seats—a 1,000 percent mark-up. Tickets for the April 19 and 20 benefit concerts featuring Johnson and Dave Matthews completely sold out in 20 minutes on Saturday, leaving many fans empty-handed and upset.

But back to the Rolling Stone news. It's Johnson's first cover for the magazine—still a serious milestone for any musician—and we kind of dug the cover photo.

An excerpt of the story is here, and a fairly voluminous photo gallery here.

Check out my reviews of Sleep here and in the March/April issue of HAWAII Magazine.