Jack Johnson Sandwich: A report from Kokua Festival 2008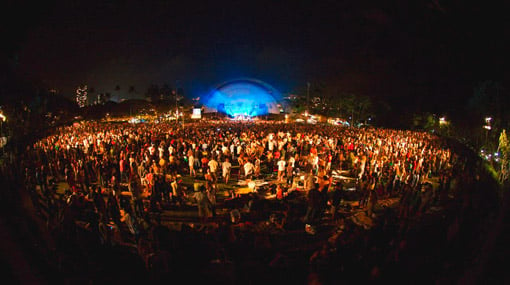 Hawaii singer-songwriter-musician Jack Johnson's Kokua Festival is happening today and Sunday in Waikiki. Our friend, writer and Jack fan Jessica Ferracane, will be at tonight's sold-out show. She's promised us a post-concert report and photos. Until then, we're happy to share her view from the ground of Friday's pre-Kokua Festival press conference.
Pinch me. I'm in a crowded lunch tent at the Waikiki Shell, and there's Jack Johnson and his wife Kim noshing on Mexican food with one of their sons. Seated next to them is Dave Matthews with his wife Ashley and their twin daughters. Hawaiian songstress Paula Fuga is standing in line behind me. I try to get her to cut but she's all "no need, thanks though" with a wide smile.
There's a casual vibe I've never experienced at a press conference. The atmosphere is more baby luau, minus the Heineken.
It's a good vibe. And it's for a good cause, too.
The Kokua Festival is a benefit for the Kokua Hawaii Foundation, which supports environmental education in Hawaii schools. And festival and foundation co-founders Jack and Kim Johnson, and their eco-conscious dream team, take their commitment to the cause seriously. The festival is as environmentally responsible as it can be.
There are water stations throughout the Waikiki Shell grounds so concertgoers can refill their water bottles. Recycling, food waste and composting stations are also set up. Generators are powered by bio-diesel. Organic cotton concert tees—and other sustainable products—will be on sale in a Kokua Village concertgoers pass through on the way to their seats.
After lunch, the press conference begins. There are reporters representing everything from Sunset Magazine, to BBC Radio, Surfer's Path Magazine, Honolulu TV stations and print publications, and Australian and Japanese media.
Jack is center stage, seated at a long table. He is sandwiched by Kim on his left; and fest musicians Matthews, Fuga, Tim Reynolds, Mason Jennings and members of local reggae-ska band Go Jimmy Go to his right.
They tell us that Kokua Festival, now in its fifth year, is striving to be the first zero waste music festival in Hawaii. They hope to inspire organizers of other music festivals to do the same.
Kim Johnson can clearly articulate the educational and environmental impact of the festival she helped create. But most questions from the press are directed at Jack. One "reporter" in short surf trunks and a bikini top exposing well-sculpted silicone enhancements, gets the rest of us snickering after asking Jack a breathy question that's already been asked and answered by Kim.
No time to ponder that, though. I've got to pull out my organic cotton outfit and get ready for Saturday's show.