"Jake Shimabukuro Ukulele Day" in Waikiki features musical workshops, live concert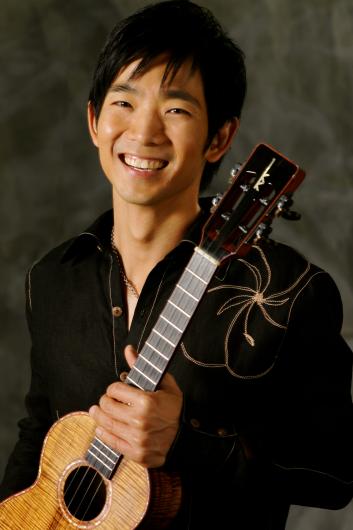 DFS Galleria Waikiki is celebrating Hawaii ukulele virtuoso Jake Shimabukuro's 10th anniversary as a solo artist today (Mon., Aug. 8) with workshops and ukulele performances by various artists throughout the day.
If you're in the Waikiki area, check it out. The performances are free, and bouncy ukulele music is sure bet for toe-tapping fun.
Jake Shimabukuro Ukulele Day will start at noon with a children's jewelry-making workshop, using ukulele strings Shimabukuro (pictured, right) has used during stage performances. There will also be an all-ages ukulele workshop taught by Jake's younger brother, Bruce Shimabukuro.

At 3 p.m., there will be a free showing of the popular Japanese film Hula Girls, which features the sound track scored by Jake Shimabukuro. The film is based on a true story that took place in Iwaki, Fukushima, one of the areas hit by the March 11 earthquake in Japan. "Be Aloha" T-shirts will be available for purchase, with all the proceeds going to a charity to help children in the area.

Before Jake Shimabukuro's 7 p.m. concert, Jody Kamisato and Ukulele Hale will perform, followed by a 9-year old ukulele, Aidan. Jake's performance will be live streamed via Ustream. Click here for more details about the streaming. For more information about the Jake Shimabukuro Ukulele Day event, click here.
Here's the lineup for today's event at DFS Galleria Waikiki, at Kalakaua and Royal Hawaiian avenues.
• 12 p.m. – 1 p.m. — Kids' Jewelry Making Workshop, using ukulele strings
• 1 p.m. – 2:30 p.m. — Ukulele Workshop with Bruce Shimabukuro
• 2:30 p.m. – 3 p.m. — Bruce Shimabukuro, performance
• 3 p.m. – 5:30 p.m. — Hula Girls, free movie screening
• 5:30 p.m. – 6 p.m. — Ukulele Hale, performance
• 6 p.m. – 6:30 p.m. — Jody Kamisato and 'Uke's Rising Stars, performance
• 6:30 p.m. – 6:45 p.m. — Aidan, performance
• 7 p.m. – 8 p.m. — Jake Shimabukuro, live concert
• 8:30 p.m. — Autograph-signing session, third floor