Japanese Band Plays USS Missouri Memorial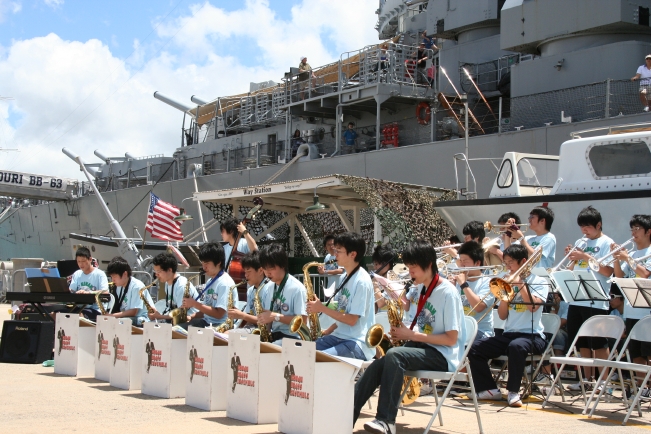 This is the Konan High School Brass Ensemble from Ashiya, Japan.
It's a rocking ensemble. Check out this clip of the band playing today in Bishop Square, downtown Honolulu, outside the HAWAII Magazine offices.
Honolulu has become a crossroads for East and West, so it's no surprise that Konan High does a yearly band exchange with an Oahu school, Le Jardin.
On Monday, the Konan Brass played the Battleship Missouri Memorial. In other words, they performed in the shadow of the USS Missouri. And it was onboard the Missouri, on Sept. 2, 1945, that Japan surrendered, bringing World War II to a close.
We like the symbolism—the Missouri Memorial is currently home to a "Parade of Bands." Continuing through June—and during a second season from Nov. 11 until Dec. 7—more than 2,000 students from more than 40 bands perform at the memorial.
For more information about the Parade of Bands program, contact Bobi Baclaan, special events coordinator, at (808) 455-1600, ext. 247, or e-mail bobib@ussmissouri.org.