Jason Mraz shares tales from "I'm Yours" Hawaii video shoot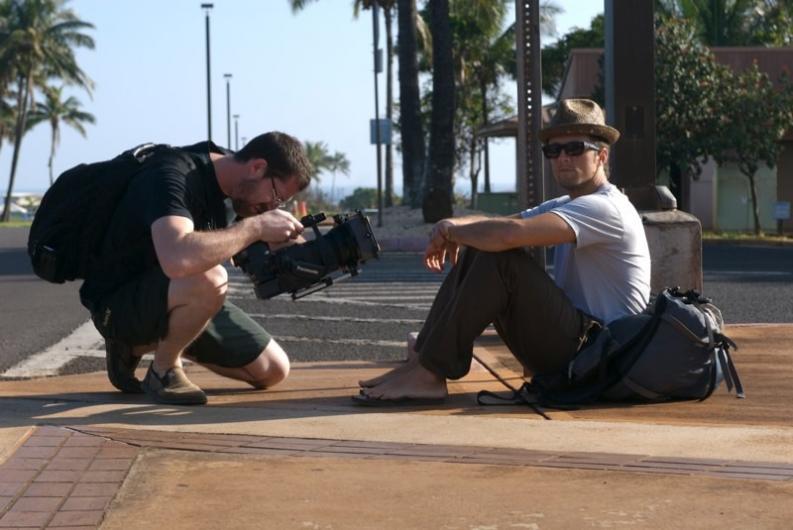 For the March/April 2009 issue of HAWAII Magazine, I caught up with singer-songwriters Colbie Caillat and Jason Mraz to discuss music videos each filmed in Hawaii last year with veteran music video director Darren Doane. In our print edition, Mraz and Caillat talk about why they wanted to film videos for their hits "I'm Yours" and "The Little Things" on Oahu and Kauai—turns out both musicians, and Doane, had some history in the Islands prior to the shoots. Here on HawaiiMagazine.com, we're featuring the trio sharing behind the scenes stories from the video shoots, which you can read while watching corresponding scenes in the videos.
In our first Web feature, posted earlier this week, Caillat and Doane shared behind-the-scenes stories from the video shoot for "The Little Things" in Kilauea and Hanalei on Kauai's north shore.
In this, our second of two Web posts, Mraz and Doane talk about filming the "I'm Yours" video on the fly at various locations on the islands of Oahu and Kauai. For the last four years, Mraz has spent at least four weeks a year on Kauai exploring the island's rugged, yet lush terrain, between adventures almost always staying with friends he makes. The video for "I'm Yours" riffs on Mraz's preferred Hawaii vacation style. Over two days last winter, Mraz and Doane simply went out to shoot with a couple of cameras and virtually no crew. There was no schedule. They shot what they encountered.
The time in parentheses in the text refers to the point in the video Mraz and Doane are discussing. You can view the video for "I'm Yours" at the end of the post. Click twice on the video frame to enlarge the video.
We'll allow Jason and Darren to do all of the talking from here:
Private jet, Kauai (0:00)
The video's opening scene is an overhead shot of a private jet at Lihue Airport on Kauai. It sets up the next scene where Mraz is seated, supposedly, in that same airplane.
Mraz: "I always laugh at the opening shot of the private jet because people assume it's mine. It was actually just a clever edit by Darren, having shot down on it during a (Kauai) helicopter tour."
Apartment interior, Oahu (0:07)
After gazing thoughtfully into a fish tank and putting on a backpack, Mraz's video self departs an apartment, leaving the unit's key behind. The location was an actual occupied apartment unit on the North Shore of Oahu. All furnishings belonged to the occupants.
Doane: "I wanted to open with Jason leaving an apartment to go somewhere. We knew some friends who said, 'Hey, we have an apartment!' We showed up and didn't know what was going to be in there. There was a fan, and there was a fish tank. I think we took down maybe one (window) shade they had up to let some light in."
Mraz: "I never met the girl who lived there. She was at work. But having swam in her sheets, I can say she smells like a hottie."
Taxi ride, H-1 Freeway, Oahu (0:33)
Mraz sits in the backseat of a taxi. The scene was filmed the morning after completion of Oahu shooting. Doane hunkered down next to Mraz on the same seat. A CD with "I'm Yours" played on the cab's stereo for Mraz to sing along to.
Mraz: "The cab ride was real."
Doane: "That's the cab that took us to the airport to get on a plane to Kauai. I asked the driver if it was OK if we turned on some music and let Jason sing. He was from Vietnam and it turned out that he was a singer, too. After we did our two or three takes, he put his CD in and we got to hear some Vietnamese pop disco."
Banzai Skate Park, Oahu (1:06)
Mraz thumbs a ride from a couple of guys in a pick-up truck who take him to the little-known skateboard park on Oahu's North Shore.
Mraz: "The pick-up came from the generous guys (in the truck) who wanted to take us to the skate park. I met them only minutes before thumbing a ride in the back of their jalopy."
Doane: "Mitchell (last name unknown) and (Mark) Partain are the two guys that pick Jason up. Partain is sort of a legendary old school backyard pool skater. That's the real entrance we take into the park. You enter through the bushes. There are no markers. You've just got to know where it is."
Mraz: "This may have been the hardest shot of the day because it was the first spot where I had to sing in public. The place was full of kids and they were all shredding. I hadn't skated in years and didn't want to give the wrong impression of being there. Luckily, the team I was with took over the pool and rode it like no one I'd ever seen."
Maunawili Falls, Oahu (1:45)
Mraz hops in the back of yet another late model pick-up truck, this time with a trio of girls. The waterfall, on Oahu's windward side, was suggested by the girl he's seen conversing with at the skate park—a North Shore resident he and Doane had just met.
Doane: "It was a drive from the North Shore to the falls, and then quite a hike up to the falls. I remember thinking it was going to be easy. But it was work going up because it had just rained and it was wet, muddy and slippery. When we got the footage back, though, it was worth it."
Mraz: "This was the best part of the day. Everyone who wanted to simply hang out to watch the shoot had to make the steep hour-long hike through the mud to prove themselves worthy of being in our company." (Laughs.)
Doane: "When we got to the actual falls, there were about 30 or 40 people who were just there to swim. People started recognizing Jason and came up and asked what he was doing."
Mraz: "We caused a traffic jam with the music. But luckily, most people knew the song and were willing to be in the video."
Doane: "'I'm Yours' hadn't been released, but everyone there already knew the song. It was just taking off in Hawaii. So we just went for it."
Mraz: "We only had time for one jump before we had to hike out. I only went halfway up (the falls). One of the girls went to the top. Next time, I'll go for it."
Kapaa, Kauai (2:30)
After a plane ride from Oahu, Mraz catches a shuttle at the Lihue Airport and winds up in the east-side Kauai town, which he simply explores on foot.
Doane: "The shots of Jason on the airplane were actually taken on our flight to Kauai. That's a real flight attendant bringing him a drink. I just sat in the other seat across from him and filmed while he put his iPod and a speaker low on his seat and sang. We did two takes and then we had to prepare for landing. The bus he catches is the airport bus that drops you off in town. We just jumped in, played the music on the iPod and Jason just improvised."
Mraz: "Haena, Hanalei and Kapaa town are my usual hangs. I like to stay within a close proximity of Papaya's Natural Food store. Ideally, (when on Kauai) we meet somewhere before dawn to get some quiet glassy surf. By 9 (a.m.) we can be in Kapaa for a Bikram Yoga class followed by some tasty eats from Mermaids (Café). … I have fond memories of taking over the open mic night at Small Town Coffee—which is seen in the background at one point (in the video).
Mokuauia (Goat Island), Oahu (2:55)
While it appears in the video as if Mraz hasn't left Kauai, these water shots were filmed in real surf off Mokuauia Island (a.k.a. Goat Island) on Oahu's windward coast the day before leaving for Kauai shooting.
Mraz: The idea was to circle Goat Island. But we were running out of light so we opted for a little rock (nearby). I had to act cool and curious on the boat when the camera was running. But I was (expletive) my pants whenever a rogue wave came up on us. It would've been a long swim had we capsized."
Post-sunset backyard party, Oahu (3:05)
Mraz sings at an evening backyard jam with longtime percussionist Toca Rivera.
Doane: "That was actually filmed on Oahu, too, (near Mokuauia Island and the windward coast town of Laie) on the night of our first day of shooting. It's a house someone knew about, that we were given access to. We put up a couple of lights, a couple of torches, brought a bunch of food. People partied and hung out, and Jason played."
Hanalei Pier, Kauai (3:21 and final shot)
The final shot of Mraz kicking back on the Hanalei Bay landmark is actually the final shot of the "I'm Yours" shoot.
Mraz: "We got to Hanalei Pier around 3 (p.m.). This was our last shot and where we said goodbye to everyone. We spent the afternoon surfing at Pine Trees (a Hanalei surf spot) … with a shark sighting."