Jason Mraz shatters music biz record with Hawaii-influenced "I'm Yours"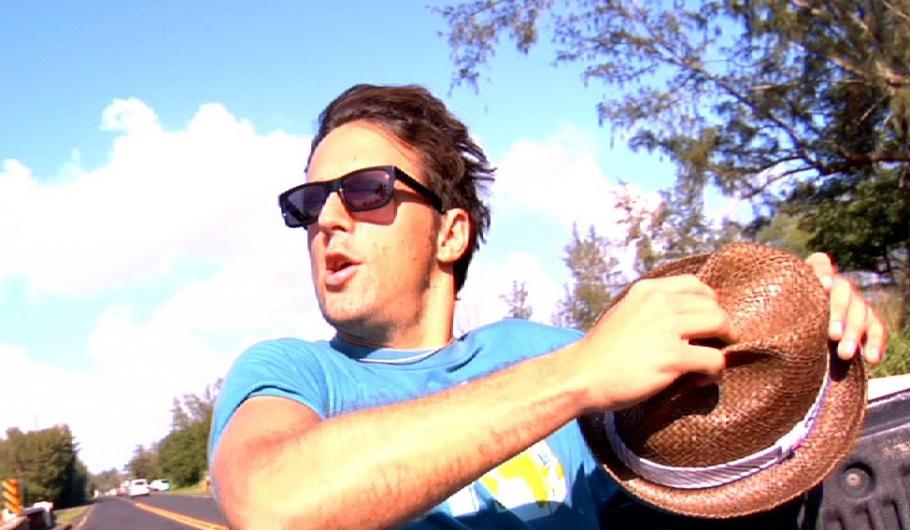 72 weeks and counting.
That's how long singer-songwriter-musician Jason Mraz's wildly popular hit song "I'm Yours," has spent on Billboard Magazine's Hot 100 singles chart, as of this week. As it turns out, it's also the most weeks any song has spent ensconced on the influential music chart in its entire 50-plus years of existence.
The previous record holder? Pop-country singer LeAnn Rimes' 1998 hit "How Do I Live," which spent 69 weeks on the chart in 1998 before dropping off.
It might surprise many to know that "I'm Yours"—a longtime Mraz live show favorite, which finally wound up on his 2008 album We Sing. We Dance. We Steal Things.—was heavily influenced by Mraz's time in the Islands. Mraz is a frequent Hawaii visitor, vacationing on Kauai a couple of times a year since 2004.
"My time is often spent bouncing up and down from Kapaa to Hanalei," Mraz told HAWAII Magazine, earlier this year. "Meeting people is easy on Kauai, and the hospitality is unlike anywhere else in the world. So by the end of my stay I've usually been in two or three homes while always giving myself a night or two under the stars."
"I'm Yours" wasn't written on one of Mraz's Hawaii trips. But his shaping of the song over the next four years in concerts and early recordings would be influenced by his time in the Islands.
"I wrote the song in San Diego during the summer of 2004, just before visiting Hawaii for the first time," said Mraz. "The song was more of a novelty back then. But after visiting Hawaii more and more, the rhythm of the Islands began to shape the way I played it and my attitude about singing it.
"I didn't want to fake a reggae song through the craft of songwriting. I really wanted to experience it."
Hawaii is not the birthplace of reggae, of course. But a whole genre of Hawaii-produced music, dubbed Jawaiian—for its blending of Jamaican reggae and local acoustic-based pop/folk—has been a near-omnipresent part of the music scene here for more than two decades. In Hawaii, Jawaiian music is as inescapable as it is polarizing—popular with fans of its laid-back, breezy stylings, while often derided by Hawaiian music traditionalists.
"I'm Yours" carries hints of Jawaiian in its DNA. So it wasn't at all surprising when many Jawaiian music acts—more commonly called "island music" acts, these days—quickly added covers of the song to their live repertoire after it became a national hit.
Mraz would eventually film the music video for "I'm Yours" on one of his Hawaii vacations, as well. At the time, Mraz had only two goals in mind for making the video here: satisfying his record company's demand to have a music video to promote the song and album; and extending a Kauai vacation.
"I was already headed to Kauai … to visit friends and warm water and I didn't want to cut my trip short to go make a silly video," said Mraz. He was also initially reluctant to paint too definitive a portrait of the song's lyrics on film.
Said Mraz, "The song had already been around for three years with much success, and I believed listeners had already applied their own ideas about what it was about. … (But) then I read (video director) Darren (Doane's) non-story treatment that focused on being present, open to opportunity, and how life is a constant adventure.
"It meant that I wouldn't have to play a pretend character and, thanks to his connections on the Islands, I would get to explore places I'd never been, and get to stay longer than my vacation was originally scheduled for."
Riffing on the song's theme of being open to opportunity and adventure, veteran music video director Doane—a frequent Hawaii visitor himself, having vacationed here as a teenager—crafted a video that mirrored Mraz's preferred Hawaii vacation style. Over two days, the pair simply went out to shoot with a couple of cameras and no crew. There were no plans, no other equipment. They shot what they encountered.
The video starts on Oahu with Mraz meeting up with skateboarders who take him to a North Shore skatepark. Others take him on a hike and swim at Maunawili Falls. He surfs some Windward Oahu breaks, and, changing islands ambles through Kauai's Kapaa town and sings at a backyard barbecue. Mraz catches cabs, shuttle buses, a commercial flight, even hitchhikes. Doane shot it all on the fly.
(Mraz shared behind-the-scenes, shot-by-shot stories from the "I'm Yours" video shoot with us. You can read his musings while watching corresponding scenes in the "I'm Yours" video by clicking here.)
Even after 72 record-breaking weeks, "I'm Yours" shows no signs of dropping off the Billboard Hot 100 anytime soon. It's ranked No. 35 this week, falling only three positions from the week prior. Amazingly, for a song with such staying power, "I'm Yours" never made it to the No. 1 spot on the chart, peaking at No. 6 in 2008.
Pretty good for a Hawaii-infused tune Mraz casually calls "my happy little hippie song."
"My observation is that Hawaii breeds a physically strong person. Because the mighty ocean is your front yard, and the unforgiving jungle is the back yard, you're forced to acknowledge the power of the Earth. Hawaiians seem less interested in materialism thanks to the great supply of those precious and simple gifts of life: sunshine and water.
"'I'm Yours' is a song about giving yourself to something or someone else. And Hawaii and its residents have been a constant source of inspiration for that non-attached way of life."