"Jon & Kate Plus 8" Maui invasion airs Nov. 10 and 17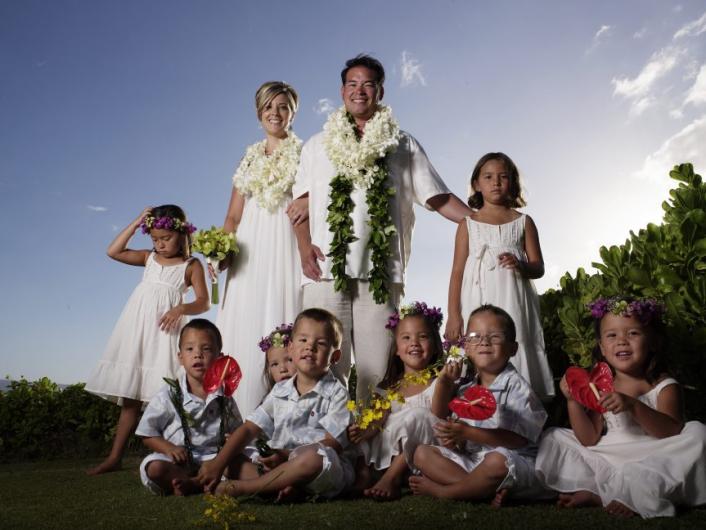 The Gosselin brood is Hawaii bound.
Jon & Kate Plus 8, the top-rated TLC network docu-series following the day-to-day goings on of Elizabethtown, Pennsylvania's most famous kid-enriched family, begins airing two Maui-filmed hour-long episodes starting Nov. 10.
Haven't heard of the Gosselins? Here's your primer.
The show's namesake stars are Jon and Kate Gosselin and their eight offspring—a set of eight-year-old fraternal twin girls and a pack of four-year-old sextuplets. The appeal? We're guessing the joy of watching a young married couple—Jon: easygoing and occasionally befuddled; Kate: way exacting and way organized—feed, travel, clothe, entertain and clean up after a small army of young 'uns and thinking, "Whoa. Glad we're not those two!"
After two weeks of teaser episodes planning the big Hawaii trip and making a California stopover (Legoland rules!), the Gosselins finally touch down on Maui on Monday's show. (The episode was filmed in August).
In the first Maui episode, "Leis & Luaus"—somebody really should've told J&K+8 producers you don't add an "s" to the plurals of either Hawaiian word—the Gosselins get private lei making and hula lessons, take Hawaiian cooking classes, go snorkeling and take in the Grand Wailea Resort's luau. Misadventures with poi are bound to abound.
Airing Nov. 17, the second Maui episode promises a J&K wedding vow renewal ceremony with much ruckus and cuteness from the +8. Bring a camera.
Click here for a preview of Jon & Kate Plus 8 on Maui, and here for 10 tips on how to plan a Maui trip the J&K way.