Kahala Resort rocks Elton John Oscar bash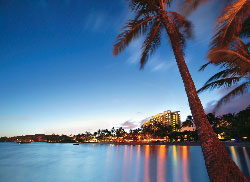 A-list celebs hobnobbing at Elton John's annual Academy Awards viewing party later this month will bid on a million-dollar gift package, that includes a very extravagant stay at the Kahala Hotel & Resort.

John's bash is an annual fundraiser for his Elton John AIDS Foundation. Stars gather in Los Angeles to nosh, imbibe and watch the Oscars, while the former "Captain Fantastic" Elton performs. There's also a live auction.

The million-dollar vacation package includes first-class stays in 12 international destinations, private jet transportation, and other ritzy stuff. The Kahala's portion of the auction package includes:

• Limousine service to The Kahala, and a hotel welcoming party of hula dancers and tuxedoed musicians reminiscent of 1940's "Boat Day" arrivals in Honolulu

• Presidential Suite accommodations (fresh flower, tropical fruits, chocolates en masse)

• A private Dolphin Quest experience

• A private dinner for two—with a custom tasting menu designed by Hoku's restaurant executive chef Wayne Hirbayashi

• A curator's tour of the Bishop Museum's new exhibition of classic Hawaiian artworks.

• More, but you get the picture.

Unfortunately, to bid in the first place, you have to be personally invited to John's bash. So you may have put away that checkbook.