Kainani Kahaunaele leads nominees for 2011 Na Hoku Hanohano Hawaii music awards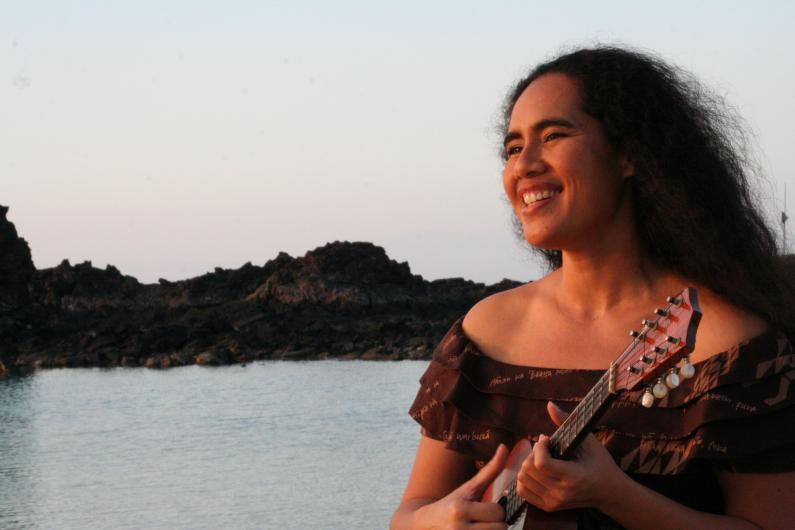 Music from Kauai vocalist/musician/songwriter Kainani Kahaunaele's second album Ohai Ula received the most nominations for the 34th annual Na Hoku Hanohano Awards for Hawaii music. Kahaunaele has eight nominations on the 2011 Na Hoku ballot, released last week. The awards will be handed out on May 29 at the Na Hoku Hanohano Music Awards ceremony on Oahu.
Kahaunaele (pictured, above) received Na Hoku Hanohano nominations for album of the year, female vocalist of the year, Hawaiian album of the year, Hawaiian language performance, song of the year for "Eia Ke Aloha" and two haku mele (composer) nominations for the songs "Ohai Ula" and "Puaala." Kahaunaele also garnered a nod for entertainer of the year, the only Na Hoku Hanohano award category that is voted on by the public.
Seven nominations each went to Big Island musician Mark Yamanaka for his debut album Lei Pua Kenikeni (pictured, right), Island music group Kupaoa for its English Rose album and musician/songwriter Kenneth Makuakane for multiple music projects including his Kawaipono album. Keola Beamer and Raiatea Helm's Keola Beamer & Raiatea album (pictured, below) and Napua Makua's Mohalu album received six Na Hoku Hanohano nominations each.
Amy Hanaialii's Amy Hanaialii and the Slack Key Masters of Hawaii album scored five nominations.
The majority of Na Hoku Hanohano's 27 award categories are voted on by members of the Hawaii Academy of Recording Arts, an organization made up of recording industry professionals, journalists and others with an interest in Hawaiian music. The 2011 Na Hoku Hanohano Music Awards ceremony will be held at the Hawaii Convention Center on May 29.
Hawaii TV station KFVE will broadcast the awards ceremony live at 7 p.m. (Hawaii time), May 29. Can't be in Hawaii to attend the Na Hoku Hanohano Awards or watch the ceremony on TV? The entire broadcast—which usually features performances by current Na Hoku Hanohano nominated artists and a who's who of Hawaii's best musicians—will also be live streamed on the KFVE website so you can watch it wherever you are in the world.
For a complete list of 2011 nominees and more information on the Na Hoku Hanohano Awards and the Hawaii Academy of Recording Arts, click here.
And don't forget to cast your vote for Na Hoku's "entertainer of the year" category by clicking here.