Kauai celebrating 50th anniversary of Elvis Presley's "Blue Hawaii" this weekend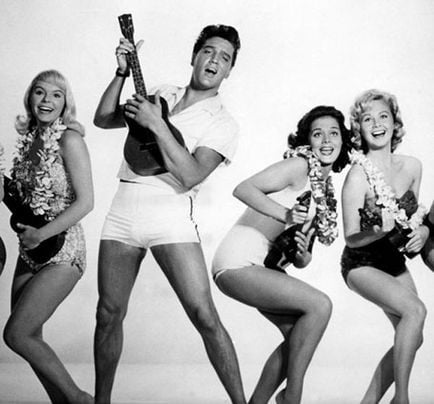 During the early 1960s, Elvis Presley's Blue Hawaii became the first major motion picture to showcase Kauai, touching off a wave of interest in the Garden Isle nationwide that continues to this day.
This weekend, the Kauai Visitors Bureau (KVB), with support from the County of Kauai, will host an event dubbed Kauai Remembers Blue Hawaii! A celebration of the 50th anniversary of the movie and its impact on tourism for the island, the event will feature a live performance by an Elvis Presley tribute artist, a screening of the movie, and a tribute to the late Grace Guslander, the beloved hotelier who ran Coco Palms Resort where some of the movie's most memorable scene took place.
Tickets for the event, which will be held 5:30 p.m. to 9:30 p.m. at Kaui Marriott Resort on Kalapaki Beach, are $5. To purchased tickets in advance call the KVB at (808)-245-3971. A portion of the proceeds will go to benefit the Kauai Museum.
Filmed on Oahu and Kauai in the spring of 1961, Blue Hawaii was released later that year in November and made its debut on Kauai as 1962 began.
The plot was simple, even for an Elvis movie. Fresh out of the U.S. Army, Chadwick Gates (Elvis Presley) wants to get into the tourism scene that's catching on in the Islands by becoming a tour guide. Since Chadwick is a Hawaii native, this should be a snap, right? Nope. Turns out that Chadwick is also the reluctant heir apparent to Southern Hawaii Fruit Co., and his wealthy parents disapprove of his tour guide ambition.
What to do? Elvis, er, Chadwick rebels with hip-swiveling song and dance, of course.
The final 20 minutes were filmed on Kauai at or near Coco Palms Resort, culminating in the famous lagoon wedding scene, in which Elvis and his fiancé are carried to the chapel in a double-hulled canoe filled with tropical flowers.
In a news release issued by Kauai Visitors Bureau, its executive director, Sue Kanoho, said that, with few exceptions, filmmakers use Kauai's lush natural beauty to portray a place other than the island of Kauai.
"Elvis Presley fans everywhere were suddenly aware of this beautiful paradise and they wanted to come and see Kauai for themselves. To this day, we have visitors still wanting to see the lagoon where Elvis got married," Kanoho said.
Kauai has served as a location filming site for more than 60 major movies and TV shows. Among the films: South Pacific, Raiders of the Lost Ark, Jurassic Park, Six Days, Seven Nights, Tropic Thunder, Avatar, Pirates of the Caribbean: On Stranger Tides, and The Descendants.
For more information about Kauai Remembers Blue Hawaii, click here.