Kaumakaiwa Kanakaole on KIPO FM online Sunday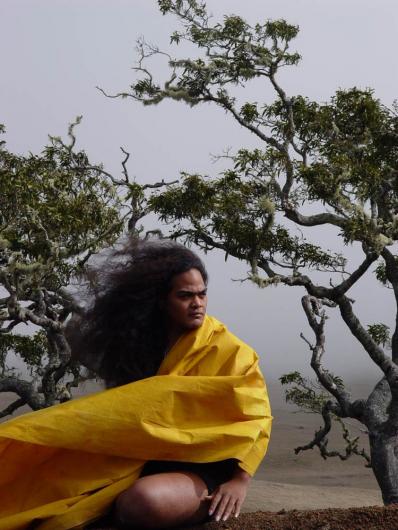 Planning an afternoon drive around Oahu or an evening in front of your computer in Lubec, Maine, on Sunday? Perhaps you're somewhere in between?
Might we suggest tuning into Hawaii Public Radio's Kanikapila Sunday—a fitting name for a radio show as kani ka pila literally translates to "let's play music."
Host Derrick Malama does just that, playing new and classic Hawaiian music each Sunday, along with interviews and in-studio performances with a who's who of local artists including the Brothers Cazimero, Amy Hanaialii and Na Leo.
This Sunday's featured guest is Na Hoku Hanohano award-winning music artist Kaumakaiwa Kanakaole. He is part of a legendary family of Hawaiian musicians and dancers that runs seven-generations deep—his great-grandmother, Aunty Edith Kanakaole, was a hula legend. Kaumakaiwa has been involved with music most of his life, even participating in the Merrie Monarch Hula Festival since he was 12.
"He's one of the most talented New Traditionalists to come out in years," says Malama of Kanakaole, referring to the faction of contemporary artists who aim to preserve and perpetuate Hawaiian music while producing an entirely unique sound from their exposure to pop, rock and other musical genres.
Kanakaole will be promoting his recently-released third studio album, the eponymous Kaumakaiwa. Malama will be chatting with Kanakaole and playing his music.
Where can you hear Kanikapila Sunday? If you're on Oahu, tune into Hawaii Public Radio's KIPO 89.3 FM at 1 p.m. The rest of the world can tune in online at hawaiipublicradio.org. Just remember to adjust your schedule to match the three-hour program's 1 p.m. Hawaii Standard Time start time.
Happen to live in the Pribilof Islands of Alaska? Like folks on Oahu, you can tune in to Kanikapila Sunday on your radio every weekend on St. Paul's KUHB 91.9 FM. Oddly enough, Malama explains, there are many expatriates from the Islands there, working the fishing industry in the Bering Sea.
A warning for Pribilof fans, though: The show is delayed a week there on KUHB, so if you want to listen in to Kanikapila Sunday live go online.