Kayaking to Oahu's Mokulua Islands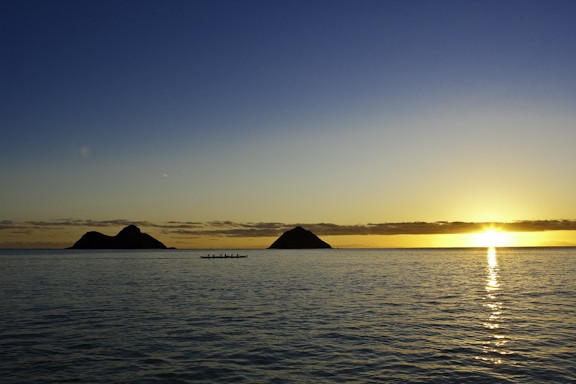 There's something about "the Mokes."
The Mokulua islets rise like twin cones a mile and a half from shore on the windward side of Oahu, off Kailua Bay. Some people take one look and have to get there.
How? The best way is in a kayak. Kailua Bay is kayakers heaven, notes Bob Twogood, who has been manufacturing, selling and renting kayaks in Kailua for 29 years. The bay's waters are protected by an offshore barrier reef. They are shallow, relatively calm and warm—"which is good if you fool around and fall off. You're not going to freeze."
In addition, the bay is a sea turtle sanctuary. You're likely to see honu, as turtles are called in Hawaii, on almost every trip. The larger of the Mokes, Mokulua Nui, has a sandy beach for landing and picnicking. Both islets are protected sanctuaries for 11 different kinds of seabirds.
If you're experienced or adventurous, you can simply rent a kayak for the day. It will usually come with a safety briefing.
Or you can take a kayak tour with a guide. Many tours include lunch, snorkeling equipment, hotel pickup, and a guide who is versed in the history, geology and ecology of the Islands, so that you see and understand more.
How tough a paddle is it? It's not effortless, it takes about 45 minutes. Even I made it.
It's perhaps more difficult when the onshore breezes pick up—you're paddling into the wind. Een then there's a silver lining: The winds will help you paddle back to the safety of one of the world's most beautiful beaches.
For details about Twogood Kayaks Hawaii, other Kailua kayak companies and more resources for recreation in Kailua Bay, check out The Hawaii Magazine Guide to Visiting Kailua, Oahu.