Keepers of the Flame: How cultural practitioners are preserving Niihau's unique traditions
These practitioners are working to preserve Niihau's culture, bring its long-gone customs back to life and create new traditions for the future.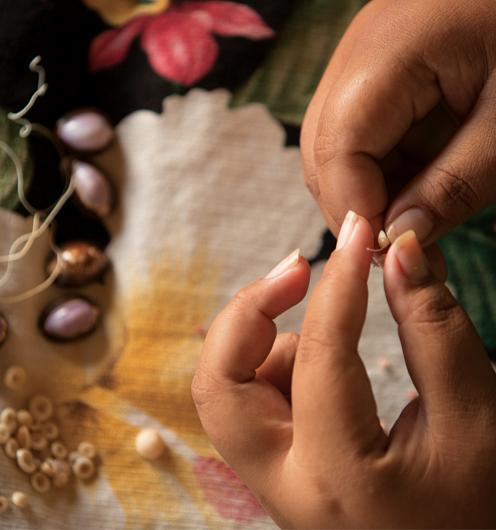 The island of Niihau has long been shrouded in mystery, isolated in space and almost in time. As a result, the residents there have been able to practice their unique traditions much longer than any other Hawaiian community in the archipelago. But with the population in steady decline, there are fewer people left to pass down such traditions. We visited Kauai, and talked with some practitioners who are working to preserve Niihau's culture, bring its long-gone customs back to life and create new traditions for the future.
You can see it from here. From where I'm standing on the west side of Kauai, the island of Niihau is a silhouette of land, tantalizingly within reach across the 17-mile-wide, bright-blue Kaulakahi Channel. It's a mysterious place known as the "Forbidden Island." No one is allowed to visit the privately owned island freely unless invited by the Robinson family, whose ancestors purchased it in 1864, or as a guest of one of the approximately 70 full-time Niihau residents.
Kauai has had a long relationship with the people of Niihau. Many of them lived in the remote Nualolo Kai and Kalalau Valleys on Kauai's Napali Coast when it was a settlement thriving with Native Hawaiians long ago. The two islands were also once ruled under the same alii (chief), Kaumualii, prior to the unification of the Islands by King Kamehameha the Great, and, today, the state of Hawaii lists both islands under the same county. So it makes sense that I'm on Kauai, headed to a K-12 school in the small town of Kekaha (about 3 miles west of Waimea) that is primarily made up of Niihau students.
At one time, Niihau's population reached 200 residents, but many of today's Niihau families currently live in West Kauai among the small towns in and around Kekaha. The economy of Niihau is in decline, and there are no doctors on the island, so it's been challenging for its few number of residents to live there full time.
From the road, I see a large sign, "Hale Kula Niihau o Kekaha" (Niihau School of Kekaha), on the exterior of a building, with playground equipment scattered out front and a large wooden carving of the island of Niihau on display. The school—a one-story building with roughly 12 to 15 rooms—is in session as I'm led down its single hallway past the classes. I hear the students and teachers speaking to each other in Hawaiian, but it sounds different from the standardized Hawaiian language I grew up hearing on Oahu.
Niihau has been isolated since its purchase by the Robinson family, and, similar to a time capsule, it has been able to preserve things that the other Islands were unable to—elements of its culture, like the olelo Niihau (Niihau language) and the lei pupu (shell lei) necklaces, which are unique to Niihau.
"Every Hawaiian island was distinct for different things," says Marques Marzan, cultural resource specialist for the Bishop Museum. "We have to remember that every place had their own dialects; they had their own ways of speaking; and it's recorded in our songs and stories that every place was unique to their area, and they had different traditions that they practiced."
Compare this to North America, and the different accents you hear from north to south and the unique traditions associated with each state or country. The Hawaiian Islands were the same way. While many of the dialects and traditions of Oahu, Maui and the other islands are lost in time, waiting to be rediscovered in a mele (song) or chant, Niihau's isolation from the rest of the changing world played a huge role in why its customs are so well preserved and are still being practiced today.
A Living Language
The biggest difference between the Niihau dialect and the standardized Hawaiian language used throughout Hawaii is the interchangeable use of "T" and "K," and the "L" and the "R." Standard Hawaiian never uses the letters "T" or "R," but when speaking and writing Hawaiian, the people of Niihau do—and so did possibly other Hawaiian communities across the Islands in the past.
Capt. James Cook and the early explorers to Hawaii in the late 18th century noted the uses of these letters—some old documents write King Kamehameha as "King Tamehameha"—but when the oral language was put to paper by Christian missionaries, the letters "K" and "L" were chosen while the "T" and "R" were omitted. So, while the rest of the Islands' people became accustomed to the new ways, Niihau's dialect, due to the segregation of its population, stayed the same. But, as more and more of Niihau's residents move away from their home island, the number of native speakers is falling.
The Niihau School of Kekaha is a public charter school that's trying to perpetuate the language for future generations. It has 54 students in grades K-12, all of its students are Niihauan and the majority of them are related to each other. School officials have noticed over the years, though, that its number of native Niihau dialect speakers has dropped significantly. In 2004, 95 percent of the students were native speakers; today, it's about 50 percent. The school teaches in olelo Niihau from grades K-5, then English is taught in grades 6-12. The goal is to have no less than a 50-50 split between the two languages by the time the students are in high school so, after they graduate, they may transition to Kauai Community College or elsewhere.
I see large illustrated papers taped to a classroom wall and its depictions of Hawaiian characters with spears set against green mountains and a bright orange sun. They're written solely in the Niihau language with many instances of the letter "T." The high school kumu (teacher), Hokulani Cleeland, explains to me that his class just finished reading Aesop's Fables and were assigned to create a Niihau story from one of the tales, not only changing the animals but also changing the culture while keeping the same moral.
The mission of the school is "to strengthen and perpetuate the Niihau dialect for Niihau students living on Kauai," says Cleeland, who's originally from Maui and has been teaching at the school for more than 15 years. Only recently, he and the staff decided to have their students write with the letter "T" to ensure that the written language backs up the oral language—something that's never been done before, because Hawaiian language books and church hymnals are all written with "K."
"I know that's one thing we have to work on is getting the kids, and even getting the parents and community involved [with the continuance of the language]," says the school's administrative assistant Kukui Lang, whose mother is from Niihau. "You can have them here for six hours speaking the language, or us trying to instill it, but is it the same at home? This generation is different than how it used to be. A lot of the kids, even of myself personally, we don't speak the language at home, which is sad but it's true."
The school plays an important role in the community as more residents of Niihau move to Kauai and marry non-native Niihauans. Not only is it trying to set up the students for a bright future with some economic stability—which will more than likely require English—it's also trying to preserve the language as best it can. "Our goal is to have the kids know this is our language, and we have to be able to perpetuate it, at home, at school, or even among themselves," says Lang.
Seashells by 
the Seashore
The Niihau Cultural Heritage Foundation, a nonprofit based on Kauai, is a cultural resource with the purpose of promoting the culture and arts of Niihau. It has a website, niihauheritage.org, "designed to help people find references to where they can buy authentically strung lei and shells from Niihau," says Charlie Baker, who's on the board of directors (alongside kumu Cleeland) and has lived on Kauai since 1983.
I've driven to Baker's house, which is just a few minutes down the road from the school, and he's bringing out boxes of shell lei for me to see—most with multiple strands—and many, far more expensive than most people can afford. (Some shell lei, depending on pattern and shells, can fetch $10,000 to $30,000.) Baker used to own five shops on Kauai that sold the authentic lei, building strong relationships along the way with the Niihau artisans and community.
"I think one of the first things you really get an appreciation for is there is absolutely nothing you can buy in Hawaii that is more Hawaiian than a Niihau shell lei," he says. "It comes from Hawaii, it's from the ocean, and the artwork is created by pure Hawaiians from Niihau."
The Niihau shell lei were the island's flowers, and the lei were styled after floral forms—like the pikake (Arabian jasmine) shell lei, which looks like a string of pikake flowers. The shell lei were used in the same way a flower lei would be, for ornamentation and to greet friends. "Because Niihau was such a dry, basically, desolate island, they didn't have flowers," says Baker. "Between the uniqueness and beauty of the color of the shells, and the art form they created and the stringing of them, it's an amazing art." There are many different types of tiny shells used to create each style of lei—ranging from a single shell, one-strand lei to a multiple-strand lei with a variety of shells in various colors.
"Most of the people all worked for the Robinsons, but when they discontinued their cattle and sheep and other economic activities [in 1999], they had to lay off all the Niihauans, or offered them jobs with their different businesses on Kauai. So the population now is around 70 people, but it has created a dynamic that most of the 70 people who are there, go and gather the shells, and they send the shells for finishing to their relatives on Kauai." It's nearly impossible to get a lei collected, "punched" with a puka (hole) at the correct angle and strung completely on the island of Niihau. Much of the lei making is now done by Niihauans living on Kauai, so that the few people who are on Niihau can focus on the time-consuming task of finding and collecting the shells.
A truck pulls into the driveway at Baker's house and I meet one of the Niihau shell lei makers who is working on a lei for Baker—she's there to drop off one strand that will be used to create a multiple-strand lei that will take several artists to produce.
The 28-year-old, named Kapuailima ("the ilima flower"), has been stringing lei for 10 years, feeling the need to carry on the traditions of her island home. "Because that is the living [tradition] for our island, for the people, and that's how the Lord blessed us: with shells."
She learned from her mother and grandmother and it's something she hopes to pass down to her own kids. "Everybody on the island knows how to do it," she says, but then guesses that half of the young people, today, don't practice it because they get "carried away with outside things," especially for those living on Kauai. "Too long staying [away] from the island. They forget a little bit." But, for her family and for others like her, she describes lei making as an experience impossible to quit. "We're so used to sitting down and making the shells; it's really hard to stay without it."
Creating the lei is also a way of earning some money, but because of the length of time (months to years) it takes to create and sell one lei, it's not enough to make a living on. Baker says he hopes to find a celebrity who will wear a Niihau shell lei and start an international trend—similar to the puka shell necklace craze in the 1970s—that will increase prices and support the Niihau community and its arts in a bigger and more sustainable way.
Weaving 
a Path
Weaving organic materials, such as lau hala (pandanus leaves), into hats, mats, bracelets and bedding is a practice that exists across the Pacific. It's a skill that was brought to Hawaii when the first Polynesian settlers arrived, says Marzan, back at the Bishop Museum on Oahu. He's also a practicing weaver and Hawaiian fiber artist.
But, the people of Niihau didn't have pandanus growing profusely. The most abundant source of weavable material was makaloa, a perennial sedge, which grew out of the 13 brackish water ponds dotting the island in ancient times. It produced a "material that was naturally thin," says Marzan, leading to finely-woven mats.
Due to the rarity of makaloa mats in the island chain, owning one elevated the social standing of the individual. "It showed the status of the owner in the eyes of the community, or even in the realm of the chiefs," he says. After Niihau was bought, the ponds were drained to create pasture lands for goats and cows, leaving no makaloa for the practice to continue on the island.
"There's no one on the island of Niihau weaving makaloa," says Marzan. "I was fortunate enough that when I started working [at the Bishop Museum], there was a group of kupuna (elders), as well as some Pūnana Leo [Hawaiian language immersion school] students that came to the Bishop Museum and went into the museum collections and looked at our makaloa mat collection. 
They were from Kauai, but a lot of them had ties to Niihau. And all of them just started to cry. They'd heard stories, but had never seen makaloa mats before. So, to see this whole collection, 100 or so mats made out of makaloa right in front of them, it was very overwhelming."
The last makaloa mat made by a master weaver in Hawaii was created in 1871 by an 80-year-old woman, Kalaikamalino, who lived on Kauai, with roots from Niihau. It took her 11 months to make the mat that's now on display at the Bishop Museum on Oahu.
Though the tradition of weaving with makaloa (which also grows on some of the other Islands) hasn't been passed down, the Hawaiian tradition of weaving with pandanus has. Weavers like Marzan, who's experimented with smaller versions of makaloa mats, are "trying to relearn some of the nuances of what different materials do to weaving," he says. "I think that's the direction some of the weavers are going." Making a large mat that takes months to put together may not be a feasible practice now, but artisans are expanding their knowledge with other materials, which may, at some point, help bring makaloa into traditions of the future.
Song and Dance
Similar to other ancient traditions, hula is a practice passed down through families, and further taught at halau hula (hula schools) by masters of the craft. Today, the Merrie Monarch Festival in Hilo on Hawaii Island showcases the work of the various halau around the Islands in its annual hula competition. The halau display unique dance styles that were taught by their kumu hula (hula teacher) and passed down through the halau's lineage—from kumu to kumu, through generations of dancers. It's a lineage as important to Native Hawaiians as genealogy.
For the residents of Niihau, however, things are simpler. There are no established hula lineages from the island; they are only known to practice the modern style of hula. There are no competitions, and people mostly dance for parties or to entertain guests.
"In the old days, [the Niihau families] used to all dance. But all the teachers from that time have either grown too old to teach or have long since passed," says kumu hula Kuana Torres Kahele, who's from Hawaii Island and teaches hula in Hawaii and Japan. Two years ago, he was asked to start a halau for Niihau students. "It started as something really small with my hanai (a relationship where you become like family) mom and her family. Then, it kind of took off from there. The next thing you know, I was teaching several families and it continues to grow," says Kahele, who now travels monthly to Waimea, Kauai, to teach hula to the families from Niihau.
His Halau Nakamaokaeookulani now has about 50 students who are being taught traditional alongside modern styles of hula—and Kahele is teaching them completely in the Niihau language. He's also incorporating gestures that he's finding are unique to the Niihau families: They use a flowy, bigger sway of motions in their hands and hips, like the way the ocean rises and falls.
"It wasn't something that came from me," he says. "I believe that it flows through their blood and the style is coming from their island. All their parents and their kupuna (elders) before them danced in a manner that was, I guess, passed down. All I did was take what they already had, and added more motions and hula steps."
As an award-winning singer and songwriter, Kahele also released his album "Kahelelani (Niihau)" in 2014. It's Vol. 2 of six albums he's dedicating to each of the main islands of Hawaii. The Niihau album includes older lyrics gifted to him by some of the families that he then added melodies to, and original songs he researched, wrote and assembled specifically to create new traditions for Niihau's people.
The music "documents the times we live in now," he says, "with songs that talk about the land, the rain, the elements, the people, all in this time." It's a fitting tribute to people who are both of this time and of a timeless place, finding their way into the future while also guided by the past.