Kiakahi fitness classes are rooted in Polynesian culture
It's a new approach to getting physically fit.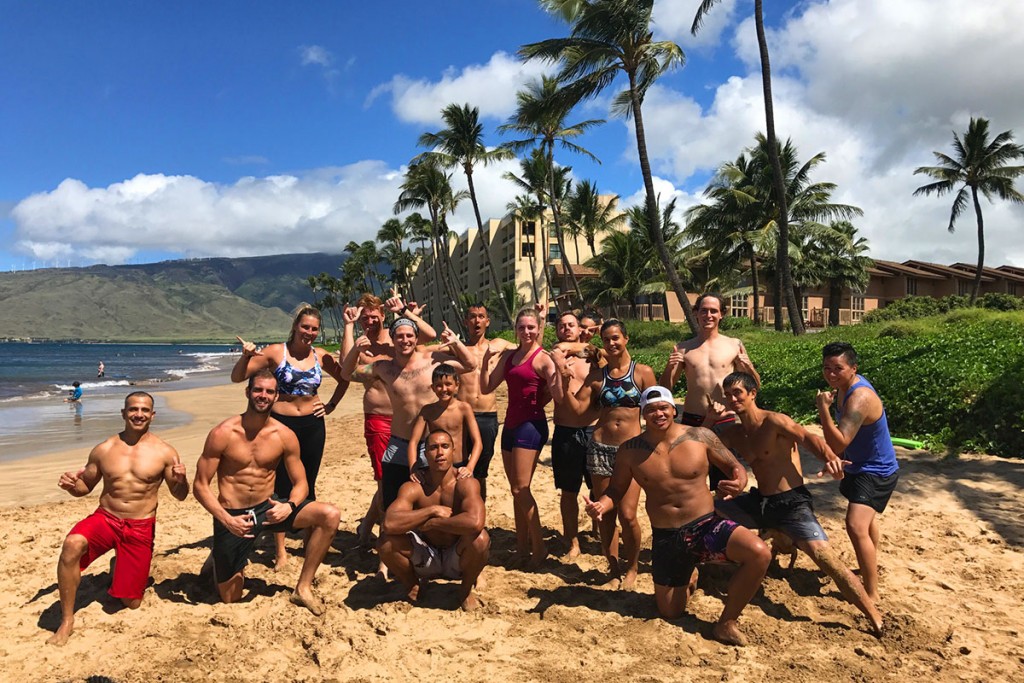 If it's Thursday morning in Kaanapali, and you're walking in front of the Westin Kaanapali Ocean Resort Villas, you might see people lizard crawling and swinging around really large sticks.
It's all part of the Kiakahi program that's now offered at the resort—an innovative style of fitness unlike anything you'll find at a gym.
Opened by a group of four Maui trainers, Kiakahi is a fitness style that not only fuses cultural practices with the natural elements around us, but encourages people to really get back to understanding their bodies. It channels a mindfulness of existing in the moment, and creating a healthy, positive energy that we take with us into the community.
A typical session with Kiakahi might start with an oli, or Hawaiian chant, of "Hoopuka E Ka La," which talks of the sun as it rises in the east and brings the dawn of new day.
"Too many people," says co-founder, Kua, "look past what's offered today; they're looking for tomorrow, and take yesterday for granted, and since we can never promise tomorrow, or bring yesterday back, that's why we live for today."
It's a wellness approach that's spiritually uplifting as well as physically challenging, considering the 1.5-hour class then progresses through raw, primal movements that offer an epic, outdoor workout for everyone from fitness buffs to novices.
The workout is based on a four-part sequence, the first of which is kolo, or crawling—a basic movement that involves strength and rotation and helps prime your body for twists and lifts that come later in the session.
The second part is using the laau, or long, wooden stick, where in addition to using the stick for exercises, the staff tells tales of how the sticks were harvested in Iao Valley—a culturally-rich and historic spot where the Battle of Kepaniwai against Kamehameha's troops was fought in 1790.
You'll also hakoko, or Hawaiian play fight, which not only helps to integrate movements, such as lunges, rotations and squats, but also helps you to interact with strangers, and finish the session as new friends.
With sweat beading and muscles shaking, the session finally finishes with kaula, or "battle ropes," which work your balance, core strength and arms. According to Kua, they "hit you hard," since everything in the previous three sequences was priming your body for this movement.
Though there's a definite focus on Polynesian culture, Kiakahi, according to Kua, "brings back the ancestry of all cultures in how they used to practice their movement prior to today's society."
"We have these ancient bodies in a modern world," says another co-founder, Kale.
"Our bodies are a collective orchestra of muscle groups that work together in a synergistic way; squatting, lunging, hinging, rotating, pushing, pulling—that's what our bodies have evolved to do. Being a human being, and using our bodies, is an achievement you have to work for; this is a beautiful, organic, fundamental form of fitness where we build relationships with what's around us—this sand, this water, each other."
Kiakahi is about knowing your body so you can use this form you've been given; after all, as Kale points out, "if you're going to sit in a chair all day, you're going to be shaped like a chair."
Kiakahi offers classes as the Westin Kaanapali Ocean Resort Villas on Thursday mornings from 8 to 9:30 a.m. for ages 12 and up. Classes are $65 per person and can be booked through the hotel concierge. For additional Kiakahi classes and locations, visit kiakahimaui.com or follow on Instagram @kiakahimaui.