Kihei Caffe, the Maui breakfast spot everyone is talking about
This popular Maui spot serves exceptional home-cooked meals for breakfast appetites from hearty to light.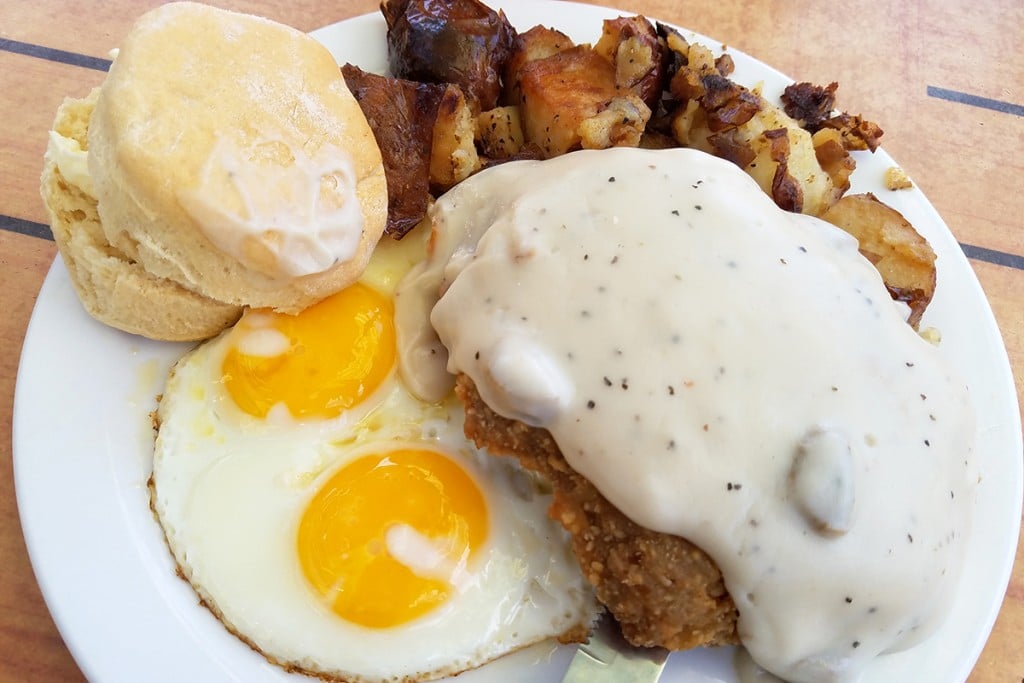 Ask for a recommendation on where to get breakfast in Kihei, Maui and it's very likely the casual eatery, Kihei Caffe, will be named. Its exceptional home-cooked meals are no secret, and our readers voted it as the No. 2 place for breakfast on Maui in our "2017 Readers' Choice Awards."
Serving more than 40 amazing breakfast choices, from eggs and bacon to chicken-fried steak, omelets and French toast is Kihei Caffe's main claim to fame. It also helps that it's centrally located with parking (along the main drag fronting Kihei's Kalama Park), the prices are reasonable and the service is quick.
The actual café portion of Kihei Caffe is tucked back a little and might not be readily apparent as you round the corner from the parking lot, because the seating fronts another restaurant. If you're having trouble finding the indoor portion, just look for the round, red and blue Kihei Kalama Village sign right next to the street. Then, order from the colorful chalkboards along the slanted ceiling inside, grab your utensils and napkins where they are provided outside, and claim a table outside to wait for your food.
During peak breakfast hours, there can be a line to contend with and it might be difficult to find a table, due to the spot's popularity, but the ladies at the counter keep things moving along quickly and efficiently.
The heartier plates, like the loco moco, pork chop and eggs, chicken-fried steak, and fish and eggs are huge. The gravy is thick, savory and satisfying. The big, well-seasoned chunks of home-fried potatoes are cooked just right. The biscuits are warm, moist, flaky and melt-in-your-mouth. If you're in the mood for a light snack, go for the popular Papaya Delight (a half papaya filled with yogurt, granola and raisins), a real fruit smoothie or a yogurt parfait.
A few lunch options, such as burgers, hot dogs and sandwiches are available from 11 a.m. to 2 p.m., but it's clear breakfast is the focus here.
One of the fun elements that add to the experience is the close proximity of this sidewalk café to passers-by. Sit awhile and you'll soon find yourself chatting with the friendly people in this town—or having them talk to you. It can be an easy way to find other good spots to try, from where the best beaches are, to where to rent a cheap car or go for happy hour.
"You want to come back for happy hour at Ohana Seafood Bar and Grill," volunteers one helpful gentleman out for a walk.
Those hoping to escape resort town prices, especially visitors coming from nearby Wailua, will find a welcome respite at this casual, no-frills establishment with prices comparable to your typical diner. Most items are under $10 and the larger plates like the pork chops and chicken-fried steak run about $12 to $13. Do be aware that it's cash only, but there are ATMs close by.
Kihei Caffe, 945 S Kihei Rd., Kihei, Maui. 5 a.m. to 2 p.m., cash only, (808) 879-2230, kiheicaffe.com.
---
Kihei Caffe was voted No. 2 for Best Breakfast on Maui in our 2017 Best of the Best Readers' Choice Awards. You can find all of our winners in the March/April 2017 issue of HAWAIʻI Magazine, currently available by calling our Circulation Department at 1-800-788-4230 or by emailing help@hawaiimagazine.com.
For all our Best of 2017 coverage, visit hawaiimagazine.com/blog-series/best-of-2017