Kilauea volcano lava slows movement toward Kalapana homes, continues entering ocean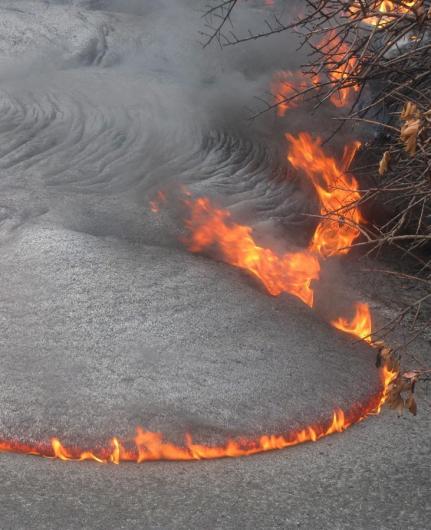 A lava flow from Kilauea volcano's Puu Oo vent that claimed a Kalapana home last week has slowed down its movement toward other area homes for now. But the volume of lava being sent to two ocean entries near the Big Island of Hawaii residential area doesn't appear to be lessening.
According to the Hawaiian Volcano Observatory's daily update this morning, lava from the Puu Oo vent on Kilauea's upslope east rift zone was still flowing through underground tubes, feeding two ocean entries on the Puna coastline. Fast-moving breakouts flows, which have occurred occasionally during the last week as inflating surface flows released pressure, are still possible. But HVO reported no such breakouts in the flow's northern and eastern sides, closest to homes in Kalapana.
On July 25, lava flows from Kilauea volcano claimed their first home in the Kalapana area in more than a decade, before reaching the ocean. Between April 1990 and February 1991, the small town of Kalapana and its Kalapana Gardens residential subdivision had been largely destroyed by lava flows from Kupaianaha, a now inactive vent two miles northeast of Puu Oo.
Though Kilauea has since continued to send Puu Oo flows to the coastline further south of Kalapana, the last flow to enter the Puna district town happened in 1992. Over the years, a handful of residents had moved back into the Kalapana Gardens area, rebuilding homes and makeshift roads over hardened Kupaianaha flows.
Of the two current ocean entry points, HVO reports the western ocean entry (farthest from Kalapana) is the most active and continuing to expand. The east entry point, closer to Kalapana, remains active.
Access to the coastline lava entry points is still being blocked by Hawaii County Police and Civil Defense officials, as Kalapana Gardens is a private residential area. For updated information on the status of the current viewing area, call (808) 961-8093.
For updates from the Hawaiian Volcano Observatory, click here.
The photos below, taken over the last week by HVO geologists working for the United States Geological Survey, show the progress of the current Kalapana lava flow.
HawaiiMagazine.com will continue to monitor news from HVO on the Kalapana lava flow. Keep checking back in for updates.
Updated Hawaiian Volcano Observatory photos of current Kalapana lava flow:
(Click photos to enlarge.)
August 3, 2010

Lava delta at western ocean entry near Kalapana. Photo: USGS

Close-up view of lava dripping into the surf at western ocean entry. Photo: USGS
August 2, 2010

An HVO geologist takes photos of a small breakout covering the last stretch of asphalt near the intersection of Highways 130 and 137, near the current lava viewing area. Photo: USGS

A breakout lobe of lava ignites the asphalt. Photo: USGS
July 31, 2010

Destroyed forest near the lava flow's eastern ocean entry, closest to Kalapana. Photo: USGS

Eastern ocean entry claims a black sand beach near Kalapana. Photo: USGS

Lava enters the sea at the western ocean entry. Photo: USGS
A south view of the lava flow's more vigorous western ocean entry. A steep escarpment, visible in the foreground, held the flow from the ocean for several days. Photo: USGS
A northeast looking view shows the lava flow's eastern ocean entry, with homes of Kalapana Gardens subdivision in the background. Photo: USGS
A west looking view of the lava flow's eastern ocean entry, as it covers a beach. Photo: USGS
South looking view of lava flow near homes at Kalapana Gardens subdivision, in the foreground. Photo: USGS
A composite of thermal and normal photography shows the current Kalapana flow's western ocean entry (upper left) and eastern ocean entry (lower left). On the right side of the photo, lava borders the remaining forest and homes in Kalapana Gardens subdivision. Photo: USGS
Lava drips into the sea at the flow's western ocean entry. Photo: USGS

A 3-foot-wide channel feeds a surge of fast-moving lava through coconut palms toward the ocean. Photo: USGS