Kilauea volcano magma meets ocean with 100-foot lava burst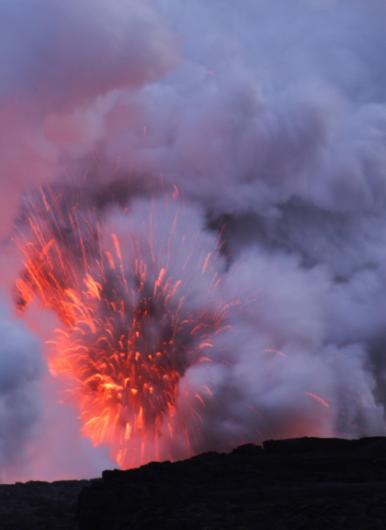 It's a bit quieter this morning at Kilauea volcano. Or at least business as usual again.
But our friends on Hawaii's Big Island, volcano watchers Steve and Donna O'Meara, are always at work—trudging out to wherever the action is and documenting it with their cameras. They've been especially busy the last few days, with Kilauea tossing out the occasional explosion-like earthquake and bursts of fountaining lava.
So we're thrilled they sent us the photo at left to share with HawaiiMagazine.com readers, along with this note:
We took this photo of a magnificent 100-feet-high monster lava bubble burst at the coast on Sunday. It was just before lava fountains on the upper slopes broke out, draining the lava away from the coast.
The last six days have been spectacular over here on the Big Island. The lava fireworks just keep getting better and better.
Visitors at the Waikupanaha entry have reported even larger lava bursts of up to 150 feet, as ocean water invades the underground lava tubes.
Mahalo Steven and Donna!
If you're a fan of the O'Meara's photos and videos AND you're planning to be on the Big Island July 19, stop by Borders Books & Music in Hilo at 2 p.m. Donna will be talking story and signing copies of the O'Meara's book of their volcano photography and research Volcano: A Visual Guide.
Want more information on the O'Meara's Hawaii volcano photos? Just e-mail Donna and Steve at someara@interpac.net.