Kilauea's famed Volcano House hotel to remain closed until at least 2012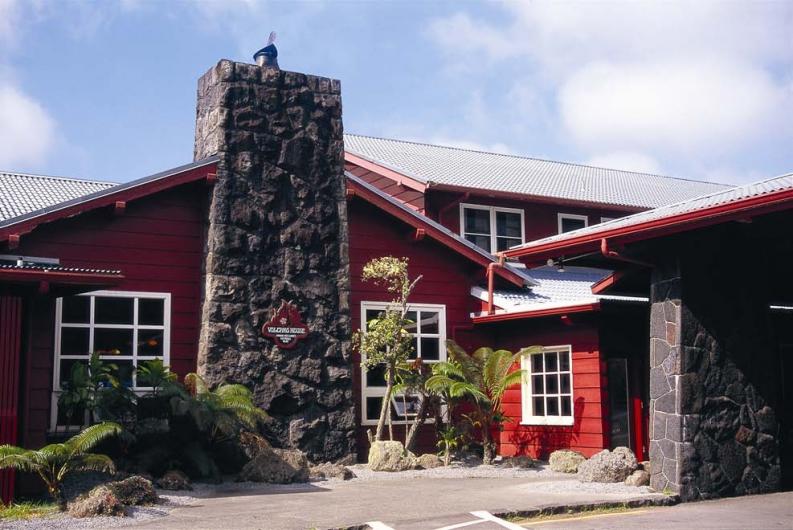 The Volcano House hotel has been been open, in one form or another, since 1846, when the first grass house was built on the rim of Kilauea Crater. The first wooden structure went up in 1877—long before Hawaii Volcanoes National Park was even established on the Big Island in 1916—with a stone hearth dedicated to Pele that burned continuously for next 133 years.
The fire, which some believe was originally lit by King David Kalakaua, has gone out. Volcano House is closed, and is not expected to reopen until 2012, at the earliest. Up until its closure, it was the oldest continuously operated hotel in Hawaii, host to Mark Twain and Franklin Delano Roosevelt.
The current 42-room hotel dates from 1941, rebuilt after a kitchen fire destroyed the 1877 structure. During that period, the fire in the stone hearth was maintained in an interim fireplace to keep the flame alive.
Here's the background on the Volcano House closing. The hotel belongs to the National Park Service, and by law, must go out for competitive bid for a new lease.
Since 1989, the hotel has been operated by Ken Fujiyama, who also operates Nani Mau Gardens and the Naniloa Hotel in Hilo. With the closing of Volcano House, Fujiyama has renamed his Hilo hotel the Naniloa Volcanoes Resort. Fujiyama has not indicated whether he will bid to continue operating the Volcano House.
The original bid on a new lease was due last March. It attracted no bidders. The National Park Service has extended the deadline for new bids until August 3rd of this year, reducing the share of gross receipts it was asking from the new proprietor.
Reopening, however, is not expected until at least June 2012. The reopened hotel would also have 10 less rooms, as its detached Ohia Wing will be converted into a museum of the park's history.
The fabled fireplace was allowed to go out New Year's Day 2010. "It's sad the fireplace was left to burn out. There's the end of a tradition. Some people have no sentiment," said Fujiyama.
"While it's nice to have a focal point in the hotel, we want something that is green, and that's not a 24/7 fireplace," said park spokesperson Ranger Mardie Lane, noting that the original fireplace burned native Hawaii ohia wood. That won't be the fuel for any new heat source.
"We need to preserve our native forests in Hawaii," adds Lane. "It's a wonderful opportunity to do the right thing."
Of course, the right thing is always open to debate.