Kona Boys' morning history lesson by kayak on Hawaii Island
Its Morning Magic tour will make you appreciate Kealakekua Bay's history, culture and natural beauty.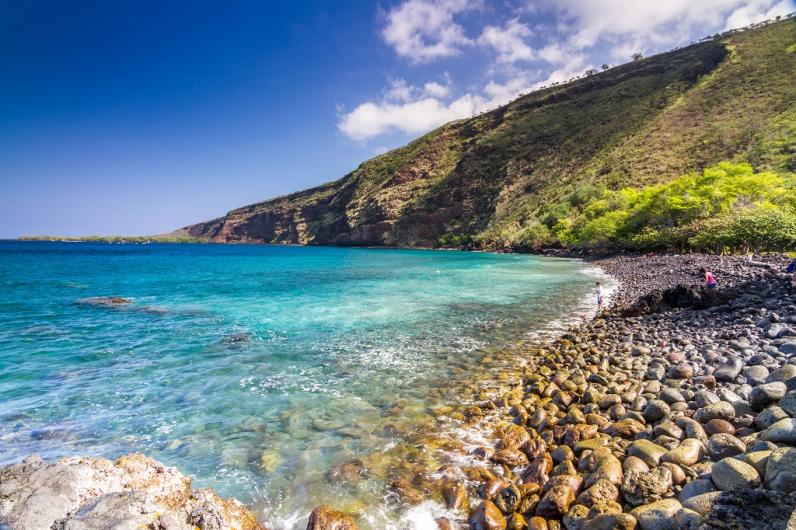 Though I've lived within walking distance of Kona Boys' headquarters in Kealakekua's high-elevation coffee country for almost a year, it was only recently, prompted by visiting family, that I popped in and signed up for its Morning Magic tour to the Captain Cook Monument. I'm so glad I did.
The iconic monument, nestled into the northern and not-road-accessible end of Kealakekua Bay, stands sentinel over some of the best snorkeling off Hawaii Island. But for me, that wasn't the reason for the tour. I'd visited once before, via the only other mode of entry—the steeply sloped and little-shaded trail off Napoopoo Road—and spent hours tailing brightly colored butterfly fish as they nervously darted toward the drop-off. This time, aided by expert guide Anthony "A.J." Johnson, one of Kona Boy's managers, I was here to learn and see the place with new eyes.
Those eyes are bleary at our 7:45 a.m. arrival to Napoopoo Pier—unlike our small group, A.J. has already been up for hours, and is unloading our access-permitted kayaks, floatation devices, paddles and lunch cooler from his truck. We step down a homemade ladder, launch into the clear waters of the bay and receive a short orientation.
"Kealakekua Bay is one of the best protected harbors on Hawaii Island, and Hawaiians have known this for centuries," A.J. tells us. Near our parked car at Napoopoo Beach he points out the lava rock platform remains of Hikiau heiau—a Native Hawaiian temple I had completely overlooked last time I drove this way. Hundreds of years ago, this was a site of human sacrifice and the center of a community—workers and common Hawaiians lived on this side of the bay, while the alii (chiefs) resided on the opposite side at our destination.

I can't get over how clear the water is. The skies are cloudless and I can see down maybe 50 feet to yellow tang schooling on the bottom. We take a direct route across the crescent bay to the monument, about a mile away. Besides our mini flotilla, there isn't a single watercraft around. Spinner dolphins, usually a common sight here, are noticeably absent—A.J. says it's because they've recently given birth and steer clear of their usual haunts when they have very young calves.
Six-hundred-foot-tall cliffs tower above us along the water's edge. I'd all but overlooked them before, but I never will again after what A.J. tells us. According to what is likely a mixture of Hawaiian oral tradition and local lore, the sheer lava tube-pocked rock face is the final resting place of countless chiefs. Upon the death of an alii, commoners would get to work weaving hundreds of feet of sturdy rope from plant fibers and head up to the top of the cliff with the remains. A crew at the top would swing the bone-bearer along the cliff face to a lava tube opening. Once everything was secured, the cave's secret location would die with its finder: He would be cut free to fall to his death on the rocks below.
Though it's hard to prove how true this tale is, A.J. also tells us that "a few years ago," a huge koa wood canoe came tumbling out of one of the caves following an earthquake. With this tale, I'm hooked. I had no idea—all this just a 15-minute drive from my house!

We arrive alongside the monument in what feels like no time. A.J. helps us to time our exit via a shallow tide pool so we don't tip—the mosquitoes swarm. We leave the kayaks and walk around through some jumbled brush to the monument. There are no facilities here, but A.J. tells us Kona Boys' staff, along with a number of local volunteers, help to maintain the site and keep it trash-free during yearly cleanups. Old cattle-corrals made from the lava rock remains of even older temples, line the area behind the monument.
Here, we learn about Captain Cook's arrival during the celebratory makahiki season, his departure and his fateful return after makahiki had completed. A.J. points out an "X" etched into stone that I had never noticed before—it marks the exact spot of Cook's death. On the plaque from the Commonwealth of Australia near the monument that reads in part, "In Memory Captain James Cook, R.N. the Discoverer of both Australia and these Islands," the word 'discoverer' has been scratched out and reapplied. A.J. tells us that despite the controversial historical events that occurred here, the 100-or-so-square-foot area partitioned by chain rope around the monument isn't actually part of Hawaii at all, it's a no-passport needed slice of British soil. In 1877, Princess Likelike deeded the land to the United Kingdom.
We spend almost two hours snorkeling and lounging in the sun nibbling on our early lunch. I swim around to a natural rock arch and watch the fish go through it with each wave. I hover above a moray eel and try to find fish I'd never seen before. I spot at least three. After we've been here awhile, the peaceful paradise that we first entered is shattered as several huge tour boats pull up bearing masses of noodle-wielding snorkelers, blaring reggae music and emitting smoke from onboard BBQ grills. Our cue to head home. We paddle back to our starting point hugging the coast.
I'd recommend Kona Boy's Morning Magic tour to any Kona visitor—not only will you beat the crowds to one of the Island's most popular spots, you'll learn a lot in the process.