Kona Coffee Cultural Festival begins. The schedule. Best 4 events to check out.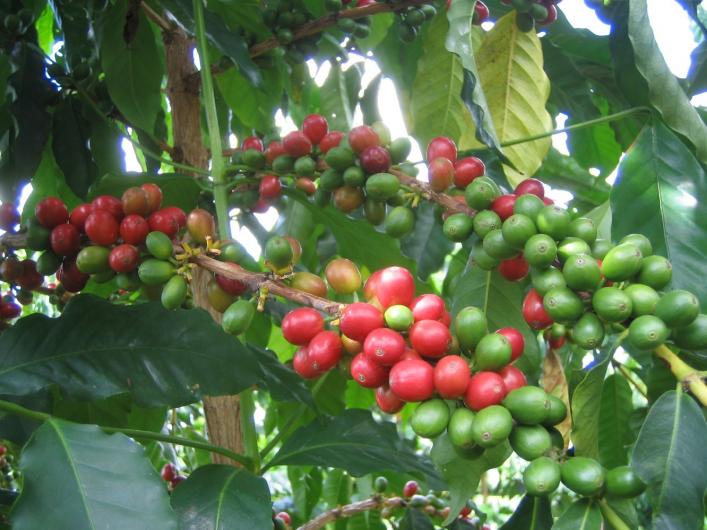 This week in Kailua-Kona, it's all about the coffee. Kona coffee, that is.
The Kona Coffee Cultural Festival—one of Hawaii's oldest food fests—begins its 39th annual celebration of the bean that made the Kailua-Kona coast famous on Friday, Nov. 6. If you're on the Big Island of Hawaii this week, make sure you're in Kona for at least one of the fest's nine days of activities, parades, coffee picking contests, farm tours, coffee competitions and, of course, multitude of Kona coffee tastings.
Festival events begin on Friday, Nov. 6, run through Nov. 15, and happen all over Kona—from the upslope farms in Holualoa where Kona coffee is grown to the Kailua-Kona town resort area. Click here for a complete schedule of Kona Coffee Cultural Festival events.
With dozens of interesting coffee-related activities spread out over so many days, the schedule is a bit daunting. Trust us, we've been in those shoes before.
To help you out, on the following pages we've compiled a rundown of the four Kona Coffee Cultural Festival events that give us the "best buzz" (translation: are "must attends" in our book).
Our Top 4 fest events (in no particular order):

1.
International Lantern Parade / The Kamehameha Schools Kona Coffee Grand Parade
The fest's International Lantern Parade is more like a calm dusk stroll along Alii Drive, its participants representing Hawaii's many ethnic cultures. Parade marchers carry lanterns on their walk as a tribute to the pioneers of Kona coffee farming, while sporting fashions representing their various ethnicities who worked the fields—Japanese, Filipino, Portuguese, Hawaiian and more.
Arrive a little early to catch Kona's world-famous sunset along the oceanside parade route, then stick around at the parade's final destination, Hale Halawai Community Park, for the festival bon dance at 7:30 p.m. Bon dances are a Japanese tradition honoring the departed, and are usually held in the summertime. But the coffee fest's bon dance is themed around food and coffee tasting.
Want more parade? Check out The Kamehameha Schools Kona Coffee Grand Parade and its colorful floats, marching bands and themed groups from all over the islands.
When & Where:
International Lantern Parade: Fri., Nov. 6, 6:30 p.m.; parade begins at Kailua Pier continuing on Alii Drive and ending at Hale Halawai Community Park
Kamehameha Schools Kona Coffee Grand Parade: Sat., Nov. 14, 9:30 a.m.; parade begins at Royal Kona Resort continuing on Alii Drive and ending at Makaeo County Pavilion in Old Airport Park
2.
Ueshima Coffee (UCC Hawaii) Co. Kona Coffee Picking Contest
It's not every day that you get to hang out and pick coffee on a real Kona coffee farm. But you'll have to ask yourself: How skilled and quick are you at picking coffee? This timed competition has two categories for beginners and masters. Each person is given three minutes to pick as much coffee cherries as they can. It only sounds easy. Because coffee cherry doesn't ripen on the trees all at once, participants must contend with unripe green cherry mixed with bright red ripe ones. The winners are determined by weight of harvest and amount of red cherry. Too many green berries and leaves in your basket and you're out of the competition.
Winners get prizes. For the rest of us, there's entertainment and food.
When & Where:
Sun., Nov. 8, registration begins at 7:30 a.m. competition begins at 8:30 a.m. at Ueshima Coffee Farm, 75-5568 Mamalahoa Highway, Holualoa
3.
KTA Super Stores Kona Coffee Recipe Contest / Big Island Showcase
Think of it as Iron Chef without the whole "surprise ingredient" thing. Come to watch amateur chefs, professional chefs and culinary students prepare their best original dessert and entrée recipes—all with 100 percent Kona coffee as a key ingredient. (Pictured above, coffee rubbed spareribs.) Stick around till 2 p.m. to sample their Kona-coffee-infused creations after winners are selected. Then check out a variety of made-on-the-Big-Island products including treats such as Kona coffee beer, candies, chocolates, and of course coffee, all available for purchase.
When & Where:
Sun., Nov. 8, 12:30 p.m. – 3:00 p.m., Sheraton Keauhou Bay Resort & Spa, 78-128 Ehukai St., Kailua-Kona
4.
Gevalia Kona Coffee Cupping Competition
Take a cup of 100 percent Kona coffee grounds. Inhale aroma. Add water. Inhale again. Take a spoonful of the hot coffee. Slurp strongly. Roll over tongue. Expectorate. Repeat for 8 hours. Sound a bit redundant? It is. But getting a sense of the precise methods professional cuppers use to judge Kona coffees for aroma, fragrance, body, and flavor is kind of fascinating for a half hour or so. The best coffee bean in Kona is announced at the end of final round voting.
When & Where:
Preliminary round: Wed. Nov. 11, 9:00 a.m. – 2:00 p.m., Verandah Lounge, Outrigger Keauhou Beach Resort, 78-6740 Alii Drive, Kailua-Kona. Final round: Thurs., Nov. 12, 9:00 a.m.-noon. Winners are announced after the final round