Kualoa Ranch's new food tour brings the table to the farm
Kualoa Ranch is more than just ATV rides and ziplines. Now, with the addition of a new, on-site tasting excursion, it's giving visitors a full-on tour of its grounds.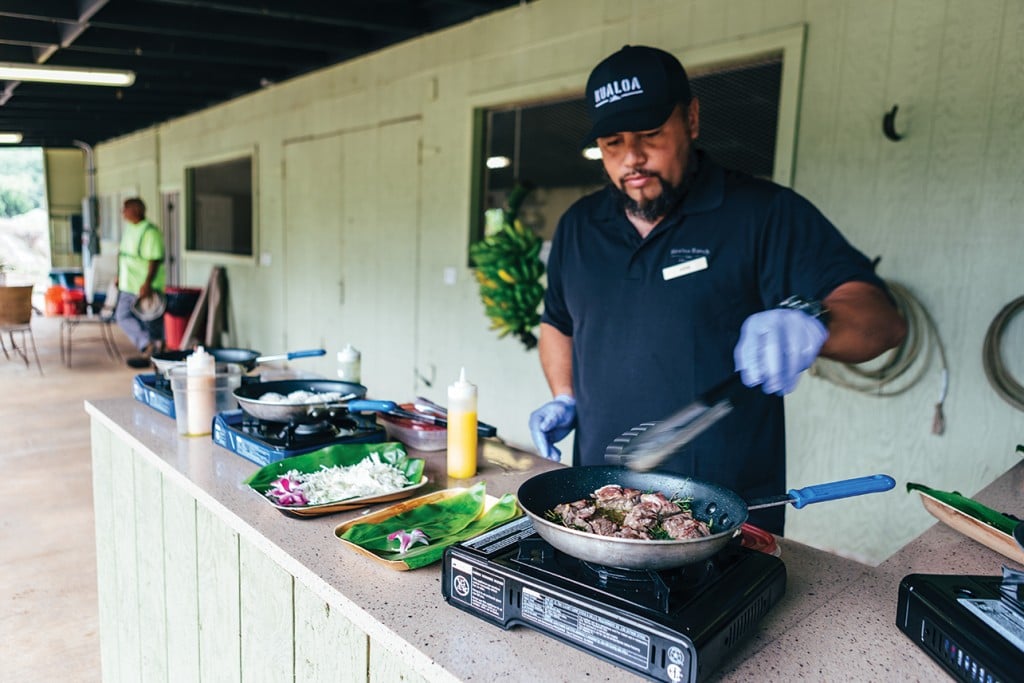 We're standing in Hakipuu Valley on the east side of Oahu with large fishing nets strewn across our left shoulders.
Our tour guide, Kaipo, is telling us to fling this large web of material into the air toward the bucket sitting on the ground several feet away. I swing my body back to build momentum, then launch the net into the air and, amazingly, it opens wide into a large circle and lands perfectly around my target. It's beginner's luck (I've never done this before) but now I'm hooked. I retrieve the net and hoist it over me once more to go again.
I'm on Kualoa Ranch's new tour, the Taste of Kualoa, and we're at our first stop—standing next to shrimp and tilapia ponds. It's a tour of the ranch's 4,000-acre grounds, where we get to eat food reaped right from the farm. Right now, we're eating—you guessed it—tilapia patties and giant shrimp, which are so surprisingly large they could probably pass for baby lobsters. While the ranch sources them from Florida as babies, both the tilapia and shrimp are developed together in 7 acres of earthen ponds and harvested daily.
In a nearby pavilion, Kaipo doubles as our chef, whipping up smoothies blended with papayas and bananas grown on the grounds. Simultaneously, he fries the fish patties and shrimp on the portable stove he brought out of the Mercedes luxury tour van he's been chauffeuring us around in. The tilapia he prepares are incredibly tasty, and change the negative perceptions a few in our group previously held about the fish. The very large shrimp, fried in a pesto sauce, is the stand-out, however. It tastes fresh and clean, unlike the pre-packaged kind I'm used to.
Kualoa Ranch has long been known for its popular zipline, horseback and ATV tours through its lush valley of Kaaawa, a backdrop for many movies, including "50 First Dates" and "Jurassic Park." What most people miss on these tours, though, is it's also a fully operational, working ranch with 600 head of cattle and a thriving, diverse farming complex.
"Everybody kind of knows us as either 'Jurassic Park' or ATV and horseback," says Taylor Kellerman, Kualoa Ranch's director of diversified agriculture. "But, probably the coolest part about this place is that we have a huge agricultural presence that's very diversified."
Kellerman was part of the committee that created the concept for the tasting tour, but he says the spark really was initiated by John Morgan, the president and owner of Kualoa Ranch. Morgan is a descendant of the Judd family, who purchased their first parcels of land here in 1850 from King Kamehameha III. From generation to generation, the family has since passed on the kuleana (responsibility) of the three ahupuaa (land divisions) Kualoa Ranch is part of: Hakipuu, Kualoa and Kaaawa.
"He's really had this amazing vision, and he asked us what we thought would be the best way to go about it," says Kellerman of Morgan on the tasting tour.
The oyster shack, which is the next part of the tour we're shuttled off to, is right on Kualoa's large fishpond, which holds around 50,000 oysters at a time. The guide explains how they're cultivated and shucks them right in front of us, before giving us a few to try. The ranch's oysters are brinier than we expected—a welcome surprise. It's a quick, but fun stop at the beautiful location, then we're back in the Mercedes with Kaipo.
He drives us to our third and final stop. At a large kitchen, there are five wooden, prop cows standing in front of the building. Kaipo teaches us how to rope one of them—a fun activity I happen to catch on to again. While Kaipo takes out the cooking burners and makes another meal, my colleagues and I take turns "herding" the stationary animals, seeing who can lasso the most before Kaipo finishes cooking up our next tasting.
This time, he's making rib eye beef tips and a plate of grilled root vegetables. We've been eating throughout the tour, and I'm beginning to get full, but the smell of the meat is hard to turn down. The casualness of the space, as well as the entire tour, is what I like best. The whole excursion and its many stops feels intimate (the tour maxes at 12 people) and it takes you all throughout the ranch, where you'll run into workers actually tending to the land and will occasionally overhear questions you have and stop by to answer them.
"There's nothing like talking to the person who does it every day," Kellerman says of the interactions you get to experience while on the tour. "It adds to the authenticity of it even more."
---
Taste of Kualoa Tour • Adults $109.95; $119.95 during high season (June through August). Children $89.95; $99.95 during high season. Kualoa Ranch, 49560 Kamehameha Hwy., Kāne'ohe, O'ahu, (808) 237-7321, kualoa.com.