Kuana Torres Kahele leads nominees for 2012 Na Hoku Hanohano Hawaii music awards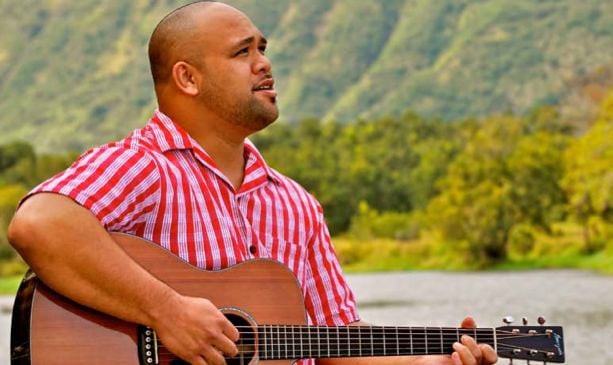 Big Island vocalist/songwriter/musician Kuana Torres Kahele and his debut solo album Kaunaloa collected the most nominations for the 35th annual Na Hoku Hanohano Awards for Hawaii music. Kahale, a founding member of multi-Hoku-award-winning duo Na Palapalai, has 10 nominations on the 2012 Na Hoku Hanohano ballot, released last week.
Na Hoku Hanohano music award winners in 27 categories will be announced at an awards ceremony and live show, May 27 on Oahu.


Kahele (pictured above) and his Kaunaloa album received Na Hoku Hanohano nominations for album of the year, male vocalist of the year, Hawaiian music album of the year, Hawaiian language performance, song of the year for "Na Vacqueros," and two technical nods for graphics and liner notes. Kauhele also earned two haku mele (composer) nominations for the songs "Waikahuli" and "Waimanu i Ka Lauoha," and a nod for entertainer of the year. The latter is the only Na Hoku Hanohano award category that is voted on by the general public.
Eight nominations each went to vocalist/musician/composer/kumu hula (hula teacher) Robert Cazimero (pictured below) for his album Hula, and traditional Hawaiian duo Waipuna for its second album E Ho'i Mai. Vocalist Natalie Ai Kamauu's 'A album and traditional Hawaiian trio Hi'ikua's Aia I Hi'ialo album received six Na Hoku Hanohano nominations each.

The majority of Na Hoku Hanohano's award categories are voted on by members of the Hawaii Academy of Recording Arts, an organization made up of Hawaii recording industry professionals, journalists and others with an interest in Hawaiian music. The 2012 Na Hoku Hanohano Music Awards ceremony will be held at the Hawaii Convention Center as the culminating event of Mele Mei, a month-long celebration of Hawaiian music, which begins April 27.
Hawaii TV station KFVE will broadcast the awards ceremony live at 7 p.m. (Hawaii time), May 27. The entire broadcast, complete with performances by current Na Hoku Hanohano nominated artists and other top Hawaii musicians, will also be live streamed on KFVE's website.
Click here for a complete list of 2012 Na Hoku Hanohano nominees. For more information on the Na Hoku Hanohano Awards and the Hawaii Academy of Recording Arts, click this link.
Cast your vote for Na Hoku's "entertainer of the year" category by clicking here.