Lance Armstrong among off-road triathletes in Maui's XTERRA World Championship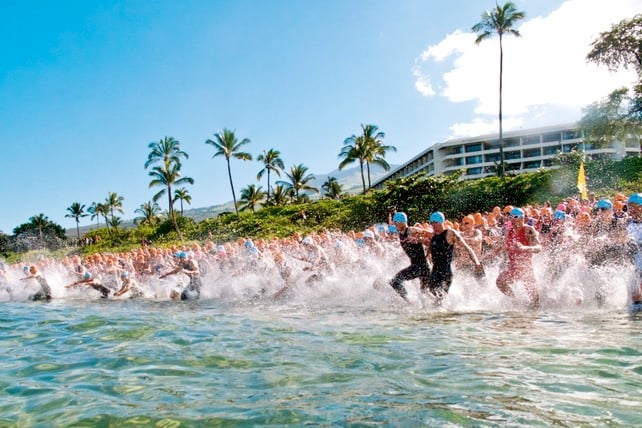 Lance Armstrong will be among the off-road triathletes lining up at the 9 a.m. mass-start swim (pictured, right) for this Sunday's 16th annual XTERRA World Championship, which will be held along Maui's northwest shoreline.
The sport of XTERRA — 1-mile rough-water swim, 18.3-mile mountain bike ride and 6.1 mile trail run — debuted on Maui in 1996. The winner that year, Jimmy Riccitello, reportedly encouraged Armstrong to give XTERRA a try. Last month, Armstrong competed in his first XTERRA, the USA Championship held in Utah, and finished fifth overall.
In an interview conducted by XTERRA Television at the Ritz Carlton Kapalua, Armstrong, 40, was asked about his race day expectations. In response, he said: "I didn't have any expectations, really, in Utah. I didn't know exactly what I was getting into. I certainly hadn't trained for it. I had been too busy. And at the end of the day, I didn't really enjoy it because I suffered so much. I thought this is terrible, why do I want to go through this? I could be doing other things."
Armstrong continued, "But I took a few days and thought about it, went home and started training again and said maybe I should at least focus on this. Do some interval work, at least adapt the training to what the race is like."
Asked if he would surprised if he won Sunday's world championship, Armstrong said: I'd be really happy if I won. So I guess that means I'd be surprised. Maybe shocked is too big of a word, too strong of a word. But yeah, I'd be very pleasantly surprised."
The seven-time Tour de France champion will have some tough competition, including two-time Ironman Hawaii World Champion Tim DeBroom, who is also a newcomer to the sport. Also, there will be a total of 12 athletes with Olympic experience in sports ranging from triathlon and cycling to mountain biking and skiing. Conrad Stoltz, a two-time Olympic triathlete and four-time XTERRA world champ, is the defending XTERRA world champion.
This year's lineup will include 675 racers — 75 professionals and 600 amateurs representing 28 countries. For the pros, a total of $100,000 in prize money is up for grabs.
Also, this year, for the first time, the world championship has moved from Maui's south shore to a course that covers 27 miles in the Kapalua area, on the island's northwest side. The event now serves as an annual finale that follows a series of more than 100 off-road triathlons held in 15 countries. For more information at the 2011 XTERRA World Championship, click here.