Learn the art of Polynesian navigation with Holokino Hawaii
A young Hokulea navigator launches sailing tours out of the Kahala Resort on Oahu.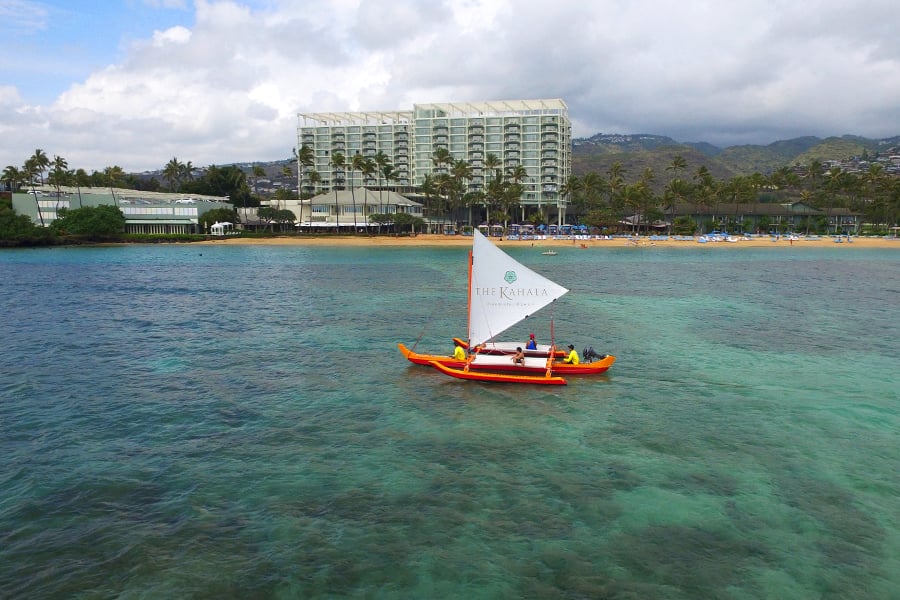 Off a picturesque beach in Kahala on Oahu, a young Polynesian voyager has carved out a niche for himself as a resident educator, tour guide and waterman at the Kahala Resort. Austin Kino, a 27-year-old junior navigator, has a seafarer's eyes—blue, piercing, quick to read the subtle movements of wind, waves and wildlife. From years of instruction by famous Polynesian voyaging canoe Hokulea's master navigator, Nainoa Thompson, Kino has the skills and cultural knowledge to make his fun and accessible ocean tours a unique, hands-on lesson on how the first Polynesians mastered the art of navigation which brought them to Hawaii.
For visitors to the Islands, the rare treat of riding the waves on a Hawaiian outrigger sailing canoe is made more authentic by the practical and cultural knowledge of its crewmen. As you hop aboard Kino's brightly-colored orange and red custom-built canoe, Uluwehi, and settle into the rigging for that first thrilling push off from the shore, it's not hard to imagine Native Hawaiians hundreds of years ago doing the same, laughing and shouting as they set out to sea.
The lesson starts as soon as everyone is aboard and settled into their places, with Kino explaining how the Hawaiian people used canoes to move household goods, trade items and anything heavy from one part of the island to another. "Because it was easier than carrying it over land," he says.
As the two-man crew rows out far enough to where they can bring the sails about and catch the wind, guests keep an eye out for sea turtles as Kino continues the lesson, explaining techniques of reading the wind, wave currents, clouds, stars, birds and marine wildlife that Native Hawaiians used to tell where on the ocean they were. It took years, he says, for a navigator to learn these things, and a misinterpretation could mean the difference between landing safely before you ran out of fresh water and getting lost at sea.
Guests on one of Kino's tours also get to try their hand at the mechanical aspect of sailing and rowing an outrigger canoe. For Kino, a U.S. Coast Guard-certified captain, and his crew, who all learned to sail at a young age, it looks easy. But under their patient and skilled guidance, anyone can do it.
Kino first sailed on the Hokulea when he was a junior in high school, as part of the Kapu Na Keiki ("Hold Sacred the Children") organization, an educational branch of the Polynesian Voyaging Society aimed at passing on the knowledge of Hawaii's ancestral tradition of deep-sea voyaging. Later, he served as an apprentice navigator on three legs of the Hokulea's 2015 Malama Honua Worldwide Voyage (translated, malama honua means "to care for our island earth").
"I've been involved with the Polynesian Voyaging Society for the last 10 years, and this kind of came out of that," Kino says.
After returning to Hawaii, Kino was inspired to start an education program called Huli The Movement, an organization to educate children on environmental stewardship and cultural awareness. One of the things he wanted to do the most was bring a sailing canoe into the program, so with the help of an education grant, he had the Uluwehi custom-built locally by a program called Partners in Development. On days when the canoe isn't running tours, it is common for Kino and his crew to take groups of children out and teach them how to sail and navigate the old Hawaiian way.
Group tours: $135 per person, $79 per child 12 years and younger. Private tours: $575 for up to 6 guests. Holokino Hawaii is based at the Kahala Resort, 5000 Kahala Ave., Honolulu, Oahu, (808) 284-370, holokinohawaii.com.