Let's Hear it For the Poi: A visit to Oahu's Waiahole Poi Factory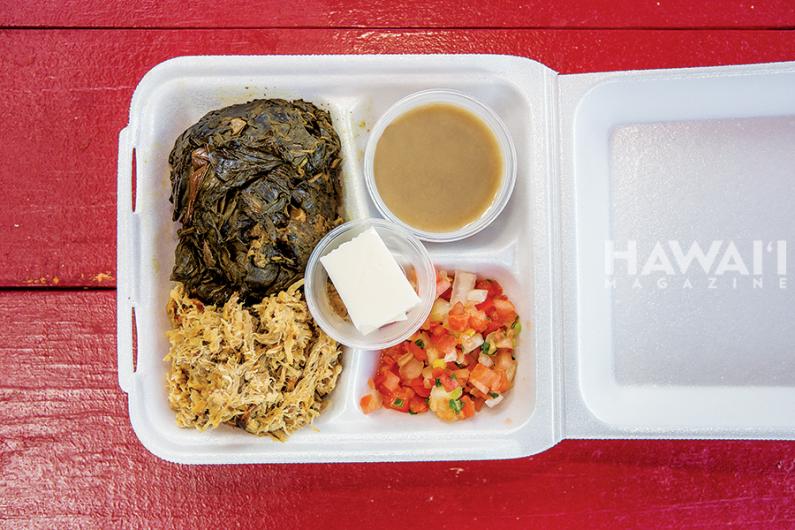 My nose is the first instrument of my five senses activated as I approach the worn-down, wood structure that has long been home to Waiahole Poi Factory. The salt-kissed, meaty aroma of kalua pig wafts out of a small serving window onto busy, two-lane Kamehameha Highway as I take my place in the customer queue.
Studying the hand-written food menu near the poi factory's lunch window, I steal glances at an elderly Hawaiian-Chinese man in slacks, slippers and a slightly oversize aloha shirt cutting open a coconut for two giggling children. Hand-woven lauhala (pandanus leaf) mats he crafts and sells line a wood shelf fronting the business.
The man, I find out, is Waiahole Poi Factory's owner, Calvin Hoe. With his wife, Charlene, Hoe bought the tiny poi factory at the head of the muddy, main artery into verdant Waiahole Valley in 1971 from a Japanese family that had long run it. Fresh out of the Peace Corps, the Hoes, at first, transformed their purchase into a gallery for art made by Native Hawaiians.
"This was during the Hawaiian Renaissance [a modern resurgence of Hawaiian cultural identity, rooted in the 1960s], so we wanted to show some Hawaiian instruments, like the nose flute and ipu (gourd drum)," Hoe says, his face brightening as he talks about the good old days. "The poi and Hawaiian food came later in our story."
The Hoes' gallery still exists within the factory's authentically rustic structure, also selling musical instruments, clothing and other items made by Hawaii artisans. But these days it's the family poi factory and tasty eats from its takeout kitchen that coax loyal customers to regularly head north along Oahu's scenic, less-populated windward coast to satisfy their Hawaiian food cravings.
"What can I get for you, honey?" asks a smiling, older Hawaiian woman at the window.
Her calm demeanor is the opposite of the cacophony in the kitchen behind her as I order a laulau and kalua pig combo plate and a mamaki iced tea. In the kitchen, a young boy works quickly to fill the multiple compartments of my paper lunch plate with food. A cloud of warm mist billows from a steamer as he lifts its lid and carefully selects a plump laulau. The plate's remaining real estate is filled with shredded kalua pig, lomi salmon, a scoop of sticky rice, sweet haupia and a cup of Waiahole Poi Factory's starchy, eponymous delicacy. I later find out almost everything else on my plate was grown or raised in the valley as well.
Waiahole Poi Factory and the original structure it still calls home have been fixtures of the valley and surrounding rural community since 1905. Hoe, who was raised in the area, still remembers families picking up large, wood barrels of the thick, pasty Hawaiian food staple made from kalo (taro) grown in the valley.
"I liked watching the factory (workers) steam clean the emptied barrels," says Hoe, now 69, as we walk the factory. "They'd turn the barrels over on these pipes here."
It took a decade after opening the art gallery for the Hoes to rev up the factory's rickety mills that ground kalo into poi, continuing a sticky legacy of the valley's history. In 2009, the family began preparing and selling Hawaiian food out of a space within the factory it had originally built as an incubator kitchen for small food businesses that utilized locally grown product. The plate lunches proved an immediate hit.
Currently, Waiahole Poi Factory's staff pumps out more than 100 plate lunches daily. In addition to everything on my plate, popular eats include hoio (fiddlehead fern) salad, squid luau, ahi poke and chicken long rice, and popular-with-locals specials like fried ahi bone and fried ahi belly.
The factory's poi, sold nowhere else, sells out fast. About 70 bags of their handmade poi—produced from kalo grown in Waiahole Valley—are packaged each week for sale. The Hoes set aside small cups of poi for their plate lunches and sampling.
Calvin Hoe's son, Liko, helps run the factory's food operation and hand pounds poi four times a week using a wood board and stone. Stop by and you'll often find him pounding kalo into poi just outside the factory so customers can witness the traditional art firsthand.
"Right now, it's not something you see a whole lot of," says Liko, of hand-pounding poi. "People ask me questions and take pictures, so it's nice to share a piece of Waiahole with them, even if for a short while."
On Waiahole Poi Factory's busiest days, says Calvin Hoe, the line of customers stretches from the service window out alongside Kamehameha Highway. Customers are a mix of residents and visitors, with many of the latter having never tasted Hawaiian food.
Seated on a shaded picnic bench, I allow the scenic wonder of Waiahole Valley and, across the highway, the calm waters of Kaneohe Bay to sink in before I dig in. I scoop a bit of poi with my spork, and feel slightly guilty. The Hawaiian in me should know better. Poi is meant to be eaten with two fingers, or at least that's what my tutu (grandmother) would say. The line of hungry customers—most of them sporting beach attire—continues to grow in front of the factory as I eat my lunch and sip my tea.
In between jotting down lunch orders, the sweet Hawaiian woman who took my order waves hello to a regular Waiahole Poi Factory customer. She exudes the same warmth to a familiar face that she did with me, a stranger.
The feast for my senses continues.
This feature was originally published in the November/December 2014 issue of HAWAII Magazine.