"Life on Board" with Eduardo Bolioli
It's been a long journey for surf artist Eduardo Bolioli, and his latest installation serves as a culmination of his experiences and memories of Hawaii.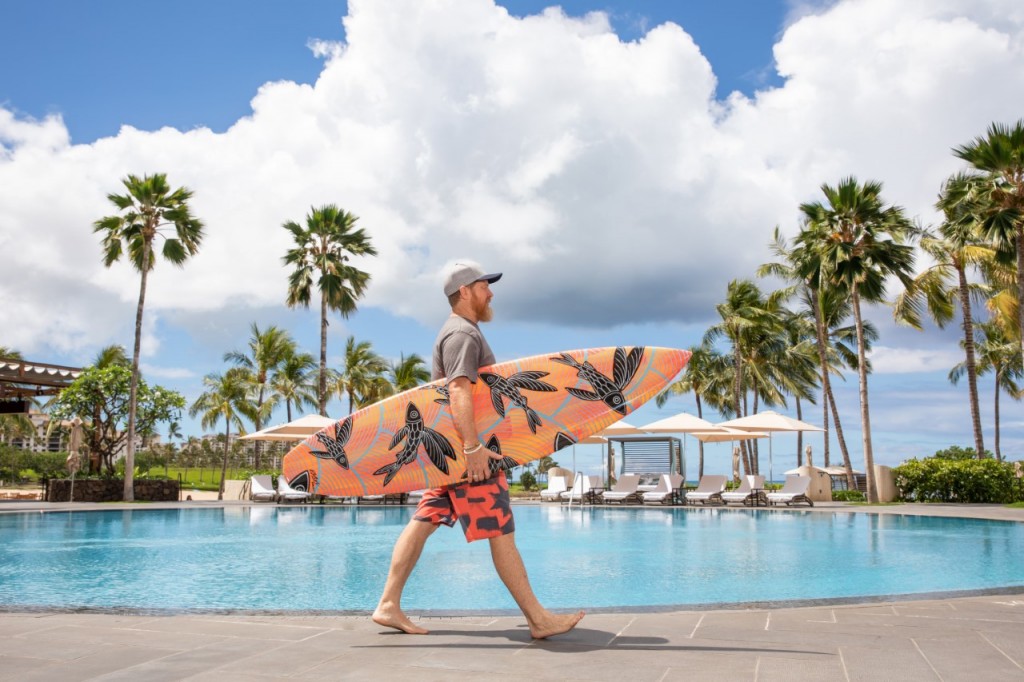 "I wanted to paint surfboards, that's all I wanted to do." That's what Eduardo Bolioli, 58, tells me in his colorfully cramped studio space situated between shaping bays and glassing rooms at the Surfboard Factory Hawaii's Kapolei location. Bolioli, stout, bearded and sporting a South American accent, looks content, relaxed even, in his little nook, methodically painting palm leaves on a surfboard that will inevitably become a piece of art presented in his "Life on Board" installation on June 22 at the Four Seasons Resort Oahu at Ko Olina.
"When people look at these boards, they don't know the stories," says Bolioli, who looks to showcase his art through one-of-a-kind custom-painted surfboards. Each of his boards has its own unique imagery and meaning for Bolioli, whether it is connected to his own life's journey or is focused on standout moments that he's experienced in the Islands. Bolioli's already made a name for himself painting boards for surfing world champions like Sunny Garcia, Martin Potter and Shaun Thompson. However, before he could decorate the boards ridden by world champs, Bolioli first had to make it to Hawaii.
Born and raised in Uruguay, Bolioli started surfing "sometime in the '70s" at age 17, learning from a few Uruguay surfers he met in the local gymnasium. Shortly after catching his first wave in a dirty brown river mouth in Uruguay, his family abruptly left the country due to his father's job. A month later, Bolioli found himself in Ithaca, New York, not knowing a lick of English and trying to finish his last year of high school while also continuing to surf.
"I used to take the subway to Rockaway Beach with my wetsuit on, and then all the way back, dripping wet," says Bolioli. After attending the prestigious School of Visual Arts in New York, Bolioli decided to return to Uruguay to continue his passion of chasing waves. But, before he could make it, he befriended some fellow travelers who were on their way to Hawaii and ended up tagging along. After landing on Oahu, Bolioli knew that he had found a place he could call home, and decided it was here that he wanted to pursue his art.
Bolioli, whose father was a committed painter himself, decided to focus his artistic efforts on painting surfboards, after shaping his own. "I used a marker to paint pinlines on it," says Bolioli, "and it lasted three waves before I busted it in half." Nevertheless, Bolioli was set on painting boards, even telling the owner of his local surf shop that he'd be painting a world champion's board within a year. "It took me a little longer," says Bolioli. "It took me two."
After a successful career painting surfboards and serving as Absolut Vodka's Hawaii artist, Bolioli's life was thrown for a loop. After signing an exclusive management deal with PCI, an art publishing company, and moving back home to Uruguay with his pregnant wife, the firm closed without notice. Bolioli, jobless and with a family to support, decided to settle down and worked as a salesman for Seagram's for the next 20 years.
Now, back in his paint-stained studio, Bolioli smiles as he shows me board after board, telling me about each one. He says he's glad to have returned to the world of art after moving back to Hawaii and listening to the advice of his friend and renowned surfer, Jun Jo. "I went to June and I said 'Hey listen, I need a job,'" says Bolioli, "and he goes 'don't go to work, you're not good at it, stop wasting time and get back to painting.'" And he did just that, painting a piece dedicated to Shaun Thompson, his first work in over 20 years. "Shaun put it on his Facebook, and I had people asking me how much it was worth," says Bolioli, laughing to himself. "And I was like, I'm back!"