Lights! Camera! Hawaii! Movies and TV series now filming in the Islands.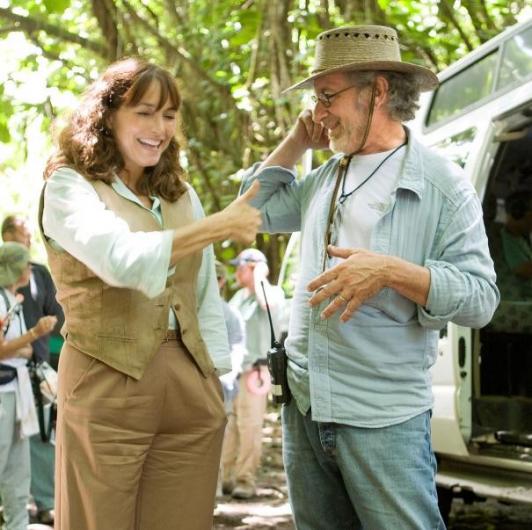 HAWAII Magazine reader Don Buckley e-mailed us with a question about Hollywood's most recent sojourns to our Islands for filmmaking:
Judging by stories on HAWAII Magazine's website, a lot of major film and television series productions are filming in Hawaii right now. Everyone knows about "Lost." But could you provide a list of every production filming in Hawaii right now, or about to film in Hawaii, and what island each is filming on?
You ask. We answer.
Hawaii's diverse natural landscapes and scenic beauty have proven cinematic catnip to filmmakers for about as long as Hollywood has been making movies. So many great movies have been filmed in the Islands over the years, that we've even posted a several "favorite Hawaii-filmed movies" lists here on HawaiiMagazine.com proving that fact. (Click here and here for those lists.)
Depending on the project, cast and crews of major productions may be based here in the Islands anywhere from several days for a quick location shoot, to several years for a hit TV series. Hawaii has taken in millions in spending dollars and tax revenue over the years from movie and TV productions.
The reality is, there's almost always some kind of film or TV production shooting somewhere in the Islands at any given time. Whether independently financed or mega-budgeted, for U.S or foreign audiences, or with Hawaii as lead star or stand in for some other place in the world, film and TV projects are lucrative business as usual here.
That said, Don, we'd be lying if we said we're no longer star-struck when a big production like Indiana Jones and the Kingdom of the Crystal Skull (pictured, top) or Forgetting Sarah Marshall (pictured, above) rolls into town. After six years, we still even get excited when we run into cast members from Lost shopping for dinner at The Whole Foods on Oahu. And it is true that, in recent weeks, our Islands really do seem to have been playing host to more than their usual share of concurrent high-profile film and TV productions.
We present our rundown of every recent Hawaii-based film and TV project we know about—past (last three months), present and future (next three months):
Now filming in Hawaii …
"Lost"
The hit ABC adventure series is wrapping up filming of the final episode of its final season this week. Lost has been shot entirely on Oahu since its 2004 premiere, with its production designers masterfully finessing locations in Honolulu and towns, suburbs, beaches and jungles all over the island as spot-on stand ins for worldwide locales.
"The Descendants"
Production on this dramedy starring George Clooney (pictured) and directed by Alexander Payne (Sideways) began in March at locations around Oahu. Based on a novel by Hawaii writer Kaui Hart Hemmings, The Descendants follows the story of a wealthy landowner forced to reexamine his life and relationships in the aftermath of a family tragedy. Filming is expected to continue on Oahu, and possibly Kauai, through May.
Hawaii productions that have recently completed filming …

"Hawaii Five-O"
A pilot episode of a hoped-for redux of the classic Hawaii crime drama completed filming on Oahu in March with Lost's Daniel Dae Kim (pictured) playing Det. Chin Ho Kelly and Alex O'Loughlin as Det. Steve McGarrett. If picked up by CBS, the new Hawaii Five-O—developed by creators involved in the hit series Fringe and CSI: New York—should premiere this fall.

"Soul Surfer"
This independently financed biopic of Hawaii pro surfer Bethany Hamilton (pictured, right)—who taught herself to surf competitively again after losing her left arm in a shark attack at age 14—completed filming on Oahu's North Shore and Kauai in February. Set for a 2011 release, the film stars Dennis Quaid and Helen Hunt as Bethany's parents Tom and Cheri Hamilton, singer Carrie Underwood in her first feature film role, and AnnaSophia Robb (pictured, left) as Bethany.
"Hereafter"
Director Clint Eastwood (pictured) shot several scenes for his next film—a drama following the parallel stories of three people as they seek understanding of death—in West Maui over three days in January. Kapalua, Kaanapali and Lahaina's Front Street stood in for undisclosed locations where one of the film's main characters—a French journalist played by Belgian actor Cecile De France—survives, then confronts the aftermath of the 2004 Indian Ocean tsunami.
"Modern Family"
The cast and crew of ABC's hit comedy settled at the Four Seasons Resort Maui at Wailea for a full week in March to film the series' first season finale. The plot sounds like textbook "sitcom episode in Hawaii" stuff—the whole family winds up on Maui, spoiling a romantic birthday getaway for family patriarch Jay Pritchett (Ed O'Neill) and his wife Gloria (Sofia Vergara). But given the superb comic writing and acting Modern Family is already renowned for, we're expecting a break from the formulaic and some great Maui scenery as well.
Scheduled to begin filming in Hawaii soon …

"Pirates of the Caribbean: On Stranger Tides"
The fourth installment of Walt Disney Pictures' swashbuckling blockbuster Pirates franchise begins filming on Oahu and Kauai this summer, with Johnny Depp returning as Capt. Jack Sparrow. Rumor has it Depp has already been in town checking out locations and progress on Sparrow's ship The Black Pearl, now receiving a makeover for the big screen at West Oahu's Kalaeloa Harbor. Oahu and Kauai casting calls were announced this week for men interested in playing pirate and sailor extras, and stand-ins for the film's lead actors. Interested in auditioning? Click here.
"Just Go With It"
Thousands of Maui residents and visitors queued up outside a Kihei-area school last Saturday to audition for this Adam Sandler-Jennifer Aniston romantic comedy. Variety reports that the film's plot centers on a man (Sandler) who enlists a mother (Aniston) and her kids to be his fake family. Happens all the time. Director Dennis Dugan has already begun shooting Just Go With It in California. The production moves to Maui this month.