Liliha Bakery Opens a New Location in Waikīkī
On Thursday the iconic Honolulu bakery, with its popular Coco Puffs, opens its fourth location in the International Market Place.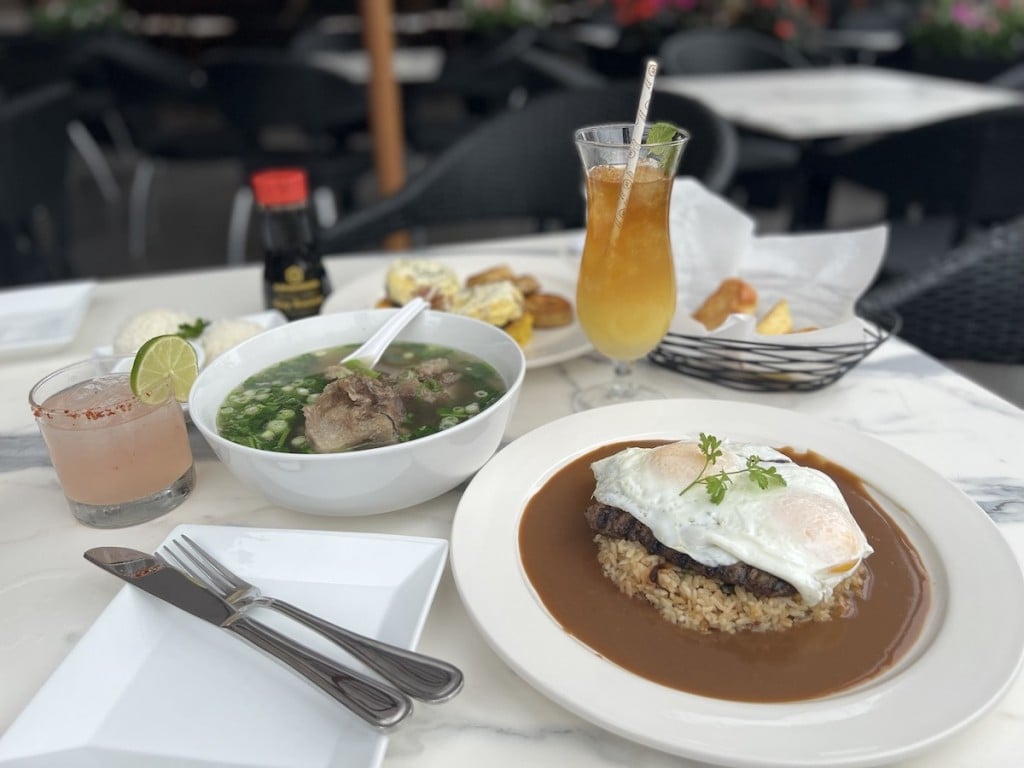 Waikīkī just got sweeter.
The iconic Liliha Bakery, a local favorite since 1950, is opening a new location—its fourth on Oʻahu—on Thursday at the International Market Place.
It will be a full-service restaurant and bakery, sprawling over 8,516 square feet and boasting both indoor and outdoor seating for more than 200 diners. (It's in the space vacated by the Chinese dim sum teahouse Yauatcha Waikīkī.)
While much of the menu is unchanged—good news for those who love the bakery's loco moco, oxtail soup, breakfast plates and pastries—there are a few new and notable items this location will be serving.
For starters, cocktails.
The full bar serves beers—including a couple of local brews—and wines by the glass. It also serves eight hand-crafted cocktails ($13 each) exclusive to the Waikīkī location. Our favorites include the Fly By Mai Tai (rum, orgeat, lilikoʻi, fresh lime juice, pineapple and orange juice and a dark rum float) and Guavarita (tequila, guava juice, fresh lime juice and soda). We also recommend the mimosas (with orange, guava or pineapple juice) for brunch.
In addition to its local fare—saimin, fried chicken, hamburger steak with gravy, hotcakes—the menu will also feature some elevated options, including carved prime rib ($29.65 for 10 ounces, $38.95 for 16 ounces), New York steak with shrimp ($24.15) and carved prime rib with lobster tail ($47.95).
And, of course, the bakery will be doling out more than 100 different fresh, hand-made pastries, including the popular Coco Puff (a cream puff filled with creamy chocolate pudding and topped with Chantilly) and poi mochi doughnut (a chewy, mochi-base doughnut).
Liliha Bakery first opened in Honolulu in 1950 by the Takakuwa family, who sold the company to local businessman and restauranteur Peter Kim in 2008. Kim opened a second location on Nimitz Highway in 2014, then a third at Ala Moana Center in 2019. This Waikīkī location is the fourth for Liliha Bakery—and easily one of the largest.
"We've wanted to expand to Waikīkī for several years," said Peter Kim, president of Liliha Bakery, in a news release. "We found what we believe is the ideal location, especially with new options for indoor and outdoor dining and its proximity to shopping and the beach."
The opening of Liliha Bakery comes at a time when visitors to the Islands are anticipated to increase during the holidays—traditionally a busy travel season in Hawaiʻi. (Herringbone Waikīkī, also located in the Grand Lānaʻi of the International Market Place, reopens Nov. 17.)
And visitor satisfaction is up, despite statewide COVID-19 restrictions and vaccination requirements.
According to a survey done by the Hawaiʻi Tourism Authority, 81% of U.S. visitors who traveled to the Islands from Oct. 1 to 5 rated their trip as "Excellent." Nearly all of those surveyed—94%—were fully vaccinated.
"We are eager to welcome both locals and tourists," said Connie Wong, marketing lead at Liliha Bakery, "giving everyone who comes to Waikīkī a chance to experience our delicious Coco Puffs, butter rolls and poi mochi doughnuts while they shop or dine."
Starting Nov. 18, Liliha Bakery in Waikīkī will be open from 7 a.m. to 10 p.m. daily, serving all-day breakfast, lunch and dinner. Parking is validated. 2230 Kalākaua Ave., Level 3, Honolulu, (808) 922-2488, lilihabakery.com.