Listen to everyone playing Oahu's most exciting jazz and blues festival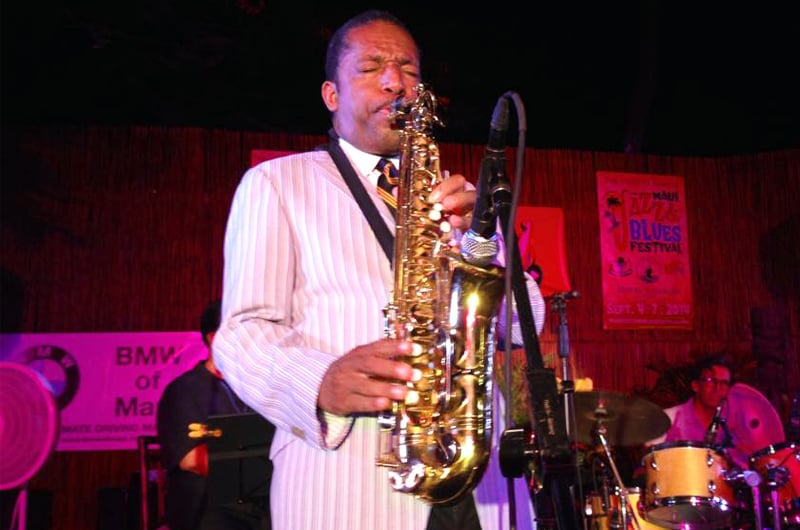 As if Hawaii wasn't relaxing enough, now you can soak in the soothing sounds of jazz all weekend next month.
Turtle Bay will welcome the 2nd Annual Oahu Jazz & Blues Festival from November 19–22. Award-winning local and national artists alike will gather on the north shore for four exciting days and nights of nonstop live jazz.
Last year was a sold out event (you can purchase tickets for this year's festival here) and this year's lineup includes many favorites and pioneers of the genre, not to mention a handful of Hawaii debuts you won't want to miss.
Here's a sample of who'll be there and their signature sounds.
Bobby Watson
Hailing from Kansas, Bobby Watson is a Jazz Hall of Fame inductee who's recorded over 100 original compositions, including an original song for Robert De Niro's A Bronx Tale soundtrack. For his Oahu debut he'll be joined by his wife Pam Baskin-Watson.
Delfeayo Marsalis
Part of jazz's famed Marsalis royalty, Delfeayo Marsalis is a trombonist icon credited for the resurgence of jazz acoustic recordings in the late '80s. This is also his Oahu debut.
Joe Louis Walker
In 2013, Joe Louis Walker was inducted into the Blues Hall of Fame, often described as a relentless force in the jazz community for pushing the boundaries of modern blues. He's performed with the Rolling Stones, U2, Herbie Hancock, BB King, Sting, Sarah Vaugha and more.
The Iguanas
From New Orleans, this band specializes in blues with a Latin twist.
Johnny Sansone
Another act that calls New Orleans his home, Johnny Sansone started playing the harmonica at 13 years old.
Bobby Broom
American jazz guitarist Bobby Broom takes his cues from a wide net of American genres—funk, soul, R&B, blues—to create an instrumentation the Chicago Jazz Music Examiner calls "one of the few truly recognizable styles among modern guitarists."
Kawika Kahiopo
A notable name in Hawaiian music, Kawika Kahiopo was featured on the Grammy Award-winning recording "Masters of Hawaiian Slack Key."
Paula Fuga
Vocalist Paula Fuga is a Na Hoku Hanohano-winning artist with soul, jazz, and Hawaiian influences. In 2010, she joined Jack Johnson on his world tour; prior to that she was once featured on "American Idol."
Benny Uyetake
The Hilo-born artist who now lives in Maui is considered to be an expert ukulele player and a recipient of the Na Hoku Hanohano Awards.
Alika Lyman
A music teacher by day, Alika Lyman is best known for his finesse on the upright/electric bass.
Zenshin Daiko Drummers
This children's group (ages 6 to 17) with more than 50 members teaches taiko to Hawaii's local community and the results are amazing.