Locally sourced shave ice is Hawaii's coolest food trend right now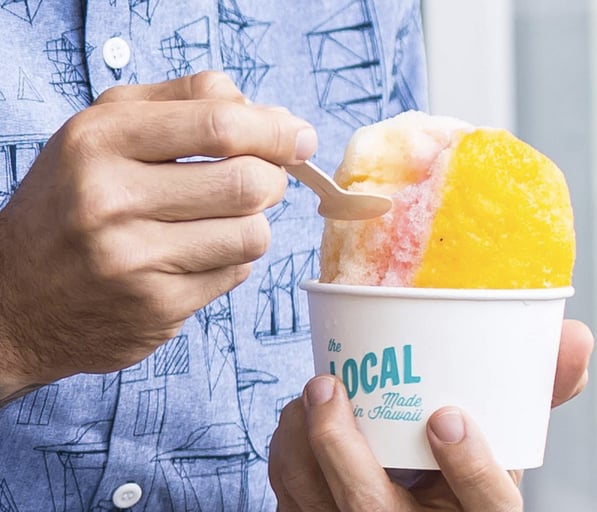 Everyone swears it just tastes better.
The slow food, farm-to-fork movement is a visible force in Hawaii's culinary scene. Literally. You can't glance at the menu of a newly opened restaurant across the Islands that doesn't call attention to a plate with a list of ingredients sourced from a local farm. That's a welcome thing.
But what about Hawaii's shave ice scene? Shave ice is a generations-spanning tradition—a local icon in its own right—for visitors and residents alike and only in the past couple years are we noticing businesses pouring more thought into the colorful hues they splash all over our cups and cones.
Matsumoto Shave Ice on Oahu's North Shore is undeniably the state's most well-known counter-serve station, however it's not the place for the shave ice-goer looking to trace their syrups (which I was told was Harders, a locally-owned and operated syrup company) back to a piece of local farmland. They're manufactured with 100 percent Maui Cane Sugar, but parts of it are still artificially flavored.
Ask around and you'll find a few places posted up across the Islands that take pride in some of their locally sourced flavors. One Aloha Shave Ice on Hawaii Island, Ululani's Hawaiian Shave Ice on Maui and Wailua Shave Ice and The Fresh Shave on Kauai to name a few.
Uncle Clay's House of Pure Aloha in Aina Haina (photo above) tends to be credited for kick-starting the move towards all-natural shave ices on Oahu. Uncle Clay was the first on the island to showcase all non-artificial creations, an employee claims, when the shop opened in summer of 2011.
Its Classic Rainbow—the quintessential strawberry, mango, pineapple with vanilla ice cream—is consistently the most popular order and the kalespin (kale and spinach) is entirely unique to the menu, catering to Hawaii Kai and Kahala's thriving health-conscious clan of yogis, no doubt.
At Uncle Clay's, the pineapple, chocolate, kale and spinach are all locally sourced. For sweetener the company forgoes outsourcing anything processed, opting for Hawaii's own Maui Cane Sugar instead.
A quick, but important distinction, though: natural flavors and locally sourced ones aren't mutually exclusive. While popular shave-ice havens can boast the former, not all are able to go that extra step, right across the figurative street, if you will, to a local farm's organic produce 100 percent of the time.
The Local Hawaii in Kailua does. Tucked away in Aloha Beach Club, a surf apparel store, you'll find its counter crafting shave ice daily that's all locally sourced. In order to do this, they partnered up with Ono Pops, a gourmet Popsicle company that operates by the same local ingredients only standards.
"Everything is sourced from fruits from local Hawaii farms," co-founder Gabriel Tennberg says. "The sugar is Maui Cane Sugar, the ice cream is all made in-house, so is the li hing powder."
That means when you're digging into the most popular flavors like lilikoi (passionfruit) and pineapple, you're indirectly digging into and supporting crops at Lang's Nursery in Waimanalo and Hawaiian Crown Farms in Kunia, respectively. The strawberries staining your tongue hail from Kula Country Farms on Maui.
Part of operating by this Hawaii-made philosophy means being at the mercy of seasons and the Islands' weather conditions, a factor not all shave ice businesses are willing to bank on.
"We've been out of the Kula strawberries," Tennberg says, after the torrential rains from August to September wrecked those crops. The Local won't be getting any strawberries probably until the new year, but that just proves how invested the store is in maintaining its shave ice cred. "It's a testament to us not cheating on the local thing," says Tennberg.
So, how does a place like The Local replicate a classic rainbow flavor profile without compromising its namesake? "Mountain apple," Tennberg says matter-of-factly, again illustrating that if you don't want to take artificial shortcuts you just have to get a little creative.
We're not sure what to call this new slow-food movement making a quiet splash in the culture of Hawaii's shave ice—sustainable syrups? crop-to-spoon?—but we like the thought and ingenuity that goes into it. That it's even managed to trickle its way into heavily tourist-driven areas like Waikiki with Lemona on Lewers and Island Vintage Shave Ice at the Royal Hawaiian Center is totally refreshing.