Location scoops from "The Bachelorette" Big Island of Hawaii finale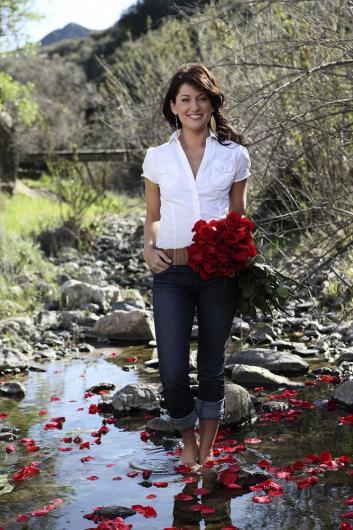 When we last left The Bachelorette on Maui a week ago, Jillian Harris had given bachelor Reid the kiss-off, guaranteeing spots for Ed and Kiptyn in the final rose ceremony on the July 27 season finale.
But wait! Was that really Reid twirling an engagement ring on a recent Bachlorette finale preview, aiming to further confuse Jillian's already loopy heart and mind?
Will Reid's return mark the end of the road for Ed and Kiptyn?
Will Ed and Kiptyn, faced with Reid's return, get medieval on their just-exiled fellow suitor?
Will Kiptyn win because we like his name?
We care. Really we do. But the real reason we're tuning in to the season-ending episode of ABC's The Bachelorette is to see how much superb Big Island of Hawaii scenery its producers manage to squeeze in between Jillian's thought-provoking musings on life, love and "how Kiptyn operates in a team." The dating-competition reality series filmed its entire finale on the Big Island in May, after ditching Reid on Maui.
The finale rose ceremony—where Jillian chooses our man Kiptyn (fingers crossed)—will take place at a private oceanfront luxury estate on the Big Island's sun-kissed South Kohala Coast. That's right, paving the way for yet another oceanside aloha a la Reid's bye-bye at Maui's Olowalu Plantation House.
Where else on the Big Island will Jillian, Kiptyn, Ed and, perhaps, Reid head off to on their adventures? We've sussed out a few details about:
• Dinner dates and private time in, no doubt, oceanfront suites at the Hapuna Beach Prince Hotel, the Fairmont Orchid Hawaii and the newly-reopened Mauna Kea Beach Hotel.
• A Sunshine Helicopters tour of Kilauea volcano lava flows entering the sea along the Big Island's Puna coastline. Pics of the flow here. Video of the flow here.
• A post helicopter-tour private barbecue beside an undisclosed secluded waterfall north of Hilo, courtesy of KapohoKine Adventures. We're told the helicopter lands beside the waterfall. KapohoKine Adventures is already sharing on its Web site that Jillian and one of the bachelors did some kayaking, frolicking and champagne-imbibing at the site. And yes, you can take the same tour with KapohoKine Adventures, too.
• A high-speed raft ride along the Kona Coast to a "remote black sand beach," again undisclosed, with Captain Zodiac Rafting Adventures. The Captain's web site shares that Jillian and, one presumes, the other bachelor were left alone (with a film crew, of course) at the beach for a picnic and a day of paddle boarding. You can take this private tour with Captain Zodiac, as well.
All other episode details—save for that Reid-is-back-with-a-possible-engagement-ring spoiler—are being kept hidden from Bachelorette fans by valiant ABC execs.
Watch the two-hour Big Island of Hawaii finale of The Bachelorette with us on Monday, July 27 (8 p.m. East coast time/West coast time; 7 p.m., Hawaii time) to see who goes where with whom, and who gets the final rose.
As for our competition dark horse, a personal note:
It's true, Kiptyn. The only thing we find even remotely interesting about you is your name. But for our money, that's more than enough reason to wish you all the best on Monday.
Unless Reid shows up ring in hand. Then you're on your own.